Three years removed from his role in Creed, Michael B. Jordan is a full out Hollywood leading man. So much so that GQ put him on the cover as "man of the year" and Vanity Fair profiled him too. But the self-proclaimed "lover of hoops" took his stardom to another level in the Creed sequel. Jordan turned himself into a true fighter by gaining 40 pounds for the role while taking his training to a new level with epic training montages at extreme locales and even under water.
But Jordan also hopes the sport of boxing that he has grown to love can remain an avenue for the underprivileged, which was the ethos of the original Rocky story over 40 years ago.
Jordan cares so much about that cause, he was in Canada to donate new boxing equipment to help overcome the cost barrier of entry that keeps young kids from entering the sport. After watching an advanced screening of the film earlier in the week, some kids were surprised by Jordan, who helped to kick-off the first-ever boxing program at MLSE Launchpad, a sport for development facility in Toronto.
Earlier in the day Jordan met with a group of press while participating in an exclusive training session with the last heavyweight champ to hold the undisputed title, Canadian boxing legend Lennox Lewis. Even though he's not a boxer or even an athlete, Jordan feels the need to spread the gospel of boxing, a sport that has become less and less mainstream in comparison to when the Rocky series originally debuted.
If the series started in 2018, Rocky would likely be an MMA fighter. But with the Creed series breathing new life into the sport for a new generation of audiences, Jordan is in a position to help drag boxing back to popularity.
Creed and Creed II are both about legacy. The legacy of Adonis Creed as he avenges his father's death, and the pressure of carrying on Rocky's (and his father's) winning legacies in the ring.
Creed II features a familiar name from the original Sylvester Stallone series by introducing Viktor Drago, played by six-foot-four Romanian boxer Florian "Big Nasty" Munteanu. The son of Ivan Drago, once again played by Dolph Lundgren, Drago Jr., like Creed, is set on continuing his father's legacy. Ivan Drago killed Creed's father, Apollo, in the ring, in the 1985 sequel Rocky IV so Creed II sets up as the redemption song. But it leaves an interesting dilemma for future films in the series since at some point you can't just continue to bring back next of kin of iconic characters.
The original Creed film did a good job of expanding the story for an audience still nostalgic for the Rocky series. Creed II placates the audience from the first film but doesn't offer anything new to grow the fanbase.
But a couple generations ago the same was probably said of Rocky II. When a character triumphs in the first film, the story arch can only take them back down, before a potential third movie lifts them up again. Creed II is to Creed what Rocky II is to Rocky.
Asked to rank this sequel in comparison to the Rocky sequels, Jordan was reticent to mix the two.
"You can't do that, because it's not the same" he told me.
The most distinct difference from previous Rocky sequels is the level of hate for the villain, or even the presence of an obvious one. In the second and third Rocky sequels, Clubber Lang and Ivan Drago were clear antagonists. In this edition you have empathy for Drago's son and his personal pressure even if you're still rooting for Adonis. The line between good and evil is blurred.
But by the end of the film, that brief empathy doesn't last and you won't think much about Drago Jr. after leaving the theatre. The audience just never spends enough time with him or even hears him speak enough to care about him as a villian.
The other major change from the original series is the level of detail in the fight scenes. Even the best Rocky sequel, Rocky IV, is a tough watch without suspending belief while the fighters are in the ring.
Creed II, with tight shots of the fighters and a lack of edits during the in-ring action, makes the level of ferocity that actually lives in a heated boxing match something the audience is forced to confront head on.
Fighting for real with actual pro boxers was a badge of honour for Jordan in his creative process.
"I tell everybody that I've ever worked with, especially fighters, don't treat me like an actor. Treat me like the person and the character that I'm supposed to be," Jordan said. "So, if I'm a fighter treat me like a fighter. Working out with Andre Ward, Tony Bello, and Florian (Munteanu) and so many other boxers, it makes me know who I am when I get on set.
"When I step on set there is no doubt in my mind that I'm a fighter because I've got the bruises. I've got the cuts. I put the time in and they've treated me like a fighter. I need it. It's really important for me."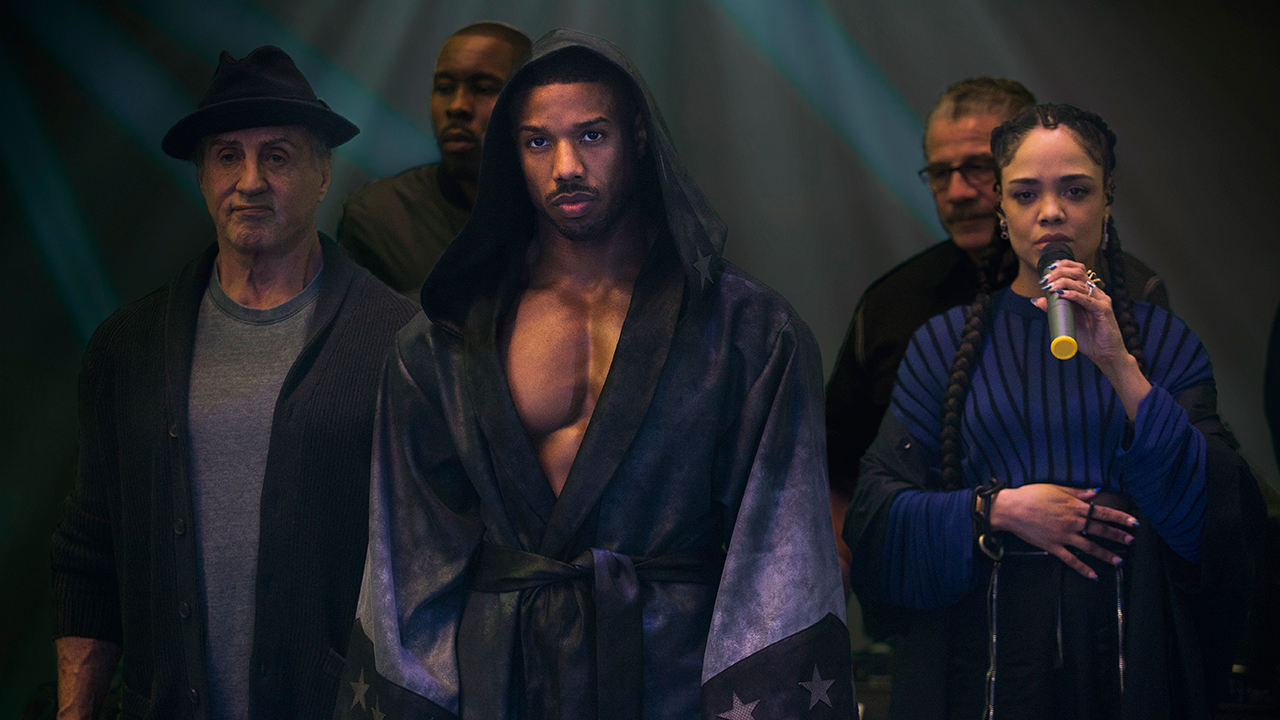 Sylvester Stallone, Michael B.Jordan and Tessa Thompson on the set of Creed II (Warner Bros.)
Along with ring action, the usual Rocky notes and themes of fatherhood, family, complacency and legacy all run through this film's narrative.
The outcome and problems solved are predictable, but what isn't is the depth of character provided by Jordan, Stallone and Tessa Thompson.
A new twist in the Creed series is Rocky Balboa has his own character arc as a supporting character, and that continues in Creed II. Stallone has actually become a better actor as he's gotten older and he improves on his great performance from the first film, which earned him multiple award nominations.
Thompson returns as Bianca, Adonis' partner in life who has a growing music career and motherhood to balance. Thompson gives a good performance but that plot line that could have been explored even more in the film.
There is however more time spent developing the relationship between Bianca and Adonis, which pays off thanks to the great on-screen chemistry of Thompson and Jordan. Thompson described that working relationship in a recent appearance on Jimmy Kimmel Live.
Creed took in more than $170 million at the worldwide box office in 2015, but director Ryan Coogler was unable to return to film the sequel as he was working on Black Panther. In his place, Steven Caple Jr., who burst on the scene in 2016 with his debut feature The Land, stepped into the director's chair but Coogler remained involved as an executive producer, alongside Guy Riedel and Jordan himself.
On this film Jordan gets a chance to be leading man, executive producer and, on a cold day in Toronto, a philanthropist.
Through hard work and dedication to his craft, Jordan is carving out his legacy, just like Adonis Creed.