If it wasn't clear before, the looking glass is as clear as ever, now.
Ronda Rousey, Charlotte Flair and, even though she wasn't there, Becky Lynch will lead WWE and the women's division into the future.
Rousey and Flair delivered the match of the night at Survivor Series, and that was before Charlotte channelled her inner ECW, relentlessly beating down on Rousey with kendo sticks and chairs.
"Stone Cold" Steve Austin may have said it best…
Rousey and Flair put on a brilliant performance in what should have been the main event of the evening. Both women worked fantastically snug together, which may have been unfathomable before the event considering this match was put together just a week before Survivor Series.
The grandiose display from both wrestlers is also incredible considering Rousey has been wrestling for less than a year. The former UFC champion looks more and more at home in a WWE ring every time she steps into the squared circle. This was undoubtedly her best match to date, and she's only going to get better. Flair is as gifted as they come athletically and genetically, and now we've seen what Rousey can do with another all-world athlete.
The praise deserves to be lathered on, and we haven't even gotten to Lynch yet…
When she's cleared to wrestle (following her injury), this will get even better.
Flair laid waste to Rousey after getting disqualified, setting her up perfectly to counter Becky's new attitude. Rousey has been booked like a sympathetic babyface, and while it's not certain that's the best direction to go with her character, she always responds well with her promos and just general bad-assery in the ring.
Women's wrestling is on a high, and it's only going to get better.
Match rating: 4.25/5 stars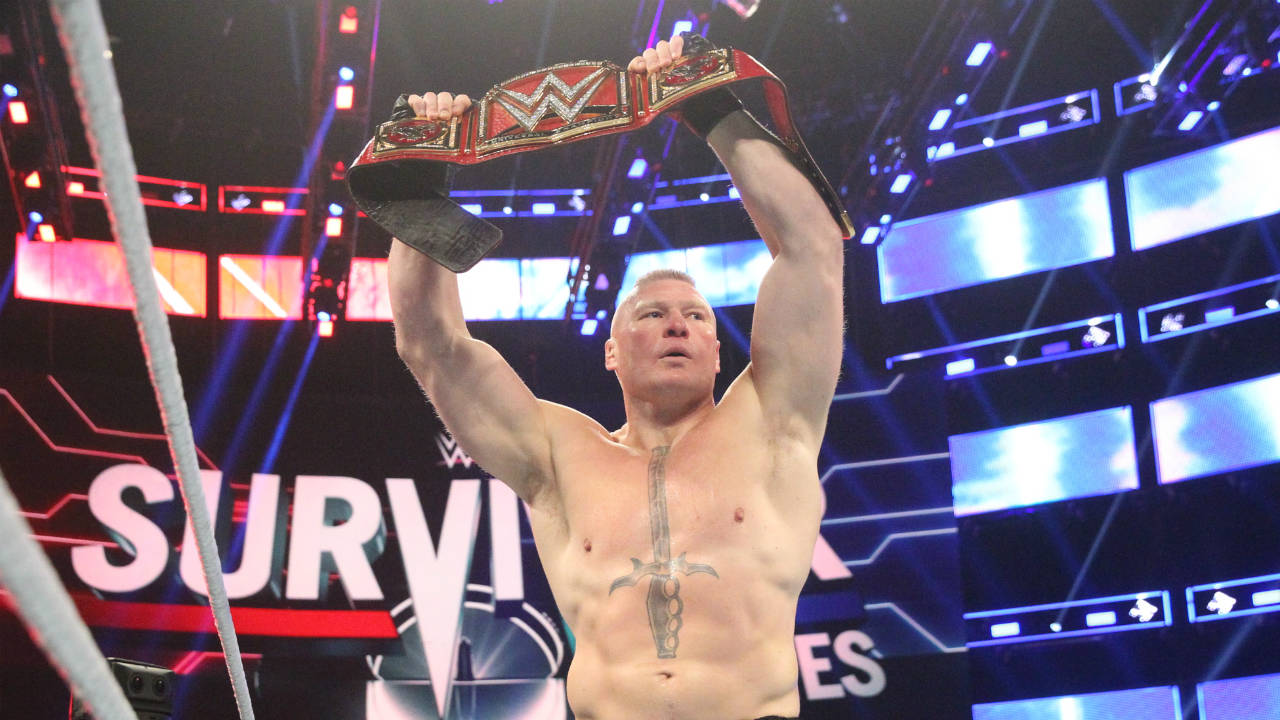 Brock Lesnar (Raw) defeats Daniel Bryan (Smackdown)
This match seemed so incredibly uncomfortable for the first several minutes. Bryan was taking an absolute beating, including several suplexes where he appeared to land on his head, making all those with knowledge of his injury history cringe.
But then all of the sudden, Bryan scored a low blow when the ref got knocked down, battled back, and turned this match into a near-classic. If there was any doubt before, or if anyone had trouble remembering… Bryan is so, so good at wrestling.
Helping Bryan's cause was Lesnar, who put on his best one-on-one performance since last year's Survivor Series when he wrestled A.J. Styles.
And now what do we have here? Bryan and Styles appear to be on a collision course for a return match for the WWE Championship. The only questions now are… when? Where? And how great will it be?
Match rating: 3.75/5 stars
Raw defeats Smackdown in men's five-on-five elimination match
This match had barely any stakes to it coming in, other than Braun Strowman getting a guaranteed shot at the WWE Universal Championship and a match with Baron Corbin if he guided Raw to a win.
Well, Raw won thanks Braun, but there was some other fun stuff in between. Nobody really stood out in the match other than Braun and Drew McIntyre. Finn Balor looked good in the limited time he was in the ring. The Los Angeles crowd was shocked to see Samoa Joe get eliminated in the very early stages of the match.
This match had enough fun moments to make you forget the bout meant nothing other than bragging rights for Stephanie and Shane McMahon, the respective commissioners of Raw and Smackdown.
Match rating: 3/5 stars
Raw defeats Smackdown in women's five-on-five elimination match
Wrestling fans do not like Nia Jax.
And oh look at that… Jax was the sole survivor in this match.
After legitimately injuring Lynch the week before Survivor Series, causing her to miss the show, Jax was mercilessly booed by the Los Angeles crowd. It was real heat, and it was strong.
That's what makes her victory even better.
You may not like the way Jax went about acquiring her heat, but it's working and WWE has made a good business decision in trying to capitalize on it. If the company is looking to strap anyone on the Raw roster, they have a great chance to do it against Jax.
Outside of her, it was nice to see Asuka and Sasha Banks wrestling in a match that meant more than just a generic tag match on Raw or Smackdown. Both women reminded the audience just how good they are.
Match rating: 3.5/5 stars
Seth Rollins (Raw) defeats Shinsuke Nakamura (Smackdown)
Both worked really well, while Rollins resubmitted his ballot for the fictional title of "MVP of 2018". The match meant nothing, and the crowd never really got into it. Also, there was no Dean Ambrose sighting which seemed a little odd.
Match rating: 2.5/5 stars
Authors of Pain (Raw) defeat The Bar (Smackdown)
The most noteworthy moment of this match came when A.O.P manager Drake Maverick peed his pants like Miles Davis. Otherwise, nothing happened, and no one cared.
Match rating: 0.5/5 stars
Buddy Murphy defeats Mustafa Ali to retain WWE cruiserweight championship
The general consensus surrounding this match following its conclusion was… both guys worked hard, showed tremendous wrestling ability, and put on a great show. The crowd reacted huge to the various move-sets displayed by both wrestlers but were quiet otherwise. 205 Live continues to try and climb the hill towards relevance, and with performances like this… it will get easier.
Match rating: 3/5 stars
Smackdown defeats Raw in 10-on-10 tag-team elimination match
The match was treated as though it was part of the main Survivor Series event, but then it was placed on the pre-show and its results weren't counted as part of the final tally. So essentially, this match didn't matter.
Match rating: N/A
Overall, this was a pretty good show. Expectations were not high going in, which allowed the event to prosper. The Rousey/Flair match definitely stole the show, while it was great to see Bryan in a main event spot once again.
Overall show rating: 3.5/5 stars