Alberta resident and apparent crazy man Will Gadd made jaw-dropping, bone-chilling history last week when he became the first person ever to ascend Niagara Falls.
Under the perfect freezing conditions, the National Geographic Adventurer of the Year successfully scaled 51 metres of spray ice to reach the top of Horseshoe Falls, on the New York side. Then he did it twice more for giggles.
"I'm still psyched," Gadd bubbled when we called him up.
The ice climber was born in Colorado but has lived in Canmore, Alta., for going on 20 years now.
We chatted about how he made the mist his maid and what challenge is next on his agenda.
"I didn't wake up one day and decide to climb Niagara Falls. I've been doing this for 30 years," he says. "I hope people have a smile when they see this story and learn to do something cool outside in their own lives."
SPORTSNET.CA: OK. Why climb the U.S. side instead of the Canadian side of the Falls?
WILL GADD: The ice over there forms a little more reliably than on the Canadian side, for starters. The way the lip is shaped on the Canadian side, there's not as much ice that forms. Also, Red Bull [the climb's sponsor] had a better relationship with the U.S. side. It just worked out that way.
Where do you practice for something like this when it's never been done?
The concept of climbing spray ice – ice formed from the spray off waterfalls and not the waterfalls themselves – is relatively new. We started climbing spray ice a lot about five years ago at Helmcken Falls in Wells Gray Provincial Park, B.C. With that knowledge, Niagara started to look more reasonable. The whole climb didn't have to be frozen to climb it. This opened our eyes to a new way of looking at waterfalls. It used to be that the whole thing has to freeze before it's climbable, and with Niagara, that's never going to happen.
How long did it take to climb this thing?
Eight months of permitting and working with Red Bull to get [approved] by the New York State park system. They said no initially, so we had to do a lot of work to alleviate their fears of us doing a human stunt trick there. Ice climbing is something you can do with a reasonable amount of safety. Eight months of that led to one hour of actual climbing – and it was totally worth it.
What was the most challenging part of this?
Anytime you take on something this big in life, the beginning is always the hardest. Staring at Niagara Falls and saying, "Yeah. I'm going to do this now." I knew if I made an error, the whole world would know about it in short order. If I break my leg in the Canadian Rockies, it's, oh, well, another ice climber got hurt. It's not really news. So it was intense starting out.
Then halfway up, the water started running down my neck. That was really cold. Then water started sticking to my ice tools just like ice on your car windshield in the morning, except these are my tools that I'm trying to hang onto like monkey bars. It makes your grip poor.
It's one of those climbs… if you fall, it's not going to be good. You might not die, but you want to do it right.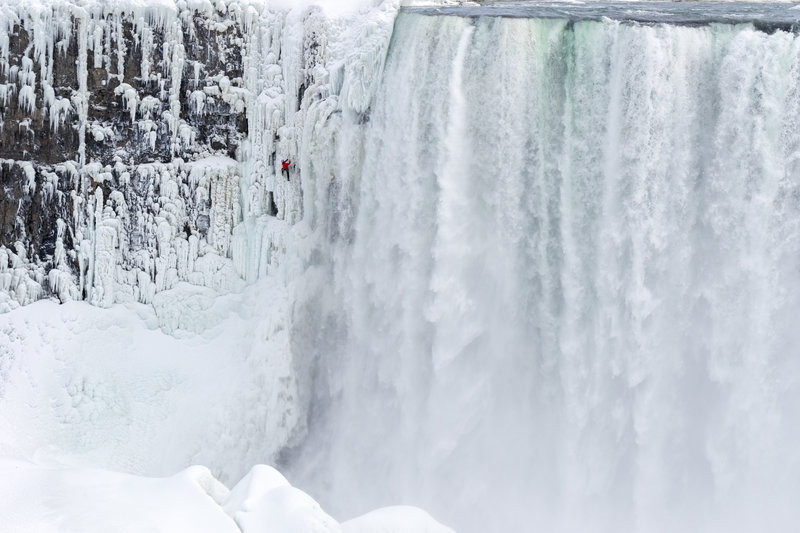 How to do you psyche yourself up for something that's never been done?
I have a physical ritual I've done before anything difficult. I think I started doing it while playing volleyball in high school at 16. I do 20 of these sideways lunge things; I've done that for everything I've competed in for going on 20 years now. That helps, but the big thing is to make sure you're in a good place to perform. By the time I show up for one of these things, I've spent so much time looking at the details and thinking negatively about all the things that can go wrong. There's this thing called the "power of positive thinking" – if I do that, I'm going to get killed. I use the "positive power of negative thinking." Sounds like a bad R.E.M. song. I think about breaking my legs and all the problems, then I think about how I can deal with that effectively so I can go.
Were there moments of doubt during that hour?
I arrived prepared to back down. Anytime I try something new, I fail half the time. You have to have that mindset in high-risk sports. If I got up there and didn't feel right, I would've pulled the plug. I got wet. I got cold. I climbed it once, then I climbed it twice more because it felt good, it felt fun and it felt right. There were a lot of people taking pictures and video. They would've liked me to keep climbing till Dark:30, but I pulled the plug. Enough of this. Now is a good time to take our winnings off the table.
Wait. You did this three times? That's crazy and greedy.
It was a really beautiful climb. And I've trained really, really hard to climb ice. That's what I do. I have the physical stamina. But it was time to step back and celebrate.
How did you celebrate?
Took a hot shower. [laughs] It takes so long to sink in. I've spent so many months working on the project and thinking about how to do it safely and lining up a team of people that needed to be on hand and organizing those people in a complex environment. Sarah Hueniken, my girlfriend, got to follow the climb, so she also climbed it. And in climbing lingo, you get a "first descent" when you start at the bottom and end climb to the top, so both of us will be on the record for that. I was really happy I climbed it, but more so that I managed a complex situation with a great group of people and showed ice climbing to the world in a positive way.
But you didn't feel lucky enough to rush right to the casino?
I felt like the luckiest man on Earth to climb Niagara Falls, but casinos have taught me over the years to stick to ice climbing.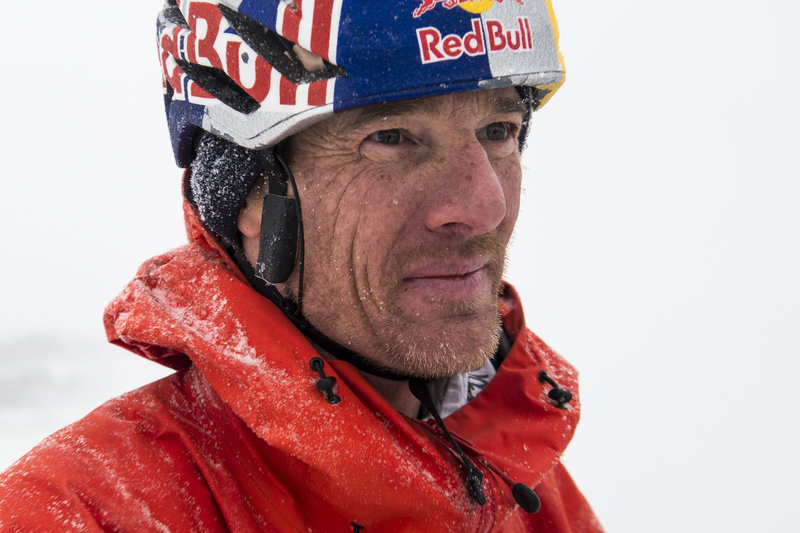 What's your next challenge?
I want to go places on Earth where ice is vanishing quickly and document those places. Climate change is sort of an abstract idea, but I was climbing at Mount Kilimanjaro a month ago, and that ice is now gone. These are massive glaciers we're talking about. Antarctica, China… a few other interesting places on the planet that are losing ice.
What is it inside you that makes you want to do things that could cause injury or death?
I often wonder that myself. These sports, for me, are genuinely interesting and engaging. They give me the meaning, joy and intensity I really need in my life. I'm not going to be one of these people who's good at managing complex spreadsheets. I can manage complex environments and execute things in those environments that are difficult. I'm looking to go into environments with lots of what Donald Rumsfeld called "unknown unknowns" and try to figure that out. It's high stakes and enjoyable.
What did your parents think of you as a kid?
As I kid I wanted to find out what the edge of any situation was. I remember my principal calling my mom and saying, "Little Willie is up a giant tree. What should I do?" My mom asked him, "How's Willie doing up there?" The principal said, "Alright, I guess. He hasn't fallen out yet." My mom said, "Well, you should probably tell him to hang on tight." That's how my parents approached these sports. They knew I wasn't going to be a normal kid, so they tried to instill some skills in me that I could take into these high-risk sports.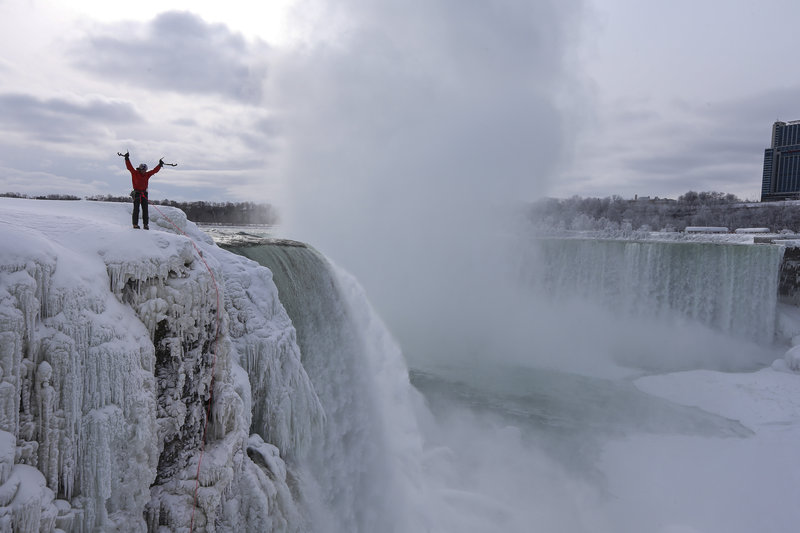 Worst injury you ever suffered?
Broke my ankle playing high school volleyball. Broke my nose ice climbing once – that's as bad as it's got ice climbing. These things are dangerous, but for every Niagara Falls, there were a dozen climbs I walked away – places I left because I didn't feel I had enough competence in those environments. I like to understand things and mitigate risk where I can.
Have you seen 127 Hours?
No. It's on my list. You're like the fifth person to suggest that to me.
Who do you look up to in terms of ice climbing?
The people who've found ways to take my sports farther or in interesting directions. Same goes for life. Anybody who has a creative take on life, that expression is really cool. If you're figuring a way to skate faster as a hockey player, or finding any tweak to do things better or different, I admire that.
Technically, this wasn't your most difficult climb, but it's the one you've put the most work into.
I've done a lot of things in my life. This happened to be at Niagara Falls, so it is the thing that's gotten the most press. I'm doing an interview with a reporter in Colombia after this. I mean, it's really cool. It's Niagara Falls! Have you been there?
Yep. Didn't climb it, though.
Oh, c'mon. You sure you didn't climb it? I will take you out anytime you want. Seriously. I'm a guide. Call me.
What do you want people to take away from reading about your achievement?
Ice climbing is a lot of fun. We live in a cold country where you can ice climb at least six months of the year. It's an awesome thing. This is the other national sport one day, I hope. You got hockey, and you got ice climbing. Curling, too. I was on my high school curling team.
(all photos courtesy of Red Bull)