The Montreal Canadiens signed goaltender Jake Allen to a two-year, $7.7-million contract extension Saturday.
With superstar Carey Price on the long-term injured reserve and unlikely to play at all this season, Allen is expected to handle the workload in net for the Habs.
Price backstopped the Canadiens to the Stanley Cup Final in 2021, but the 2015 Hart and Vezina Trophy winner was limited to five games last season as he entered the NHL's player assistance program due to mental health issues and was also recovering from off-season knee surgery.
Allen made it clear he's no replacement for Price and admitted as such by bluntly saying, "I'll never fill Carey's shoes."
"I don't have the talent and the game that Carey Price has but I have my own game," Allen told reporters. "That's what I have and my own game has brought me success in this league, the consistency and it's been a good couple years here for me personally. I'm just going to try and continue that.
"I understand where we're going, what direction, what we're trying to do and I'm not going to be someone I'm not the next couple of years here. I'm just going to be me and I think they valued that here and I value what they're trying to do. I think it was a good match."
[brightcove videoID=6313129643112 playerID=JCdte3tMv height=360 width=640]
A native of Fredericton, Allen was drafted in the second round, 34th overall, by the St. Louis Blues in 2008. He won the Stanley Cup with St. Louis in 2019 but had lost the starting role to rookie Jordan Binnington.
Allen, who was traded to Montreal for draft picks on Sept. 2, 2020, is grateful he was able to share the net with Price.
"I'll never forget that experience watching him in the playoffs, in the Stanley Cup playoffs, probably the best goaltending I've ever seen firsthand," Allen said. "But I think it's also key to have him around for myself, for the group, for the face of this team and I think we're fortunate to have that."
Allen posted a 9-20-4 record, 3.30 goals-against average and .905 save percentage in 35 games with the Canadiens last season.
As Montreal slipped to the bottom of the standings and finished last in the league, general manager Marc Bergevin was fired on Nov. 28, 2021, with Ken Hughes hired as his replacement and Jeff Gorton brought in as executive vice president of hockey operations. Head coach Dominique Ducharme was let go in February as Martin St. Louis took over behind the bench.
When asked about re-signing with a rebuilding franchise, the 32-year-old Allen said he wants to be part of the process.
"I understand where we're trying to go and I think that I can be an important piece in that," Allen said. "I get that I'm not going to be here forever, but at the same time I'd like to be one of those building blocks that starts this build. When I'm long retired and hopefully this team is very good for tens of years to come, I can say that maybe I was one of those pieces that started the puzzle together. That's the way I see it.
"I think it's a challenge for me, personally. I think it's a challenge for our whole group. I understand what I signed up for and to me it's exciting. There's a lot more optimism here. I've had that chance to win, but I want to see these guys win in the future and I think I can be a big part of that to start this process."
Allen has one year remaining on his current contract and was set to become an unrestricted free agent after the season. He said he felt "very fortunate" to get the deal done.
"It was something that I didn't really have a mindset on when it was going to happen when they reached out and we started some preliminary discussions in the summer," Allen said. "I didn't really know where it was going to go but I'm very happy, very fortunate, that we got things settled and we just move forward with the season."
Allen holds a career 168-126-35 record over nine seasons with the Blues and Canadiens.
October 1, 2022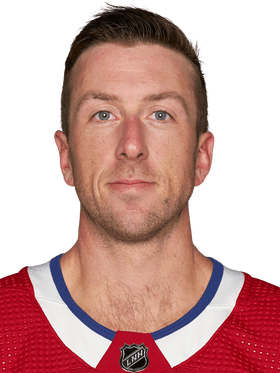 ---
SIGNED BY
Montreal Canadiens
CONTRACT TYPE
Contract Extension
SALARY CAP HIT
$3.85 million