The Pittsburgh Penguins have re-signed goaltender Tristan Jarry to a three-year contract with an average annual value of $3.5 million, the team announced on Saturday.
Jarry is coming off a career-best season in 2019-20 when he posted a 2.43 goals-against average and .921 save percentage for a with a 20-12-1 record in 33 games played.
"Tristan is coming off of an All-Star season and has demonstrated the ability to be a regular starter for us," said Rutherford. "He is a fundamentally sound young goaltender who we believe is a great asset for the Penguins."
On the back of his impressive regular season, the 25-year-old netminder made his debut in the Stanley Cup Playoffs against the Montreal Canadiens in Game 3 of their qualifying-round series, which Pittsburgh lost in four games.
A second-round pick (44th overall) in the 2013 NHL Draft, Jarry was set to be a restricted free agent prior to him re-signing with the Penguins.
Jarry's signing will add more fuel to the Matt Murray trade rumours. Penguins general manager Jim Rutherford admitted "it's going to be difficult to keep both" in August. Murray posted a 20-11-5 record with a 2.87 goals-against average and an .899 save percentage during the regular season before starting three of the team's four games against the Canadiens.
October 3, 2020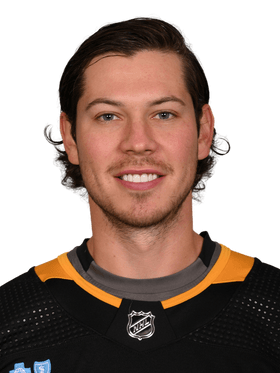 ---
SIGNED BY
Pittsburgh Penguins
SALARY CAP HIT
$3.5 million