The top defenceman available on the NHL's free-agent market has found his new home.
Alex Pietrangelo agreed to a seven-year, $61.6-million contract with the Vegas Golden Knights on Monday. The deal carries an average annual value of $8.8 million and has a full no-movement clause.
"He's one of the top four or five defenceman in the game," Vegas general manager Kelly McCrimmon told reporters Monday. "He's the first over the boards in every situation for his team."
In order to clear cap space for the stud D-man, who finished fourth in Norris Trophy voting, the Golden Knights traded defenceman Nate Schmidt to the Vancouver Canucks for a 2022 third-round pick, clearing his $5.95 million hit off the books. The team likely needs to make another move to be cap compliant when next season starts, even though it also dealt centre Paul Stastny to the Winnipeg Jets earlier in the off-season.
"When we looked at opportunities to improve our team, we had what we believed was an incredibly rare opportunity to add a defenceman, an elite player, like Alex to our team," said McCrimmon.
"We projected what a contract would be for Alex and then at the end of that process asked ourselves, 'Does this make us a better team? Does it improve our chances of winning?' We believe quite strongly that it does."
The 30-year-old Pietrangelo spent his entire career with the St. Louis Blues after being drafted with the No. 4 pick in the 2008 NHL Draft, and helped guide the team to its first Stanley Cup in franchise history in 2019.
Pietrangelo, who served as the Blues' captain since 2016, posted a career-high 16 goals and totalled 52 points through 70 games in 2019-20. The veteran rearguard has topped the 50-point plateau four times during his 12-year NHL career, eclipsing 40 points eight times. His 24:11 minutes of ice time led the Blues this season, and marked the ninth straight season Pietrangelo has averaged more than 24 minutes per night.
"He has been a stalwart player for us, for this team for a number of years," Blues general manager Doug Armstrong said Friday night. "A huge part of a championship-calibre team. He's going to go down so far as one of the best Blues ever."
The Blues signed former Boston Bruins defenceman Torey Krug to a seven-year, $45.5-million contract Friday, essentially ruling them out of keeping Pietrangelo after more than a year's worth of negotiations.
"We couldn't find something that made everyone comfortable," Armstrong said. "It's not the first time, it won't be the last time this happens in the NHL. You just wish it didn't happen because of the respect and the desire we had to keep Alex here."
With files from The Associated Press
October 12, 2020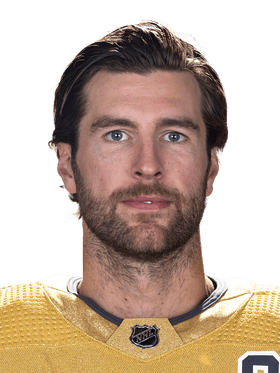 ---
SIGNED BY
Vegas Golden Knights
CONTRACT TYPE
Free Agency
SALARY CAP HIT
$8.8 million