The Ottawa Senators and star centre Tim Stutzle have come to terms on a long-term contract extension, general manager Pierre Dorion announced Wednesday.
The contract will play Stutzle an average annual value of $8.35-million and kicks in for the 2023-24 campaign. The deal will make Stutzle the highest-paid player on the Senators — slightly above captain Brady Tkachuk's AAV of $8.2 million — but star winger Alex DeBrincat remains unsigned beyond this season.
"Reaching a long-term agreement with Tim represents another significant step forward for this organization," Dorion said in a release. "Tim is a dynamic offensive player who utilizes an exceptional blend of speed and skill to be a consistent difference maker. He's electrifying and has quickly become a fan favourite for good reason."
Stutzle, 20, was the third-overall pick in the 2020 NHL Draft and made the jump to the NHL right away as an 18-year-old. After a quiet rookie campaign, he broke out a bit more offensively in his second season, scoring 22 goals and 58 points in 79 games.
In a recent interview with 32 Thoughts: The Podcast recorded late last month, Stutzle opened up about improving his fitness and sleep habits this off-season. Hosts Jeff Marek and Elliotte Friedman both complimented him on his physique.
"Right now I feel really, really good. I think the best I've ever felt," he said in the interview."
With this contract, signed a year before his rookie deal expires, the Senators are betting on Stutzle growing into a premier scorer in the NHL and there's no reason to think the bet won't pay off.
The signing is just the latest in a string of significant transactions made by Senators GM Pierre Dorion this summer. Those moves include acquiring DeBrincat in a blockbuster trade with the Blackhawks, signing veteran scorer Claude Giroux to a contract in free-agency and acquiring veteran goalie Cam Talbot in a trade with the Wild.
Those moves, combined with the continued growth of young stars Tkachuk and Josh Norris (signed to an eight-year, $63-million contract this summer) have created a lot of optimism around the Ottawa region. And that optimism is translating to dollars for the hockey club.
"I can tell you that the season ticket membership is the highest it's been in years," Senators president Anthony LeBlanc said in an interview with Sportsnet's Wayne Scanlan. "We've seen a significant, significant increase — and it all started, really, around the time when Pierre (Dorion, GM) started making some trades."
Now the pressure is on the players to turn that optimism into results and return the Senators to the playoffs for the first time since 2017.
September 7, 2022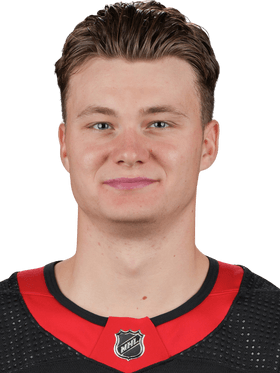 ---
SIGNED BY
Ottawa Senators
CONTRACT TYPE
Contract Extension
SALARY CAP HIT
$8.35 million