GANGNEUNG, South Korea — Marc Kennedy and the rest of Team Koe had just lost their chance at winning Olympic gold in curling for Canada, and a couple minutes after shaking hands with four Americans, the team's third was pretty fired up.
"You play a game that comes down to millimetres," said Kennedy, even-toned. "Sometimes it's one draw. A lot of rocks we threw good and didn't get the results we wanted. It's a really f***ing hard game at this level, right?"
He later apologized for swearing (and really, he didn't need to), but Kennedy's fire and feeling applies perfectly to how Thursday went for Canada, not only in curling, but also in the other sport this country takes great pride in.
Just hours after Team USA beat Team Canada in women's hockey for the first time in 20 years — in a shootout, no less — the American curling rink led by John Shuster beat Team Koe, 5-3, to advance to the gold-medal game, and Canada will now play for bronze. Yes, that was Thursday in South Korea: Two huge losses for Canada in two huge sports at the hands of a bunch of Americans.
And you know what? Shuster and Co. took motivation from watching that women's hockey game before taking the ice themselves. Salt, meet wound. The skip said seeing the Americans win hockey gold "showed us that anything is possible," and, he added, "that was the mentality I knew that we had to have today."
Never before had the U.S. men beaten the Canadian men in curling at the Olympics, and Team Shuster got it done twice this time around, including earlier in the round robin, to earn the country a first-ever shot at men's curling Olympic gold.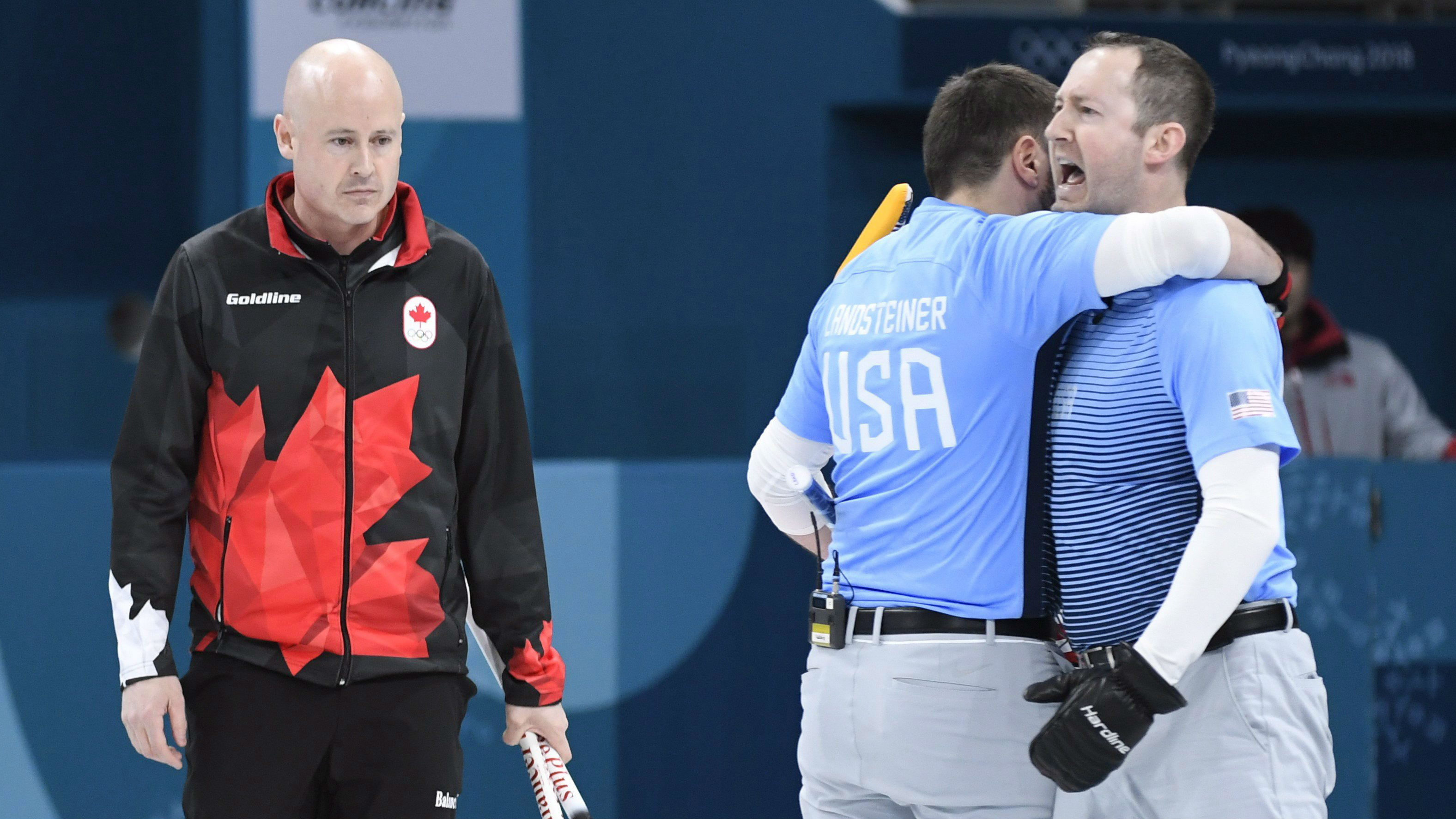 This game was tied 2-2 heading into the eighth, and Koe had blanked the seventh to give his rink the hammer. "We were in the control the whole game, until then," Koe said.
On his first shot of the end, the Canadian skip rubbed a guard, and then he came up well short when he was forced to make a tough draw with his second. The result was a steal of two for the Americans, and this game was basically over.
"We weren't really in trouble that end at all," Koe said. "That's kind of what's frustrating. I think we got fooled a little. The ice started coming down a little. [The shot] was probably a little light as well. You know, what can you say?"
Just as the hockey game came down to a shootout, this one came down to about an eighth of an inch, the difference between Koe's first shot getting by that guard and rubbing it. "If that goes by we score and it's a completely different game," said the team's first, Brent Laing.
Koe and Laing, who have each won everything there is to win in curling, except for Olympic gold, now won't have the chance. (Lead Ben Hebert and Kennedy both won with Kevin Martin in 2010).
"It's hugely disappointing," Koe said. "What more can you say? You don't have to say much else."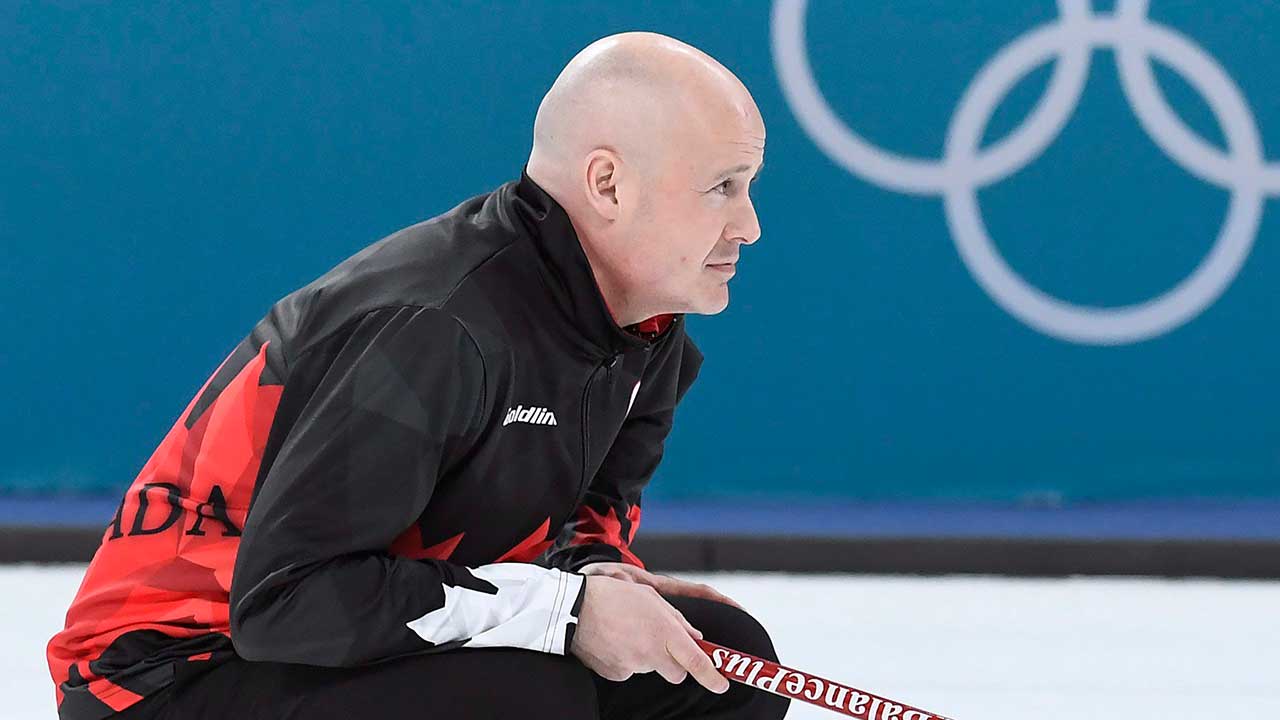 That about wraps up Thursday in South Korea for Canadian curling and hockey. It means on the curling side, only the mixed doubles team of Kaitlyn Lawes and John Morris will have won the gold medals many were expecting from the women and men's teams. Rachel Homan and her Ottawa rink, of course, were ousted in the round robin.
But before you declare this a national disaster, you ought to listen to what Kennedy has to say about the state of curling these days.
"I think it's overplayed that Canada's a favourite," he said. "We come from a rich history of curling where we won everything, and that's not the way it is anymore. Anyone that's been watching the Grand Slams of Curling, we've got European teams winning all the time. They spend nine months of the year in Canada training and learning our strategies and using our coaching and using our ice.
"This is the new normal for Canada, and people need to get used to that. Canada will be fine. We've still got the best curlers in the world. When it comes down to one game here and there, it happens."
And, of course, Team Koe still has a chance at hardware, in the bronze-medal game against the Swiss.
"We don't want to go home empty-handed," Koe said. "As much as this sucks right now, if we can come out and play well and win [Friday] and go home with a medal, that'll help take some of the sting off it."
Kennedy seconded that, with vigour. "We're going to come in and try our asses off for the bronze medal," he said. "This isn't the end of the world. It's a sport that we love, and sometimes you're on the losing end. That's the way it is. It's not the end of the world. We're not going to die. The sun will come up, and we've got to try to win a bronze medal for Canada."