GANGNEUNG, South Korea – The task, if you really think about, is a daunting one: Taking a disparate band of castaways, retreads and rejects and in a matter of days moulding them into a cohesive group ready to win on the high-stakes stage of the Olympics.
Then, for good measure, add a shortage of the type of elite, game-breaking talent that's a real separator at this level, even minus the NHL's brightest lights, and the challenge only gets more difficult.
Yet here the Canadians are, in the semifinals at the Pyeongchang Games, guaranteed a chance to play for a medal after a steely, determined and tenacious 1-0 win over Finland in the quarter-finals Wednesday night.
Now, only an unexpected date Friday with Germany – a surprising 4-3, overtime winner over Sweden – stands between them and a shot at claiming a third-straight Olympic gold against the winner of the Russia-Czech Republic semifinal. While in this wild-card field nothing should be taken for granted, suddenly it sure looks like there's a clear path for Canada back to the final.
"Germany must be playing well – you don't get lucky in this tournament," said coach Willie Desjardins. "The key thing is they play in the world championships a lot with that group, so they've had a lot of experience against high-end competition."
The Canadians, on the other hand, quite obviously do not, but may be starting to find themselves on the ice after four games at the Olympics. They had to fight through the relentless trap employed by a Finnish team that set up a 1-2-2 but quickly collapsed to line up four, if not all five skaters, along the blue line.
Defenceman Maxim Noreau was the only one to beat Mikko Koskinen, on a big slapper from the point high blocker side after Eric O'Dell won a draw cleanly back 55 seconds into the third period.
Max Noreau has opened the scoring with a quick clapper off the face-off 1-0 #PyeongChang2018 @RBC pic.twitter.com/t318CEeGxQ

— CBC Olympics (@CBCOlympics) February 21, 2018
That ended two periods of frustration.
"We talked about it between periods that our centres were doing a great job on winning draws, and we were a little too passive moving the puck around and not getting it to the net," said Noreau. "We had a two-to-three second rule after every faceoff. Great win by O'Dell, right on the sweet spot."
The goal might not have mattered without Kevin Poulin, who took over when Ben Scrivens left the game at 4:17 of the second period with an upper-body injury and made several big stops in turning away all 15 shots against to complete a 21-save shutout.
Desjardins didn't elaborate on Scrivens' status, saying they'd have more information Thursday morning, but the way Poulin stood tall immediately upon entering the game cold proved critical, starting with a glove stop on Petri Kontiola's cross-ice one-timer.
"That goes in and all of a sudden it changes the game and we're reeling a little bit," said Desjardins. "But he came in and made a big save right away. And we have lots of confidence in him, anyway, he's been great for us."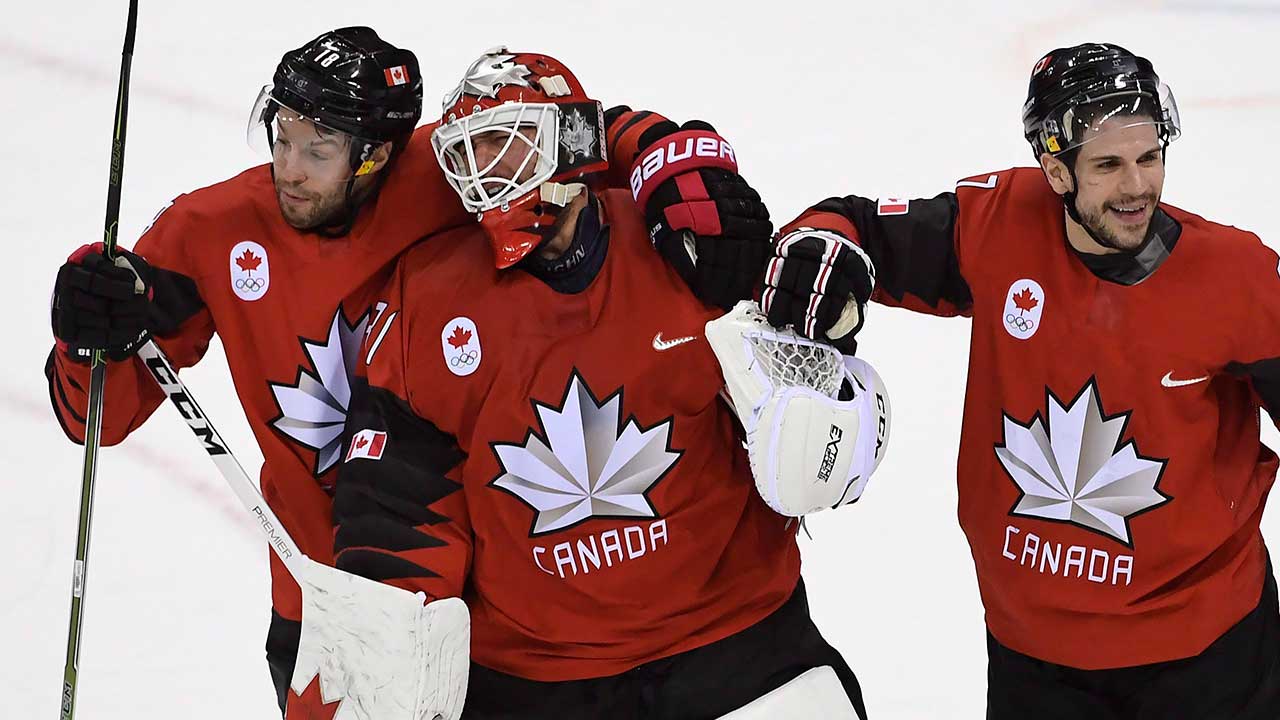 But the Canadians also were dogged in front of Poulin, blocking shots, taking away lanes and fighting for every inch of space on the ice.
"Guys were literally jumping in front of pucks with their face," said Derek Roy, who had a particularly strong game between wingers Rene Bourque and Gilbert Brule. "That's what we've got to do to win."
There should be no question about Canada's work ethic, dedication or competitive spirit – they're working their hinies off. But the lack of finish that first showed up in the shootout loss to the Czech Republic and reappeared in the 5-0 win over South Korea that should have been at least double that resurfaced again versus the Finns.
They generated precious little in a tight first period in which Finland seemed determined to play to a stalemate, but that gave way to a dominant Canadian second, in which wave after wave of red shirts slammed into any white shirt in range, pursuing the puck like hungry Britons searching for stocked KFCs.
"Our line went out there, Bru had that one-timer, then Bourquey had a good chance and then Bourquey had another good chance, the goalie made another good save on it, and then we were just rolling," said Roy. "Every line was going out there, doing their thing. The first period we were thinking too much about the trap instead of just going forward with the puck. I thought we did a good job."
Still, as chance after chance after chance couldn't find its way past Koskinen, the Canadians' frustrations mounted over non-calls and the persistent meticulousness of linesman Henrik Pihlblad, who seemingly can't drop a puck without first throwing a centre out of the circle.
"The refs were a little picky," smiled O'Dell. "It's no big deal, our wingers are great centremen as well when they get in there."
A worrisome moment came early in the second, when O'Dell inadvertently knocked Veli-Matti Savinainen into Scrivens, who stayed down for a while, remained in the game and then came out on the subsequent faceoff, appearing to favour his back.
goalie Ben Scrivens was run over and forced to leave the game

Kevin Poulin enters in the quarter-final match against

Watch live: https://t.co/1577VNNj6q pic.twitter.com/2UpSkSJBF9

— CBC Olympics (@CBCOlympics) February 21, 2018
"I tried to get that guy out of the play and he landed awkwardly on Scrivie, that obviously happens," said O'Dell. "We were lucky to have Poulin in net. He came in and he shined for us. He was big. He came in confident and he definitely showed it out there."
Poulin was tested almost immediately on a Finnish power play, and after robbing Kontiola, he made another strong glove stop minutes later on Joonas Kemppainen.
From the moment he came in there was a calmness to his game that seemed to steady his teammates.
"You've just got to track the puck and you play big, especially coming in cold," said Poulin. "You don't want to overthink, just play big and our team played really well."
The Canadians did a good job of bottling up the play in the third, limiting the number of chances against, and survived a frantic final couple of minutes, when the Finns swarmed the net but got few quality chances.
"For us to have success is to play good defensive hockey and we know that, we embrace that," said captain Chris Kelly. "That's something we enjoy, playing in those tight games. The smiles on the faces after a hard-fought 1-0 win was … you could tell how good we felt.
"This was a step in the right direction, definitely," he added. "Personally I think that was our best effort collectively as a group. We made them work for everything."
The Canadians did the same, and were full value for the victory, their effort the vehicle that can take them to the podium.