GANGNEUNG, South Korea – Salvage mode is an unfamiliar and uncomfortable place for Canadian hockey teams, and that's what makes Saturday's bronze-medal game against the Czech Republic an important test for the 2018 men's Olympic squad.
The disappointment of a 4-3 semifinal loss to Germany that was as stunning for an inexplicably poor opening 40 minutes as for who it came against is sure to impact the national psyche, particularly as it came hours after the men's curling team was beaten out for bronze by Switzerland.
Shaking off the sting of the country's first ever Olympic loss to a hockey minnow, preventing the golden clash against the Olympic Athletes from Russia everyone, including star Ilya Kovalchuk, expected won't be easy – the Canadian hockey mentality is gold or bust.
But on a macro level, the bronze matters as Canada looks to keep building on the Winter Games-record 27 medals claimed so far in Pyeongchang. And on a micro level, it should matter for Canadian hockey to rally and collect bronze rather than treat it like a meaningless participation ribbon.
"I think we could have won gold," said defenceman Mat Robinson, whose goal 2:42 into the third period started a rally from a three-goal deficit that ultimately fell short. "We need to regroup and get out of this with a medal and something to wear proudly."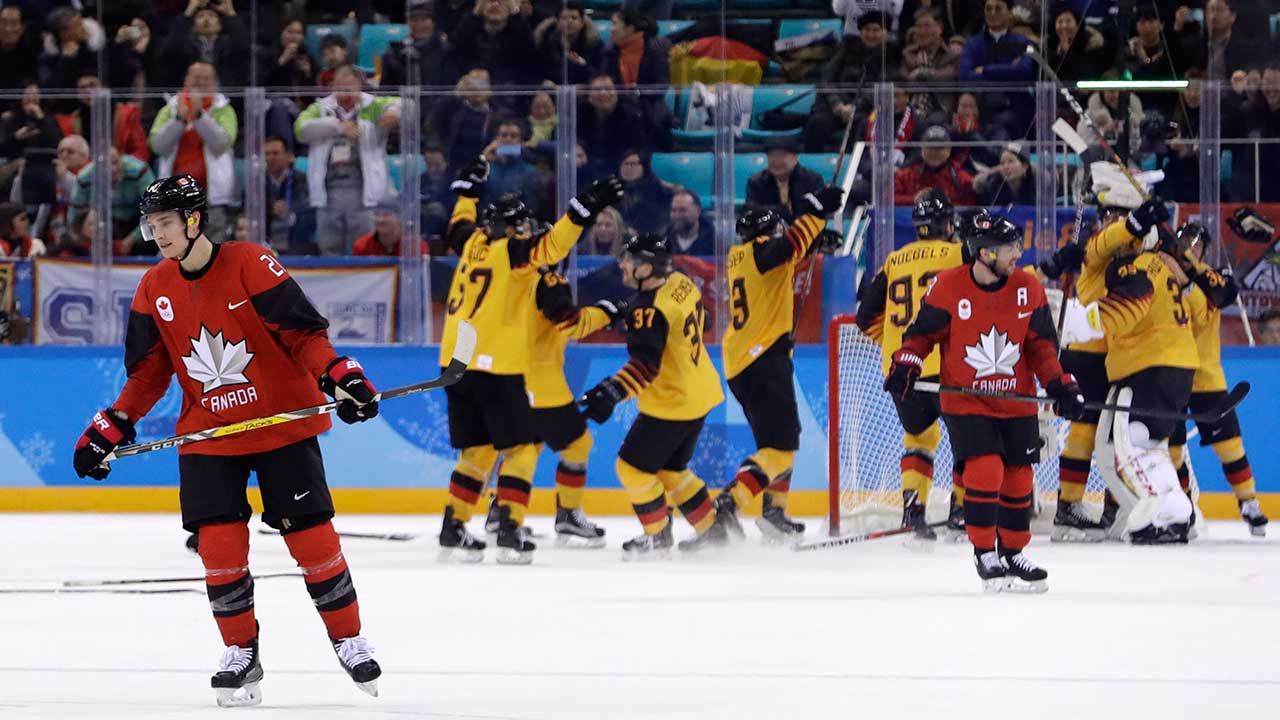 Beyond overcoming the ingrained only-gold-matters hubris, the Canadians will also need to get past squandering a date with the Russians for a chance to win a third consecutive Olympic gold.
To be fair, the delay of game penalty stemming from spotlight-seeking linesman Alexander Otmakhov throwing both Derek Roy and Rene Bourque out of the faceoff circle at 13:19 of the first, leading to a German 5-on-3 and the game's first goal from Brooks Macek, was weak.
"That's a tough one," Roy justifiably griped.
But there was no reason for Canada to begin chasing the game from that point forward, which is what happened, particularly at the start of the second, when Germany converted on a pair of 2-on-1s created on opportunistic transitions off turnovers in a span of 3:28 to open up a 3-0 lead.
A gift power play after a dumb roughing penalty by Yannic Seidenberg set up Gilbert Brule's one-timer past Danny Aus Den Birken off a pretty feed from Chris Lee at 8:17, giving Canada a chance to climb back into the game.
But just over a minute later, Eric O'Dell took a careless hooking penalty, and three seconds into the power play a Matthias Plachta point shot was deflected in front by Patrick Hager to restore a three-goal German advantage.
"We might have been forcing the issue a little bit," said Lee, "we had some turnovers, they capitalized on some chances and the next thing you know we're down three."
Then, to compound matters, Brule received a five-minute major and game misconduct for a high hit on David Wolf at mid-ice, and while Germany didn't score on it, killing it off left the Canadians spinning their wheels when they needed to push forward.
"Guys that are killing are wasting a lot of energy, blocking shots, sacrificing and that's great, but there are other guys on the bench that don't get out and we're a team that likes to roll a lot of lines, we have great players that need to get out there," said defenceman Maxim Noreau, who had another strong game. "That's definitely tough. And it takes away from our game of forechecking and getting in on their D, which has been our bread and butter the whole tournament, forcing turnovers."
Canada got back to that during the third period, outshooting Germany 15-1 in the period, but by that point the Germans – sporting 1980s Vancouver Cancucks-esque yellow jerseys – had receded into a tight defensive shell and held on for dear life.
Robinson's goal – on a pretty 2-on-1 pass from Christian Thomas – made it a two-goal game and 39 seconds later, Kevin Poulin fist-pumped after stopping Dominik Kahun on a generously awarded penalty shot to keep his team there.
Roy converted on a power play at 9:42 – banking a shot in off a German skate – to pull Canada within one, but Aus Den Birken held strong from that point forward, despite a barrage that came 40 minutes too late.
"We knew what they were going to come with but they outworked us, especially in the first half of the game. That's not the Canadian way. We had to be better, and it was just too little, too late," said Robinson, adding later: "That's as disappointing as it gets right there. Tough loss for us. We let our country down today. It's a tough pill to swallow."
Lack of discipline, frustration got the best of Canada
February 23 2018
Deservedly so, as Germany's overtime upset of Sweden set up a clear path to the gold medal game that the Canadians didn't capitalize on. After Russia, which has run roughshod over opponents since a lackadaisical 3-2 loss to Slovakia, beat the Czech Republic 3-0 in the other semifinal earlier Friday, Kovalchuk replied this way when asked about playing Canada for gold: "It does not matter, but I think it will be Canada and it is always fun games."
"Our veterans created this rivalry," he added later. "We respect their team, their country, so it is always a good fight."
Not this time, as Canada is left to fight the Czech Republic and its own potential indifference for bronze.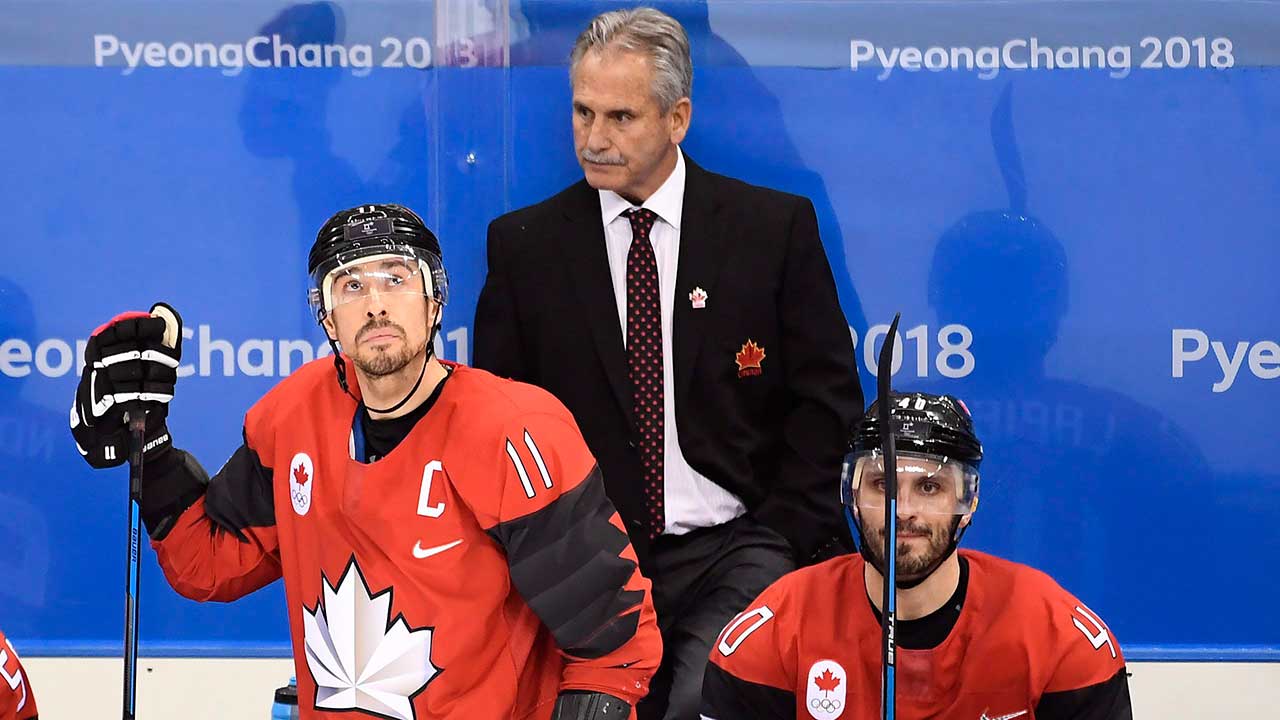 Different team, different circumstances, but the feeble effort of Canada's first NHL-laden Olympic team in the 1998 Nagano Games after a semifinal loss to the Czechs is a worthy cautionary tale.
Another lackadaisical start like the one against Germany and it could get ugly.
"It'll be tough," head coach Willie Desjardins said of the quick turnaround for bronze. "We've got to get away from it tonight, everyone is really disappointed tonight, we've got to get away. We'll regroup tomorrow. We'll play hard. We'll play hard."
Added Chris Lee: "You've got to park this loss."
Said Noreau, a bandage on his cheek covering a cut he sustained when he got boarded in the first period: "I would have done anything to get that win. It is what it is now, we've got to wake up as a team, regroup and at least go for something."
Without a doubt, leaving Pyeongchang with bronze is way better than leaving Pyeongchang empty-handed. The trick for the Canadians will be convincing themselves to fight for bronze the way they planned to fight for gold.