To say it has been an emotional week for Brigette Lacquette would be quite the understatement.
Four years ago, the defenceman was a late cut from Canada's Olympic team, and so the last couple of days were "very, very nerve-wracking," as she put it, waiting to find out if she'd be among the 23 players who'll suit up for Team Canada at the upcoming Winter Games in South Korea.
On Thursday, Lacquette discovered she'd survived the final round of cuts and will be part of the roster hoping to bring home a fifth straight Olympic gold. And on Friday, the 25-year-old from Mallard, Man., was officially named to the team at a ceremony in Calgary, in front of more than 250 young female hockey players.
"It's pretty special," said Lacquette, who plays in the CWHL, for Calgary. "It doesn't feel real right now," she added, with a laugh.
Lacquette will be among nine Olympic rookies who'll make their Winter Games debuts with Canada in little over a month in PyeongChang, and in doing so, she'll also make history. She'll become the first-ever aboriginal player to suit up for Team Canada's women's hockey team at an Olympics.
Talking about the racism she faced at her first big tournament in Winnipeg as a kid, Lacquette fought back tears.
"Growing up, I didn't really have that female role model to look up to," she said. "It's just very special for me to be that role model for young first nations kids across Canada."
Veteran Brianne Jenner of Oakville, Ont., says with rookies like Lacquette on board, this team is faster than it was four years ago when they won gold in Sochi in an overtime thriller against Team USA.
"I think the first thing that comes to mind with this group is speed," said Jenner. "We have some really athletic players that will be joining this roster."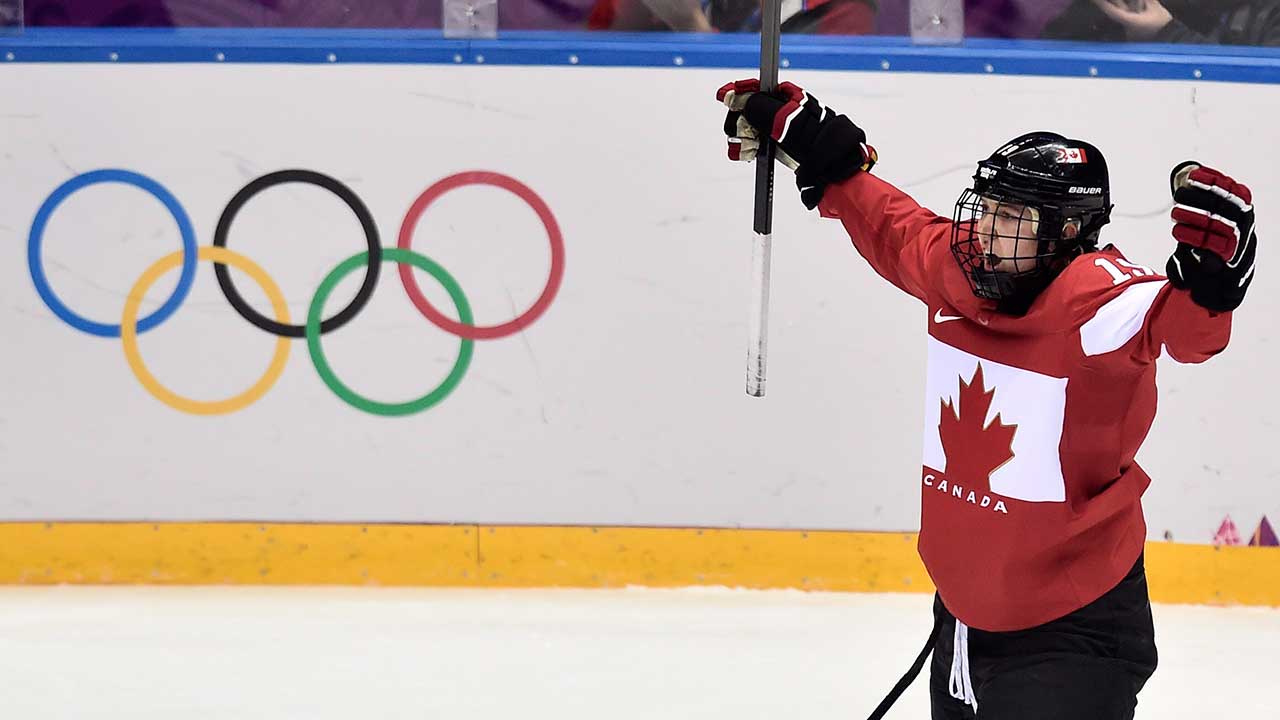 The roster includes three goalies, six defencemen and 14 forwards. There are 14 holdovers from the team that won gold in Sochi, six who won gold in 2010 and one who won gold in 2006—that's veteran forward, Meghan Agosta, of Ruthven, Ont., who's also a police officer.
Agosta says going 5-1 in a pre-Games exhibition series against the rival Americans — Canada and the U.S. have met in every Olympic final in women's hockey — is a good boost heading into PyeongChang.
"It brings definitely a lot of confidence. As individuals and as a team we need to believe in ourselves, in our abilities," Agosta said. "It showed this whole year, we've gotten better individually and as a team. We're going to continue getting better."
Among the other headliners of the team are goalie Shannon Szabados and star forward Marie-Philip Poulin, author of the game-winning goals at the last two Olympics, including the overtime marker in Sochi.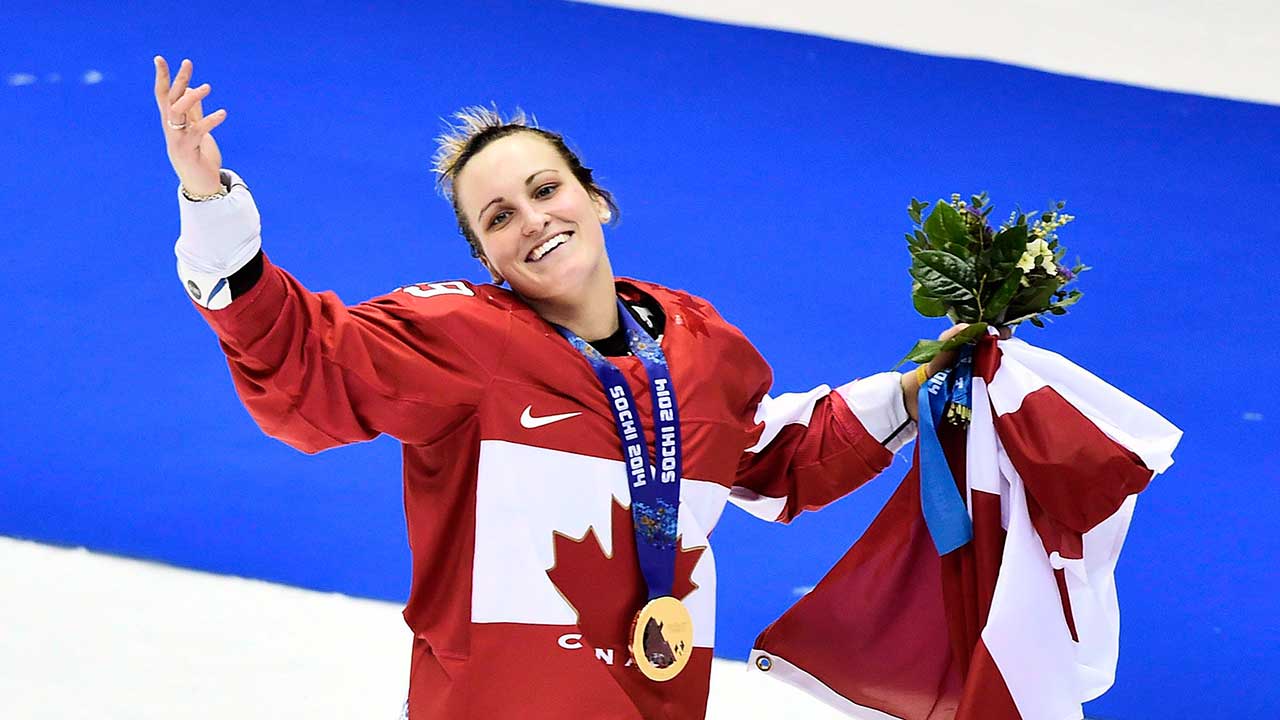 The final three players cut from the roster on Thursday were all part of the world championship team that won silver earlier this year: forward Sarah Potomak and defencemen Halli Krzyzaniak and Micah Hart.
"There are no easy decisions," said Laura Schuler, who played for Canada in the first Olympics to include women's hockey, in 1998 in Nagano, where the team won silver.
Jenner says despite this being her second Olympic Games, the nerves were still there ahead of final cuts. "This is the premier team to play on in the country, and there's so many people that want to be in your shoes," she said. "Yesterday was a bittersweet day for us, losing some teammates."
Lacquette knows exactly how it feels to be on the other end of that. Of course, the fact she's going to the Olympics hasn't hit her just yet.
"I'm super excited," she said. "I feel like I just gotta pinch myself, or something."
[relatedlinks]
This is the complete roster, via Hockey Canada:
Goaltenders: Ann-Renée Desbiens (La Malbaie, Que./University of Wisconsin, WCHA), Geneviève Lacasse (Kingston, Ont./Calgary, CWHL), Shannon Szabados (Edmonton, Alta.)
Defencemen: Renata Fast (Burlington, Ont./Toronto, CWHL), Laura Fortino (Hamilton, Ont./Markham, CWHL), Brigette Lacquette (Mallard, Man./Calgary, CWHL), Jocelyne Larocque (Ste. Anne, Man./Markham, CWHL), Meaghan Mikkelson (St. Albert, Alta./Calgary, CWHL), Lauriane Rougeau (Beaconsfield, Que./Montreal, CWHL)
Forwards: Meghan Agosta (Ruthven, Ont.), Bailey Bram (Ste. Anne, Man./Calgary, CWHL), Emily Clark (Saskatoon, Sask./University of Wisconsin, WCHA), Mélodie Daoust (Valleyfield, Que./Montreal, CWHL), Haley Irwin (Thunder Bay, Ont./Calgary, CWHL), Brianne Jenner (Oakville, Ont./Calgary, CWHL), Rebecca Johnston (Sudbury, Ont./Calgary, CWHL) Sarah Nurse (Hamilton, Ont./University of Wisconsin, WCHA), Marie-Philip Poulin (Beauceville, Que./Montreal, CWHL), Jillian Saulnier (Halifax/Calgary, CWHL), Natalie Spooner (Scarborough, Ont./Toronto, CWHL), Laura Stacey (Kleinburg, Ont./Markham, CWHL), Blayre Turnbull (Stellarton, N.S./Calgary, CWHL), Jennifer Wakefield (Pickering, Ont./Linköping HC, SWE).