PYEONGCHANG, South Korea – The night before his childhood dream of winning an Olympic gold medal was fulfilled with a brilliant run down the Phoenix Sports Park moguls course, and victory was at long last his, Mikael Kingsbury slept for 11 hours.
"How?" he said, echoing the bewildered response to his abundant slumber. "Because I love sleeping. And it's the only place I wasn't nervous yesterday."
Yes, the world's most dominant freestyle skier, a six-time winner of the Crystal Globe as the overall World Cup champion, a silver medallist at the 2014 Sochi Games, gets nervous. Even on the World Cup circuit, where he's the winningest moguls racer ever, the native of Deux-Montagnes, Que., confessed to the occasional butterflies, a fact he usually hides.
These nerves, though, were different. There was pressure, it was real, and he felt it, and it wasn't just about living up to the printout of the Olympic rings with the words "I will win" that he posted above his bed at age 10, a sheet he looked at more times than he can fathom.
Kingsbury needed an Olympic gold to fill the only hole on his substantial resume, and this was his time. Everybody expected him to win, too. He had to deliver. So the 25-year-old spent the lead-up to Monday night's final altering between positive and negative thoughts, seeing all the possible scenarios, including the potential for a small but costly mistake.
Sporting outcomes are, after all, prone to strange occurrences, uncontrollable influences such as weather and other acts of randomness. One wrong move could have left him hanging until the 2022 Beijing Games. "I'm going to have some grey hairs tonight because I've never been nervous like that in my life," said Kinsgbury. "But once I clip my skis on and I get into my ski character, then I feel good."
By night's end, Kingsbury felt more than good. He fought through nerves on a first run that was intended more as a stepping stone, and then upped the ante during the second round with a second-place performance. By the time he was up for his third and final run, he had a firm plan of how to navigate the course, and he crushed it, just totally crushed it, scoring an 86.63 to claim the gold.
The chase was over.
"I feel at peace with my sport now," said Kingsbury. "Last year, I didn't have a very good performance at the world championship (where he won bronze). Starting this season winning the first six events on the World Cup tour, I was coming here as a big-time favourite and it was a lot of pressure.
"All my life I dreamed about winning the Olympic Games and I won it. I'm the first guy that won everything possible."
The win was fittingly decisive.
Aussie Matt Graham finished second, a full four points behind his Canadian friend, while Japan's Daichi Hara, the last skier up, grabbed the bronze at 82.19, bumping the 77.40 by Marc-Antoine Gagnon of Terrebonne, Que., off the podium.
The 26-year-old also finished fourth at the Sochi Games.
"The hardest part is finishing fourth twice in a row," said Gagnon. "Obviously it's a good result and I'm happy with that, but the fact that I was so close, again, it's a bit hard."
The race was also hard on Philippe Marquis of Quebec City, who tore the anterior cruciate ligament in his right knee last month and tried to compete anyway. He didn't finish his first run.
The stakes, of course, were highest for Kingsbury, despite an unparallelled body of work that on its own should have been more than good enough to define his career. After all, anyone can be good, or lucky, for a day or week, while consistency over extended periods is the real challenge, the true separator.
Yet, nothing casts judgment, cementing or tearing down legacies, like the Olympics, the most rewarding – or cruel – of measuring sticks.
To so heavily weigh one arbitrary competition every four years, often in utter disregard of the many feats in between, does a disservice to athletes who deserve better. Speedskater Jeremy Wotherspoon, figure skater Kurt Browning, skeleton racer Mellisa Hollingsworth and hurdler Perdita Felicien are among those whose longstanding success is overshadowed by Olympic troubles.
Had Kingsbury not won, he would likely have faced Pyeongchang fallout for four years, even longer without redemption in Beijing.
That's probably why he let out a primal scream at the finish line, pumping his arms in the air, not needing to wait for the judges to know he came through.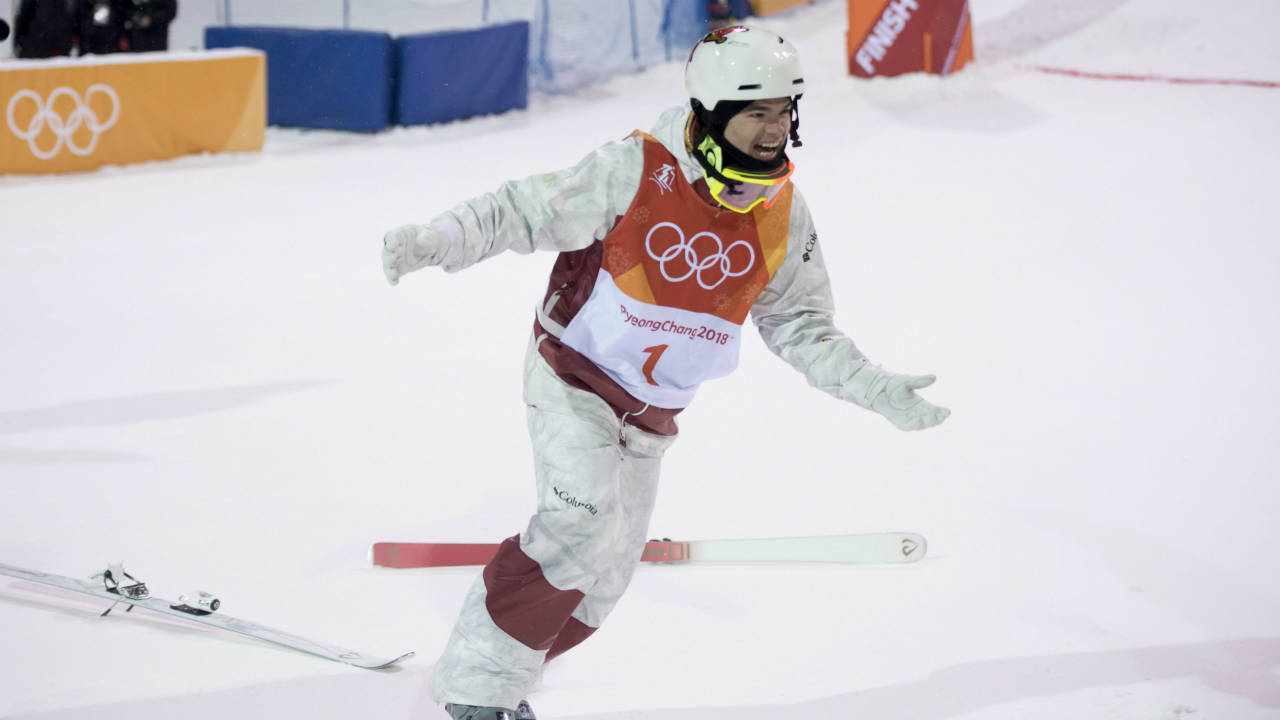 "The look in his eyes when he saw his score was pretty crazy," said Gagnon. "You don't have many opportunities. You have one competition, it lasts 20 seconds and it's once every four years. You've got to give it to him, he had a great run. Champion."
The scream was part joy, part relief.
"I'm so proud of the way I managed the pressure," said Kingsbury. "There was so much pressure it was crazy."
Now it's gone, and the new pressure will be in what comes next.
Graham and Kingsbury are tight but the Aussie set his sights on his friend in the coming quadrennial, saying, "I believe I can contend and push Mik when I'm on it."
There will be others gunning for him, too.
Ikuma Horishima of Japan, the only moguls racer to beat Kingsbury this year, pushing the Canadian to second at the Mont-Tremblant World Cup last month, fell in the second round and didn't finish. Kazakh Dmitriy Reikherd, second in the World Cup standings, struggled in the second and didn't qualify for the third.
Gold medal in hand, there's now nothing left for Kingsbury to win.
"It's funny, because I love my sport, I don't feel like it's over for me," he said. "I feel I can still be better. I'm not at my best right now. In the next four years, I can become even more dominant, push some records as far as I can, and just keep having fun. Skiing on the World Cup tour is the best life I could have, I wouldn't change my life for anything, it's so much fun. I'm happy I won the gold."
In the biting cold amid light snow in the mountains of Pyeongchang, Mikael Kingsbury overcame his nerves, and made his childhood dream come true, and as an Olympic champion, secured the validation he'd already earned as his sport's most dominant athlete.