Noora Raty was the Twitter and media star of Monday's Canada-Finland Olympic women's hockey game. She registered 39 saves in a heroic Finnish team performance that saw them battle the two-time defending gold medalists to a 0-0 tie through almost two-and-a-half periods. She was praised from all corners. Watching the game live, I could understand why, but I wasn't seeing a goaltender who was dominating the game as much as all the accolades suggested.
It is one of the problems with stat counting. We see a high shot total and we fill in the blanks from there. It effects our perception when we should be assessing the actual performance. When I watch a goaltending performance, I like to separate each shot as an individual event to assess the overall performance. As I was watching Raty's performance, I didn't see the need for fawning.
I am a firm believer that possession is extremely important—to succeed long term you need to dominate the puck. Canada did exactly that, which is highlighted in the Corsi count.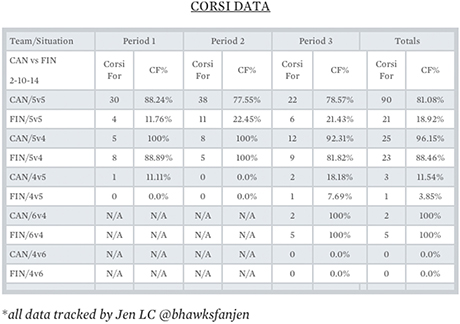 At 5-on-5, Canada crushed the Finns, out-possessing them 81 percent to 19 percent. The analytics crowd generally loses it when they hear things like: "Team A kept the puck to the outside to justify being outshot" or to explain an above-average goaltending performance, but this is what Finland did against Canada. It is a desperation strategy used by teams without the talent to compete heads up. If they were to play each other 10 times, it would be a ridiculous game plan, but in a one game setting it has worked before. And, really, what choice did the Finns have?
When I began the shot quality project, I identified movement as the most important element to disrupt goaltender success. If you can force a goaltender to stop pucks while in transition, your chance of scoring goes up by 30 percent. Passes, deflections, rebound opportunities and shots from the slot are what I look for when assessing degree of difficulty. For an average NHL goaltender, four to five percent of their shots are either tips or transition chances, five to six percent are rebound opportunities and 39 percent of shots are from the slot.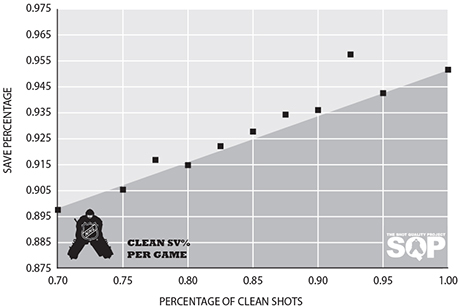 Outside of rebound shots being at that average, Raty's workload was easier actually than your average NHL goaltender's—89 percent of the shots she faced were clean, which falls right around the expected average output for an individual game performance.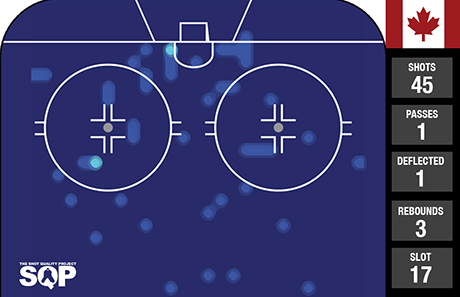 I reviewed the Canada-Finland game in the same manner I do NHL games. I found three that were unaccounted for, but as you can see from the heat map above, the Finns managed to push Canada to the perimeter. With the larger Olympic ice surface, it is easier to accept exterior space as an attacking forward. Finland gave that up and focused on protecting the slot. Once again, a cliché that is generally mocked, but I am not making an anecdotally fueled statement.
If the heat map is not enough to convince, I decided to track the Finnish defensive alignment. On every shot registered, I tracked the position of each defender in the defensive zone. It became pretty clear that they were collapsing to the slot and its passing lanes, tossing away the possession game. They were hoping for defensive containment and transition or special-teams offence to pull off a monumental small-sample upset.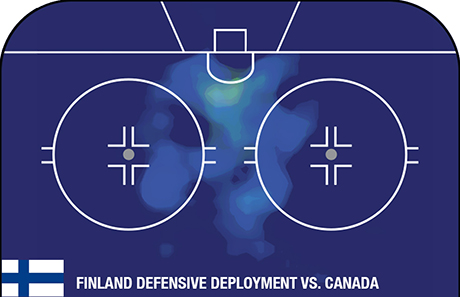 The Finnish defenders refused to be outnumbered below the top of the face-off circles and Canada, which refused to activate its blueliners, understood that if they just kept pounding the offensive zone  a goal would eventually come and refused to activate their defence. Wave after wave of Canadian possessions involved three forwards battling four or five Finns for the puck as the wingers dropped below the top of the circles to support Raty. At 5-on-5 through the first two periods, Canada enjoyed one 4-on-3 rush, which almost resulted in a goal by Natalie Spooner. Three other rush attempts were evenly manned. Only four of Canada's 24 shots (17 percent) came withan equal or numerical skater advantage at even strength.
In the third period, Canada showed some desperation and began to gamble a little more. Before Meghan Agosta-Marciano made it 1-0, Canada had begun to activate the "D" and increased its output to five of nine (56 percent) chances with where an equal or numerical skater advantage deep in the offensive zone. A huge difference from the conservative approach of the first two periods. When Canada got its break, the Finns had to change their approach—and that is when the dam ultimately broke. Canada capitalized on odd-man rushes with the Finnish forwards and defence pinching to tie the game. Eighty percent of Canada's final five shots came with a numerical advantage, culminating in the 3-on-1 goal by Rebecca Johnston.
Raty played a strong game, but it is too easy to default to "Goaltender keeps terrible team in the hockey game. Story at 11:00." Finland executed its desperation game plan perfectly through 40 minutes. Technically the Finns maintained their positions, Raty stopped everything she could see and Canada didn't't get any bounces. Then Agosta-Marciano got a break and the Finnish house of cards collapsed.