Mikael Kingsbury just won the record 50th World Cup race of his career, and the most decorated moguls skier in history is eating a victory pizza in Finland — a drink or two will follow when he's done with interviews —while he considers who should be named Canada's athlete of the year for 2018.
The 26-year-old from Quebec isn't sure how the Lou Marsh Trophy is voted on, but he knows the winner will be announced soon (next Tuesday, in fact).
"I probably am not the most popular guy to win," Kingsbury says, between bites of pizza, "but I do think I have the results to win. If I win that would be awesome. But if I don't, I believe that for a moguls skier, it's impossible to win."
That last statement is not boastful or arrogant. It's true.
In the 2018 calendar year, Kingsbury won everything there is to win in moguls skiing. As he points out, on the world cup circuit, "my worst result is a silver medal this year." There were ten world cup races, and he won eight of them. He won the Crystal Globe as the top moguls skier. And, in February, Kingsbury added the only medal to his collection that had eluded him, the biggest one of all: Olympic gold.
And so World Cup win No. 50 on Friday not only means Kingsbury opens the season retaining his World No. 1 ranking and sporting that yellow jersey, but it punctuates a calendar year in which he was absolutely sensational.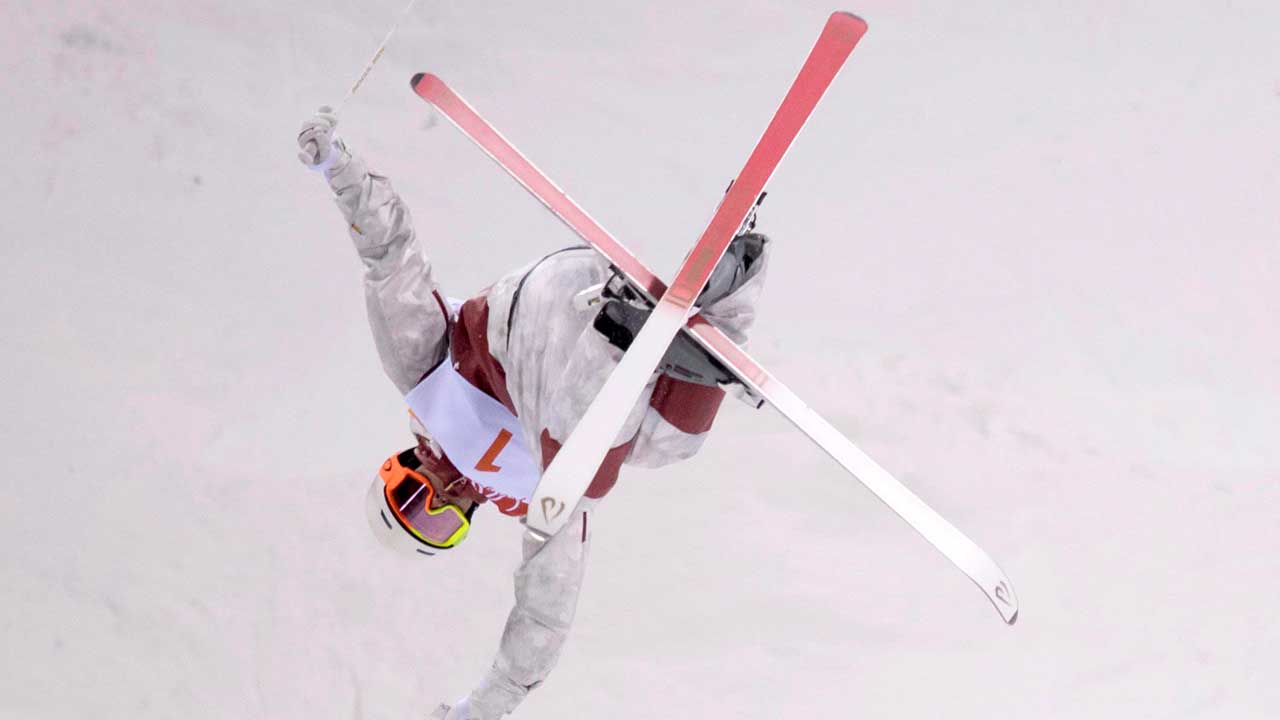 All this makes a very strong case for Kingsbury to win the Lou Marsh, though he knows he'll have some stiff competition, and from bigger-name athletes like Art Ross and Ted Lindsay Award winner Connor McDavid, and Brooke Henderson, who this year became the first Canadian to win this country's national golf open in nearly 50 years.
Just four skiers have won the Lou Marsh Award in the past—Nancy Greene (twice), Ken Reid, Anne Heggtveit and Lucile Wheeler — and they were all alpine skiers.
That would make Kingsbury the first moguls skier in history to win the award. He's certainly put together the best case of any moguls skier ever, and the fact he's lesser-known shouldn't matter.
Kingsbury spent the off-season shedding fat (that meant no pizza) and gaining muscle mass, and he's already seeing the hard work pay off. During win No. 50 on Friday, he led from start to finish, even after French skier Benjamin Cavet put down a flawless and quick run in the big final.
"I was able to be even faster than him with no mistakes," Kingsbury says. "There was quite a bit of pressure for up there, but I like those pressure moments where you need to perform and do no mistakes. I feel they're kind of meant to be for me. It was awesome today to be able to perform the way I did."
Win No. 50 he calls "unbelievable," and that it came in Ruka, Finland, made it even more spectacular. This is always the first stop of the season, and it's there that Kingsbury earned his first World Cup podium back in 2010; it's there he earned his record-setting 26th moguls win in 2015; and, it's there that he earned this latest milestone.
"It's a course that I like — it's kind of like when Rafa Nadal is in Rolland Garros," he says. "Kingsbury, when he is in Ruka, it's kind of the same thing. I was ready, I worked so hard this summer, I think the Olympic gold medal gave me extra motivation to get even better and with the new coaching staff we've got, it was important for me to create momentum…I was absolutely able to do that today."
Next up for Kingsbury is a back-to-back world cup event (Saturday and Sunday) in China. He and his teammates fly out early tomorrow, which means there isn't much time for celebration.
"We're turning the page," he says. "Mission accomplished here in Finland."
And so, Mikael Kingsbury has now done everything he can do to win the Lou Marsh Trophy. On Tuesday, we'll find out if he makes history and becomes the first moguls skier to earn the award.
He repeats his earlier sentiment.
"If I don't win, well, it's impossible to win it as a moguls skier," Kingsbury says. "If I do win, it's amazing because all the other athletes are legends and they're so amazing. I don't have control about that, but it would be for sure quite a big honour to win the Lou Marsh."