During each day of the Games, Olympics Today will keep you up to date on the biggest news and happenings, on and off the field of play.
Key Links
Medal Standings
Full Olympic Coverage
Sportsnet's Olympic Broadcast Schedule
While you were sleeping…
Have Canadian fans ever felt so disappointed after a three-medal day?
Canada won a silver and two bronze over the last 24 hours, pushing its medal total to 24 at these Games, only two off the record mark of 26 set in Vancouver eight years ago. With several events remaining over the next three days, it's not hard to map a path to 28 or 29. When these games are remembered years from now, it'll more than likely be as Canada's best-ever winter Olympics.
But today? In grim daybreak following a bitter defeat at the hands of the Americans in the women's hockey gold-medal game? And after Kevin Koe's rink went down as well, falling to the U.S. in Thursday morning's semifinal and ensuring Canada will not win curling gold at an Olympics for the first time since 2002?
It's just a little disheartening, is all. Bittersweet at best. This is what comes with being consistently good at something. Expectations heighten. Pleasant surprises can only be surprisingly pleasant once. Then, it's just the norm. The bar moves up, and as it gets harder and harder to clear it's easy to forget how far things have come.
But it'll fade. Give it a day. Process the disappointment. Watch the videos of teary-eyed hockey players and crestfallen curlers. Think about what could've been. Then, know that when Team Canada is led into the closing ceremony this Sunday — and it really says something that you can make a legitimate case for so many different athletes to bear the flag — it'll be as one of the greatest collections of Canadian winter Olympians ever assembled.
Hockey's fiercest rivalry continues
Well, here's how it ended.
Three 20-minute periods of five-on-five, one of four-on-four and five rounds of a shootout weren't quite enough to decide a women's hockey gold medal winner between the United States and Canada. It took an extra round.
And with that extra round, Jocelyne Lamoureux-Davidson made the move of her life, and Meghan Agosta missed. That was it. The finest of differences. Not a whole lot in it. Nothing and everything at once.
Is a shootout — like a home run derby after extra innings, a three-point contest to settle a basketball game — the best way to decide something like this? Probably not. But, in a funny way, a shootout was Canada's best chance at winning.
The United States was the far superior team in overtime. If you stayed up to watch it, you know that. The Americans were almost absurdly fast at times, and controlled possession for long swaths of the extra frame, cycling around and around the Canadian zone. The only thing the U.S. didn't control was the stellar play of Canadian goaltender Shannon Szabados, who stopped every puck she faced in overtime, few of them gimmies. The overtime shot chart shows a Canadian crease under siege.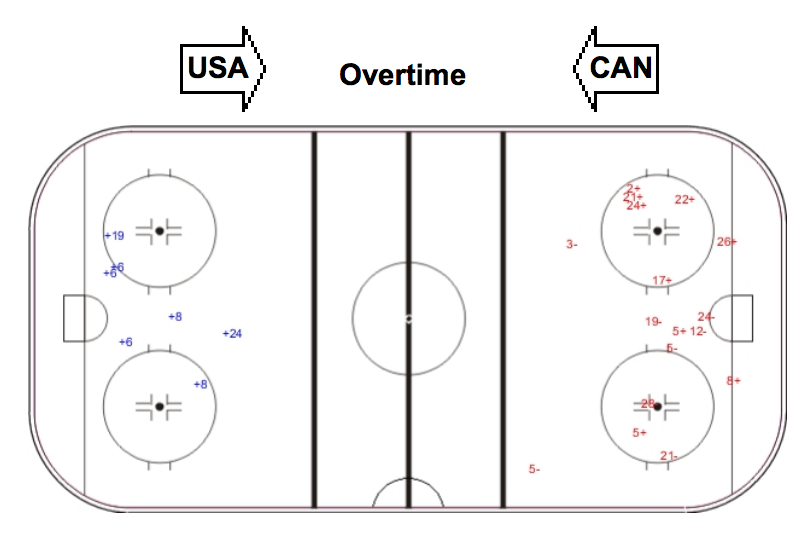 It was only a matter of time. Canada was tired. The U.S. was buzzing. A shootout levelled the playing field in a way that an overtime intermission wouldn't have. It was Canada's best chance. It just didn't come through. And, truthfully, if the roles were reversed, the result would feel deserved.
Which isn't to take anything away from the Canadians. They played their hearts out. Melodie Daoust's shootout goal was spectacular. Agosta's weaving goal earlier in the shootout, too. Canada was at its best in the second period, when it was energized, confident and opportunistic in potting two goals. The hand-eye coordination Haley Irwin showed on her team's first marker — not to mention Blayre Turnbull's pass — was almost unbelievable.
But Canada lived dangerously throughout. There were three penalties in the first, two in the second, another in the third. In all, the U.S. spent nearly 20 per cent of regulation on a power play. That's one reason Canada was so thoroughly outshot, 42-31. Another is the fact Canadian centres won only 24 per cent of defensive zone faceoffs, as the U.S. won control of the puck 22 times from 29 faceoffs in Canada's end.
It's just hard to win that way. And credit to Canada, because they almost did. Credit to Szabados, who kept her team in it. Credit to the Canadian defence — particularly Laura Fortino, Jocelyn Larocque and Meaghan Mikkelson, who each played over 30 minutes — which absorbed American attack after attack. Credit to Canadian captain Marie-Philip Poulin, who did a little bit of everything.
But credit the Americans, too. They deserve the gold medals around their necks.
Triumph and disappointment at the oval
Sherbrooke, Que., native Kim Boutin continued her remarkable run in Pyeongchang Thursday morning, picking up a silver in the women's short-track 1,000-metre, her third medal of these Games.
With bronze medals in the 500-metre and 1,500-metre, and now the 1,000-metre silver, Boutin becomes the first Canadian woman to win three individual short-track medals at a single Games. Her 1,500-metre medal was Canada's first ever for a Canadian woman, and her 1,000-metre triumph was only the second after Nathalie Lambert won silver at Lillehammer in 1994. Boutin joins an exclusive club — including Cindy Klassen (five medals), Gaetan Boucher (three) and Marc Gagnon (three) — as one of only four Canadians to earn three medals at a single Winter Games.
Only 23 and competing in her first Olympics, Boutin has an opportunity to add more medals to her mantle four years from now in Beijing, and perhaps even in 2026 as well, when she'll be 31.
Kim Boutin's goal for this year was to be "consistent."

She comes away from the Olympics with 3 medals ()https://t.co/z7pRxAw0Yj pic.twitter.com/ZlQTmHDBjl

— CBC Olympics (@CBCOlympics) February 22, 2018
Marianne St-Gelais, the three-time Olympic medallist, didn't advance past the quarterfinals and bows out of a disappointing Games — potentially her last — without reaching the semifinals in any of her three events. Valerie Maltais, who specializes in long distances, made it to the 1,000-metre semifinals but was penalized and eliminated in her heat, ending her Games medal-less as well.
Meanwhile, the Canadian men came through with a medal at the oval, claiming bronze in the 5,000-metre relay. Canada led for most of the race and was in first with only two laps to go, but fell to third shortly after its final exchange.
wins bronze in men's 5000m relay

Canada finishes the Olympics with 5 short track speed skating medalshttps://t.co/YYUitFoszU pic.twitter.com/TvIin0mUVp

— CBC Olympics (@CBCOlympics) February 22, 2018
Competing in his final Olympics, Charles Hamelin picked up his fifth career medal, making him the most decorated male Canadian Olympian ever with three gold, a silver and a bronze across four Games. It was a first career medal for Pascal Dion, and a second for Charle Cournoyer and Samuel Girard, who won gold in the 1,000-metre earlier in these Games.
Girard had a chance at matching Boutin's hat trick but finished a disappointing fourth in the 500-metre final earlier in the night, falling behind the pack immediately and never finding a way back into podium position. In the end, Canada's short-track speed skaters come away from these games with five medals — one gold, one silver, three bronze — from eight events.
Prominent Canadians in action on Day 14 (all times Eastern)
• Figure skating, women's free skate — Feb. 22, 8:00 p.m.
Canada has already won three figure skating medals at these Games, and will try to add to that Thursday night as the latter half of the women's individual competition takes place. After earning a score of 78.87 in Tuesday's short program, 22-year-old Kaetlyn Osmond sits in bronze medal position, trailing closely behind two teenaged skaters representing the Olympic Athletes from Russia — Alina Zagitova and Evgenia Medvedeva, who have taken turns setting world records at these Olympics. Osmond will have her work cut out for her in order to improve position, and will try to fend off a podium push from the No. 4 skater, Japan's Satoko Miyahara, who is less than three points back. Meanwhile, Toronto's Gabrielle Daleman sits seventh with a score of 68.90 after a taking a spill during a combination on Tuesday. Her chances of reaching the podium are remote.
• Freestyle skiing, women's ski cross — Feb. 22, 8:00 p.m.
Canada has owned this event since it joined the Olympic curriculum in 2010, winning the only two gold medals ever awarded (Ashleigh McIvor in 2010, Marielle Thompson in 2014) and one of the silvers (Kelsey Serwa, 2014). Thompson returns to defend her crown in Pyeongchang coming off a fifth-place finish at the 2017 World Championships and eight first-place finishes over 14 events during the 2016-17 World Cup circuit. The 2014 silver medallist Serwa is back, as well, and will be joined in the field by fellow Canadians India Sherret and Brittany Phelan. In Wednesday's seeding runs, Thompson, Serwa and Phelan were the top-three finishers, while Sherret placed 11th, which portends well for Canada's podium hopes Thursday.
• Men's curling bronze medal game, Canada vs. Switzerland — Feb. 23, 1:35 a.m.
Not the game the Canadians wanted to play in. But after falling to the U.S., 5-3, in Thursday morning's semifinal, it's the game Koe's rink has got. The Americans were just too sound Thursday, playing with confidence and aggressiveness, stealing a pair in the eighth and holding Canada to only one in the ninth before closing it out. The U.S. shot 88 per cent as a team in the semifinal, with skip John Shuster operating at a massive 94 per cent. Canada needed its opponents to miss and the Americans simply refused. Now, Koe's rink plays Switzerland for bronze. The Swiss topped Canada in the round robin, 8-6, but haven't played quite as well throughout the tournament. Canada shot 87 per cent in the round robin, Switzerland 83. Sweden made it look easy against the Swiss in the semifinals, winning 9-3, for whatever that's worth. A win would extend Canada's streak of men's curling podium appearances to six straight Games.
USA defeated Canada in their men's curling semifinal 5-3, booking a ticket to the gold medal game for the first time ever

match – vs.
match – vs. https://t.co/WdHgtnbEsC pic.twitter.com/BSgrJ2TJyf

— CBC Olympics (@CBCOlympics) February 22, 2018
• Speed skating, men's 1,000m — Feb. 23, 5:00 a.m.
Denny Morrison won silver in this race at the 2014 Games in Sochi, but while he is in Pyeongchang with Team Canada, he'll be stepping aside to allow three of his teammates to race instead — Vincent De Haitre, Laurent Dubreuil and Alexandre St-Jean. De Haitre is the podium favourite of the three after taking home the silver medal in this event at the 2017 World Championships. The 28-year-old Dutchman Kjeld Nuis is the skater everyone will be trying to beat. He's the defending world champion in this event and won gold in the 1,500-metre earlier on at these Games.
• Men's hockey semifinals, Canada vs. Germany — Feb. 23, 7:10 a.m.
No surprise to see Canada — the two-time defending gold medallists — playing here in an Olympic men's hockey semifinal. But Germany? The second-last team to qualify for this tournament? A nation that had only a little more than 20,000 registered ice hockey players in 2017? (Canada had more than 600,000.) A team that needed a shootout to beat Norway (9,000 registered) in the round robin? That's where we've arrived in this Olympic tournament devoid of NHLers. The Germans — who last medalled in 1976 as West Germany — beat Switzerland and Sweden on their way to this game, both tight contests decided in overtime. Canada, meanwhile, cruised to a commanding victory over Finland in the quarterfinals, a game that wasn't nearly as close as its 1-0 final score suggests. It would be the upset of all upsets if Germany upended Canada here. But, then again, the Swedes probably felt pretty confident themselves. The winner plays Sunday for gold against either Czech Republic or the Olympic Athletes from Russia. One note for Canada: Kevin Poulin is expected to start in net with Ben Scrivens still nursing a shoulder injury suffered during Tuesday's quarterfinal versus Finland.
Sportsnet dispatches from Korea
Kristina Rutherford puts it all in perspective after Canada's shootout loss to the Americans in the women's hockey gold-medal final.
Rutherford also has all the details from Kaillie Humphries and Phylicia George's "emotional" bronze-medal performance in women's bobsleigh Wednesday.
Shi Davidi watched the Canadians men's hockey team dispatch Finland Wednesday morning, and gathered plenty of reaction from the confident Canadians.
And Davidi sets up Canada's next test — Thursday's semifinal against Germany — with a spotlight on Canadian blueliner Maxim Noreau, who scored the winner in his team's quarterfinal victory.
Shi also took in Thursday's women's snowboarding big air final, in which a pair of Canadians came away bruised but not broken.
Around the web
The Washington Post has a revealing look at the poor, aging South Korean workforce that these Olympics rely on.
The New York Times considers the Canadian Olympic curling trials, which may be more stressful than playing at the Olympics itself.
Slate delves into the inevitable showdown between teenaged Russian figure skaters Evgenia Medvedeva and Alina Zagitova, who skate for gold Thursday night.