GANGNEUNG, South Korea – There is gold now on Patrick Chan's Olympic resume, from the coveted win in the team event at the Pyeongchang Games he said was to him as good as victory in past individual events. And he deserved it, too, winning the free skate to cement a lead the Canadians never gave up.
Perhaps now he can enter the men's short program Friday free from the ghosts of Olympics past, free from the burden of expectation that weighed him down in Vancouver and Sochi, and free of the win-or-bust mentality that sapped so much joy from both experiences.
In his final event at his final Winter Games, Chan can continue writing himself a dream ending.
"My narrative is very different," the Torontonian said in an interview before the Olympics. "I've established myself as one of the best in the world at figure skating, I skate a specific way that no one else skates and that's what I need to base my narrative off of, what do I have to offer this sport, for probably the last time? What's my last memory I want to leave with people? In order to do that, I need to look back on Vancouver and Sochi and realize what were the dos and don'ts of those experiences, mentally mostly.
"I find a lot of the times an Olympic athlete on that stage, you stop your body from doing what it wants to do because you're not used to being in that environment … you all of a sudden have this urge to try harder to do what you normally do. Now, I'm having a conversation to shut the hell up, just let your body do what it wants, it knows what to do, I've done this for 20 years and these are my third Games. In those three weeks, why do I need to try more than I ever have?"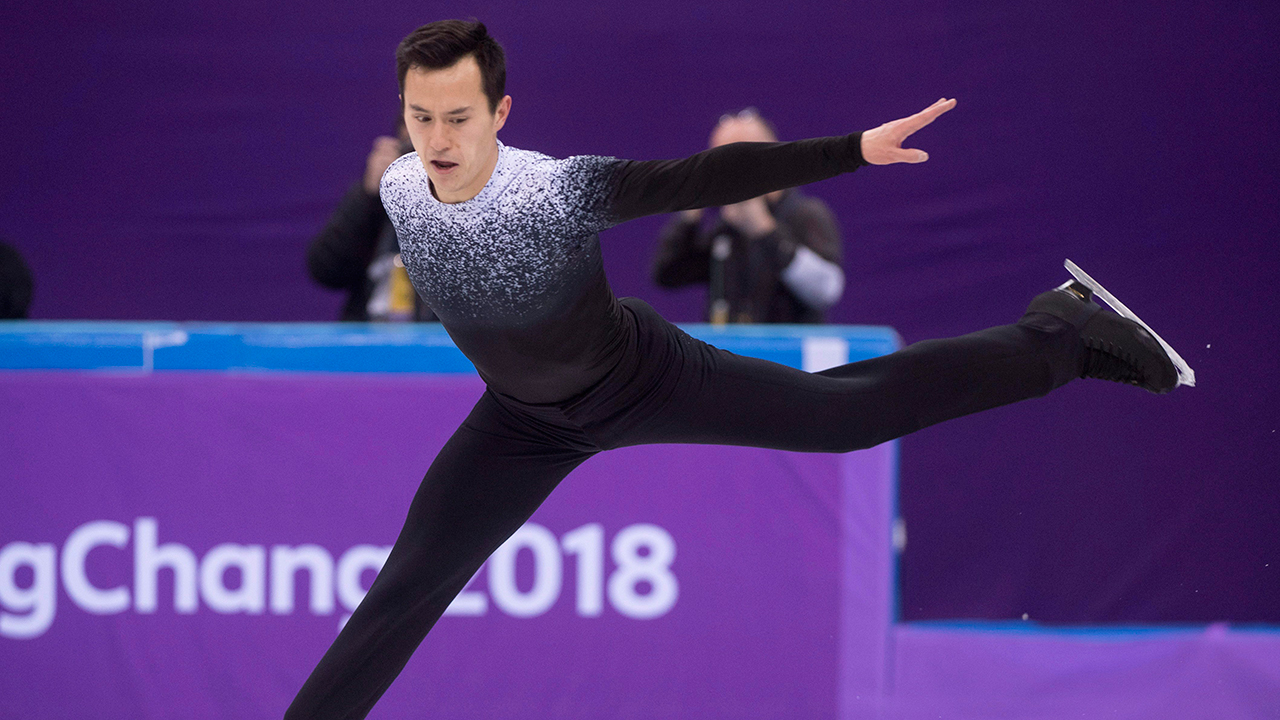 Canada's Patrick Chan performs his short program in the men's portion of the figure skating team competition at the Pyeonchang Winter Olympics. (Paul Chiasson/CP)
The 27-year-old entered his past two Olympics in a much different head space, arriving in Vancouver as a precocious 19-year-old thinking how great it would be to win gold at a home Games, and in Sochi as the defending three-time world champion who had to win.
Chan finished fifth in Vancouver and settled for silver in Sochi after falling twice on jumps.
He also helped Canada win the team silver in 2014, but in his own navel-gazing that followed, the 10-time national champion realized that his outlook had "skewed his reality."
"It was very shallow way of thinking about the Olympic experience," Chan said of needing gold to cement his legacy. "If that's how I'm remembered by some people, then so be it. But for me it's become much more in-depth than that. It's become a story of self-growth. Not many people get to go to three Games. What can I take from it? What kind of things can I learn beyond skating? I still have such a long life to live. I've only scratched the surface. What can I take from this as I move on and feel this played a huge role in my life?"
Another thing Chan has come to terms with is the wave of quads that's taken over men's figure skating, with American Nathan Chen featuring five of them in his long program.
Chan tried to keep up and incorporate more into his mix but he's skater built for grace, not power, and that pulled him away from his strengths. He now has one in the short and two in the long and has reconciled himself to not being able to outpower his rivals.
"It's so easy for me to get carried away and almost get discouraged," said Chan. "I'll be at practices and be like, 'Holy, these guys are really busting out these quads and I'm not capable of matching that so I need to try harder to show that I deserve it more because I'm lacking,' as opposed to, 'Cool, he's great, let's see what happens on the day of competition.'
"I can only control what I do. I've prepared the best I can to do a quad toe and a quad Salchow, I'm adding a quad in the short program, so I'm staying current. I'm at arm's length. However, sometimes when I really put an emphasis on what the others are doing, I feel like I'm a football field away."
Chan's fluid strides and artistry are his opportunities to separate himself from the field but the technical side of skating is clear, with specific elements netting a certain amount of points.
The extra rotation of the quad can ring them up quickly.
The performance elements are far less concrete, leaving him more in the hands of how the judges weigh things.
"A jump is instant gratification," said Chan. "A skater who can skate with the music and completely lose themselves in the piece and the performance and the emotion or the idea they want to emote, it takes time. It's like going on a first date, and then a second date. You're creating this energy and pulling people away from where they are in the moment and bringing them along on a journey. When you can do that through your skating, the politics go away, and I'm really trying to do that."
The attempt begins Friday morning, and Chan isn't favoured to win a medal. But if he can repeat his performance in the free from the team event, he might just leave people with a very different memory of him.