It isn't often a player beats a team single-handedly, but T.J. Oshie pretty much accomplished that Saturday against Russia. Anybody who pays attention to shootout data was aware of his prowess during the NHL skills portion of the season. Add the Olympic wrinkle of allowing anyone to shoot as many times as the coach wants after the first three shooters and Oshie was able to launch himself into temporary U.S. Olympic stardom with his exceptional shootout ability.
I felt bad for Sergei Bobrovsky who really had no idea what was coming and guessed wrong six straight times. The reigning Vezina Trophy winner was lucky he didn't go 0-for-6—Oshie missed an open net and was foiled once by a Bobrovsky desperation stick swing.
Oshie disguises his intent on each approach and his lightning release keeps goaltenders honest until he is deep enough to choose a final option. I reviewed his genius on Saturday and it became quite clear why he had so much success. One approach, five different attack points.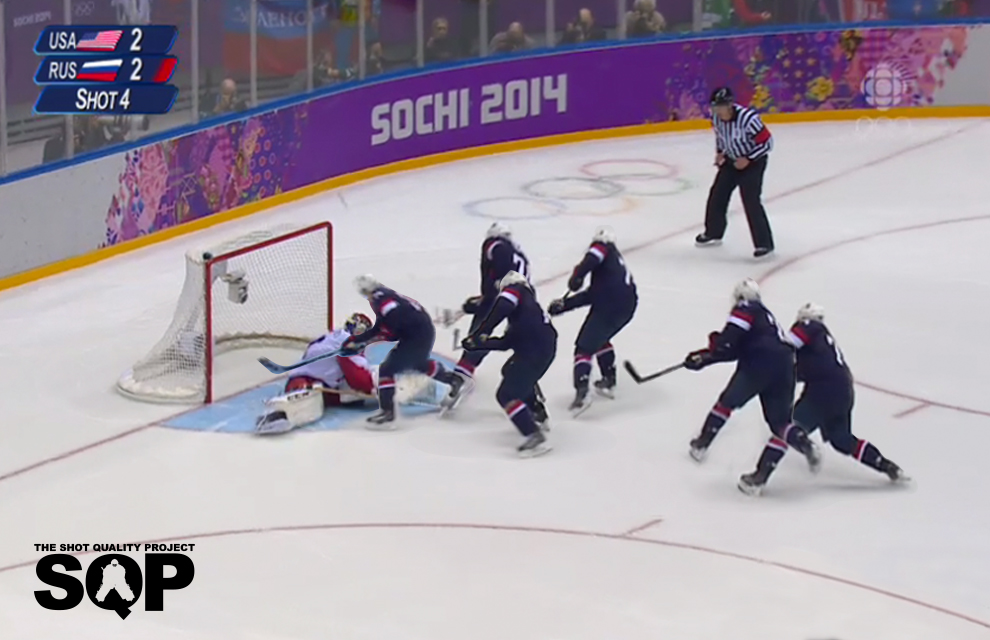 He set the whole thing up with his first approach. A quick-release snap shot beat Bobrovsky five-hole and forced him to remain patient. Oshie faked backhand and had Bobrovsky cleanly beat and fired it high on his second attempt. Two shots, two looks. On his third approach Oshie fakes shot, fakes deke and snaps it five-hole again. At this point Bobrovsky is in big trouble. Oshie mixed in a deke to both sides and on his final attempt buried it through the five hole from the hash mark again. Bobrovsky looked like somebody who just lost rock, paper scissors for the sixth straight time and felt as though no matter how he opened his hand that Oshie would have the answer.
All you need to be effective in the shootout is the ability to execute two strong moves, when you have four or five like Oshie it becomes unfair. Dominance in the shootout can be the difference between an NHL team missing or making the playoffs. Shootout dominance in a short tournament like the Olympics can be the difference between the USA playing the Czech Republic instead of Finland in the quarterfinals, or it could heavily influence a gold medal like it did in Nagano in 1998. That importance probably cemented Oshie's place on the Olympic roster.
Why is he so dominant? I researched Oshie's shootout history and tracked the areas he attempts his shots from to see if I could identify any patterns. I labeled these as on ice targets.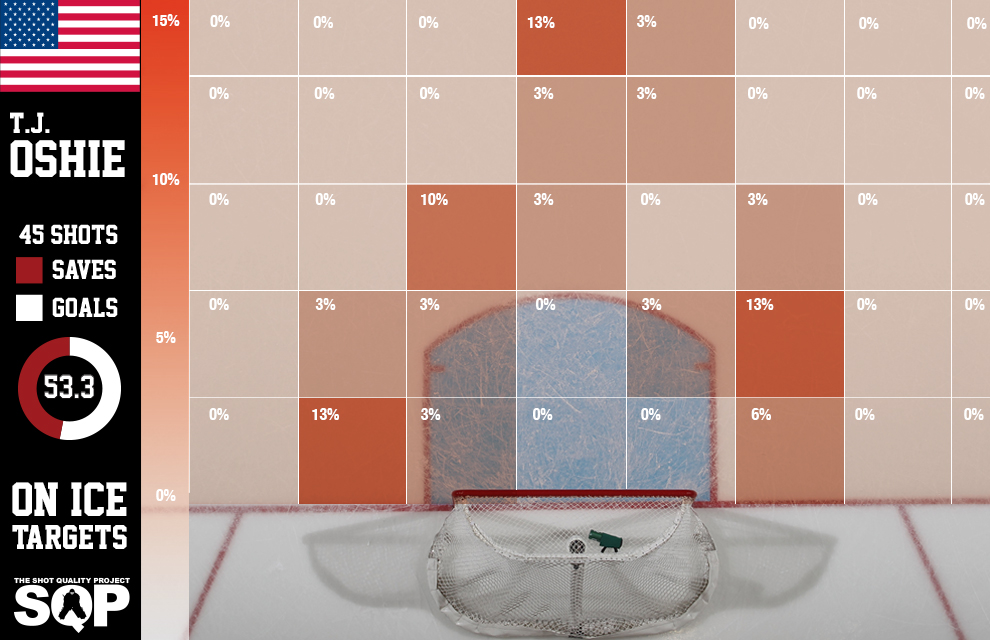 Oshie has a fairly equal distribution of shots versus dekes, slightly weighted to his forehand. Essentially the formula that devastated the Russians on Saturday. Even a goaltender who has researched his tendencies will struggle to decipher his intentions because of the way he disguises them. With unpredictability removed I wanted to identify his areas of success so I tracked his on ice shooting percentage.
As a goalie looking at Oshie's pattern of on-ice success, I would have to remain honest and aware of his quick release from the hash marks, but if he decides to deke I would shade to my left to take away his forehand. Unfortunately when looking at his on-net shooting percentage his backhand comes back into play.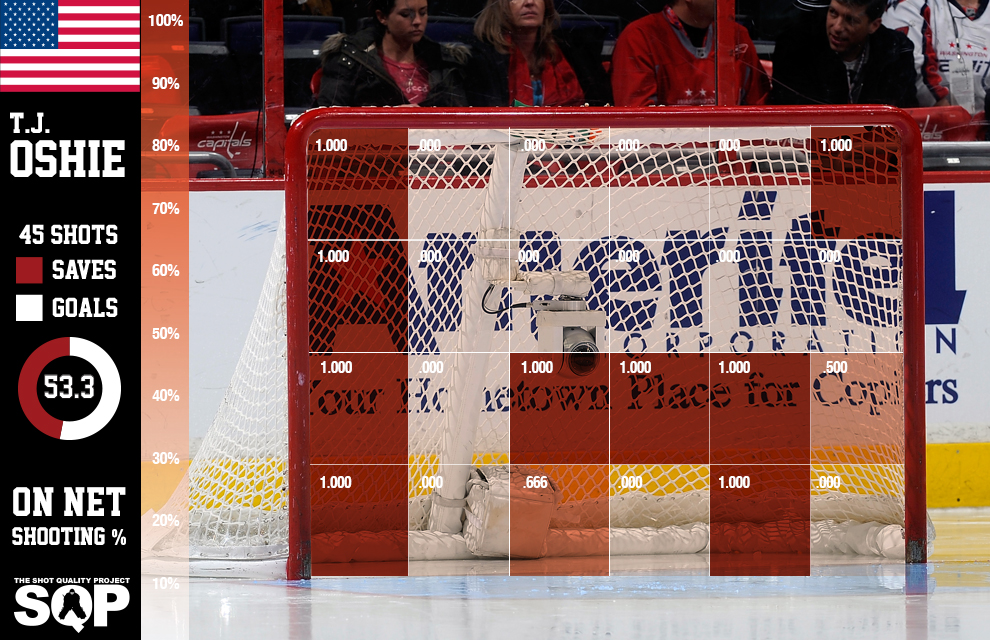 Oshie is devastating through the five-hole from the slot and virtually unstoppable when he goes to his backhand. After researching 51 shots, no stoppable pattern emerges. The Americans are extremely dangerous during any game that reaches a shootout because of Oshie and Zach Parise, who also manages to mask his intentions with a great leg kick.
Canada has a similar player on its roster in Jonathan Toews. I used the same methodology to chart Toews's success the past four seasons. The findings were very similar, but less diverse than Oshie.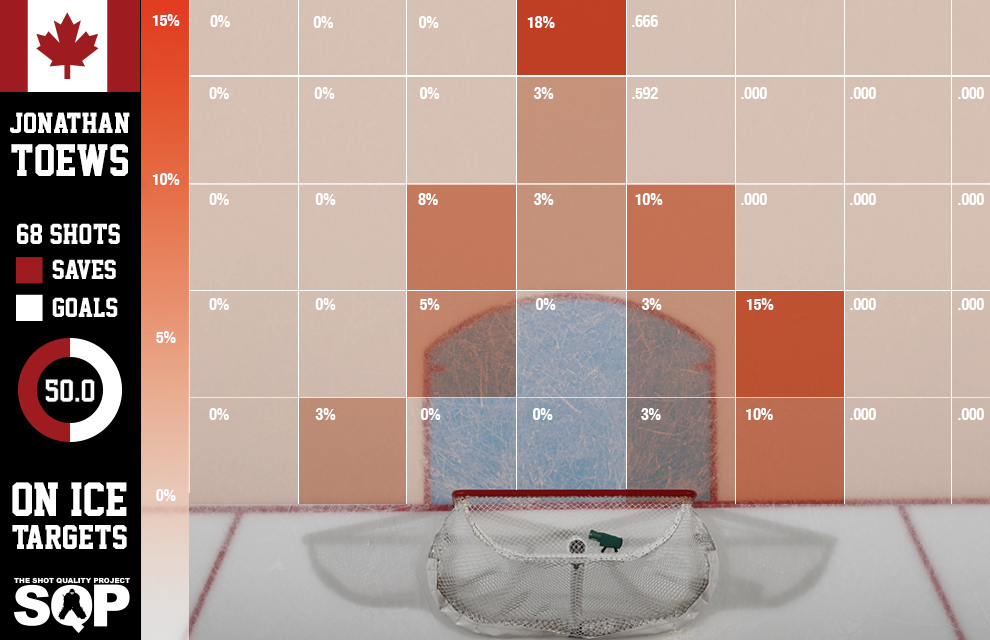 Toews, like Oshie, favours a quick release from the slot and although he is capable on the forehand and backhand, he generally goes to his forehand when he decides to deke. But he offers enough variability to confuse goaltenders and has the ability to move to both sides of the net.
Looking at Toews's successful attempts shows him to be more reliant on a quick-release strike from the hash marks than Oshie. Toews uses the deke more to keep goaltenders honest then to score, this is backed up with a 59-percent success rate when he shoots.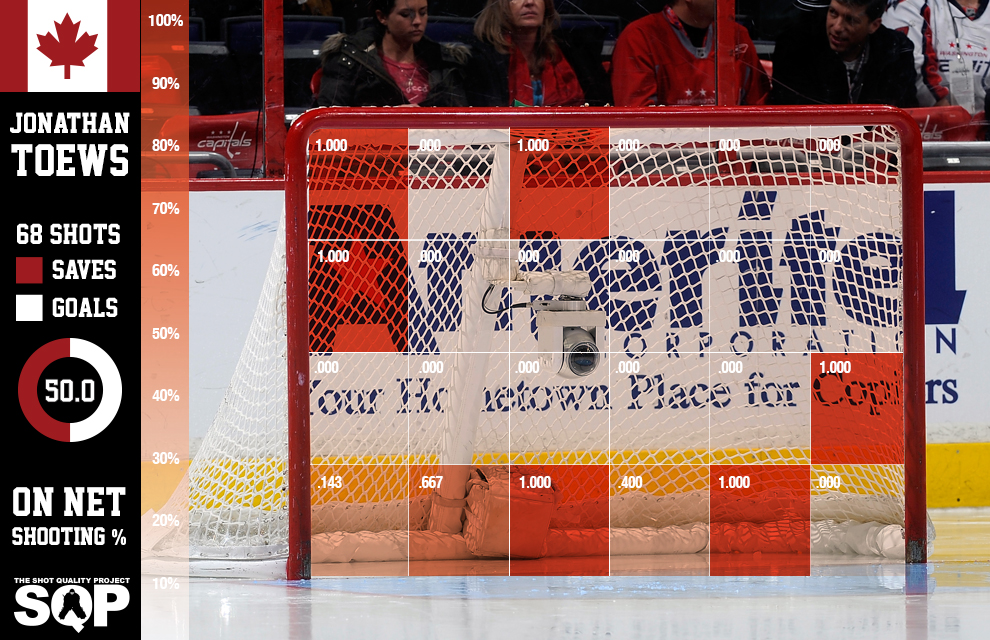 Toews also relies on the lower half of the net because of his tendency to target the five-hole with his quick release. Almost all of his success in the upper half comes from getting goalies to commit and going forehand over their extended legs trying to cover the bottom half.
Due to the skill of these shooter, even with all of this information in hand it is still difficult to come up with a clear concise game plan and be confident of it's success. Oshie and Toews both set up everything off the quick release five-hole strike, so we can go the route of Bobrovsky and attempt to play Oshie straight up and run the risk of being embarrassed or we can do what Carey Price did on Peter Mueller during the 2007 world juniors and guess five hole, drop half butterfly and hope for the best.
I am guessing five-hole and praying for the best.