PYEONGCHANG, South Korea — Sebastien Toutant had just won his first gold medal ever, the first in Olympic men's big air history, and the 25-year-old from Montreal didn't need any questions to prompt him to talk about the moment.
You see, Toutant had just topped a field that included fellow Canadians like Max Parrot—the three-time and reigning X-Games champion in the event—and Mark McMorris, who also owns three X-Games titles in big air. To boot, the kid they call 'Seb Toots' won this thing after a compressed disc in his lower back kept him off his board from November to the end of January.
Asked about the back injury, Toutant said it made him feel stronger. And then he kept talking about whatever he wanted to talk about.
"I mean, slopestyle is what I like the best," Toutant said, grinning. "I love big air, but slopestyle you get to show the world all your skills on rails and jumps, and I love rails—I love jumping too, but. And then I think I'm just lucky to have a second chance, you know? There's a lot of athletes out there that have just one shot at it, like in Sochi I didn't land my run in final and it was over I was like, 'Ah, I've got to wait another four years.' But here it was kind of like turn around from being bummed [he finished 11th in slopestyle] to 'Ok, let's do it.' You want that gold medal you better work it out. I worked hard in practice…"
He kept going. And you can't blame him, not even a little bit: What a moment it was for Toutant, to win Canada's 28th medal of these Games, to have it be gold. This is a guy who's been around the podium in major events, but never on it—he was fourth at X-Games in Aspen the last two years. And certainly Toutant wasn't the Canadian most expected to see on this big air podium, with McMorris and Parrot in the field.
McMorris, who won slopestyle bronze here just 11 months after he nearly died in a training accident, fell on his first two jumps, which put him out of contention. He placed 10th.
The 24-year-old from Regina, Sask., went too big on his first one, and on his second he said he was having trouble with the clouds and lack of sun. "But I don't know, I guess it wasn't my day," McMorris said. "It's pretty tough to swallow, though. F—ing sucks."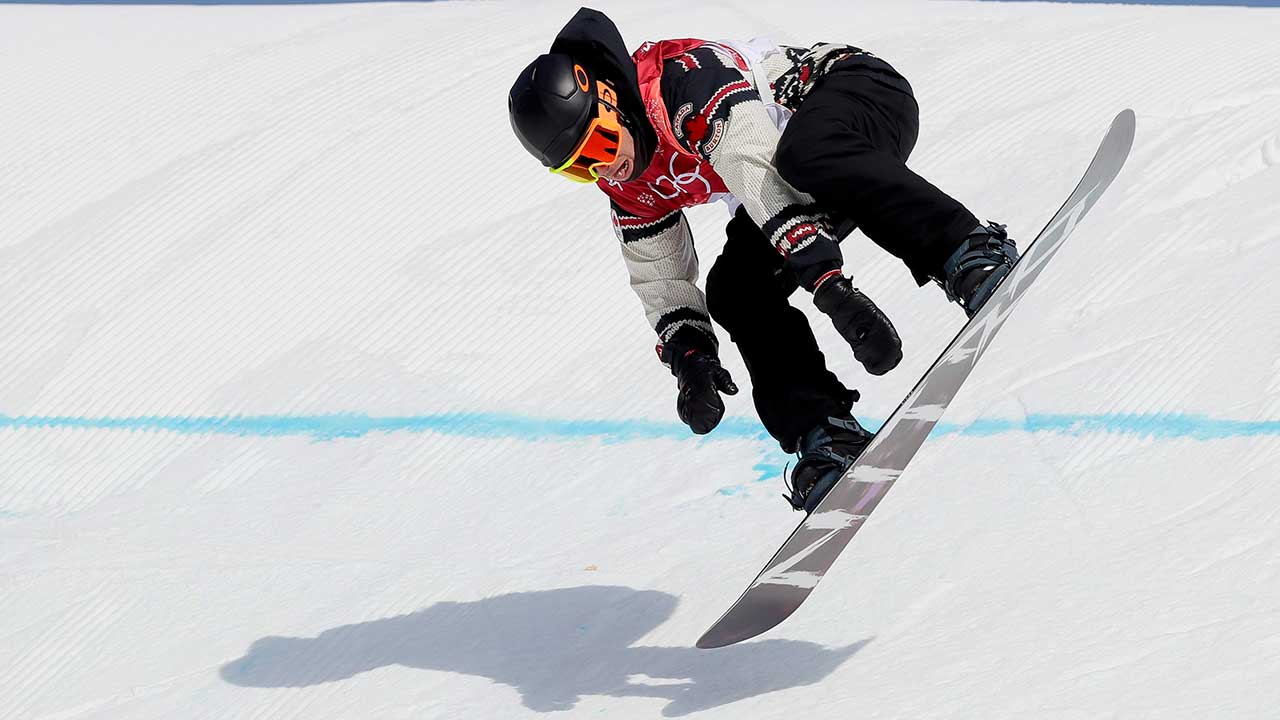 Sebastien Toutant, of Canada, jumps during the men's Big Air snowboard competition at the 2018 Winter Olympics in Pyeongchang, South Korea. (Kirsty Wigglesworth/AP)
Toutant said he was "bummed" for McMorris, but he also made a good point: "At least he got a bronze medal in slopestyle and all the world knows that he's a really good ripper and he knows how to shred his board." No doubt.
The day went only slightly better for Parrot, the slopestyle silver medallist who was in a podium position after a solid first jump, but then fell on his last two attempts at a switch triple cork 1800. It would have been a gold medal run had he stuck the landing, which Parrot was doing in practice, and at the X-Games, where he won last month.
"Before the last run I had the choice to go for an easier trick and land on the podium, but I chose not to," Parrot said. "I already got a silver from slopestyle and I'm very happy with my performance there, but I didn't want to have two silvers, I want to have more. So, I mean, I went for it…"
While the results weren't there for McMorris or Parrot, the day was saved by Seb Toots. "So proud of Seb," McMorris said. "So cool. He's had such a tough time over the last few years and [he's] so talented, but not getting the results he could get. So, super pumped for him."
Added Parrot, "He deserves it 100 per cent. His tricks were awesome."
While Parrot and McMorris and other top contenders were having trouble sticking their landings, Toutant stuck a cab triple-cork 1620 and a backside cab triple cork 1620, which was good enough for gold.
"It was really stressful waiting down there to see all the guys, but wasn't wishing like bad luck to anyone," Toutant said. "I was just there, you know, like they're all my friends and I was wishing them to land their tricks. Happy to hold up and first gold medal for me ever and the first one ever in big air. Feels really good."
You could definitely tell. "Everything kind of clicked," Toutant added, snapping his fingers. "Body felt great, the back was feeling awesome, no more pain, so my head was clear and I could focus on what I wanted to do. Today didn't matter which position I was going to get, I wanted to land those two tricks, that's what I did, and it ended up to be first place.
"Really, really happy [with] the way I rode, I'm really happy on the day and it's a big day for snowboarding, and I'm glad to be Canadian."