Soccer royalty congregated on Moscow's State Kremlin Palace on Friday as the official draw was held for the 2018 FIFA World Cup.
Pele, Diego Maradona, Gordon Banks and host of former legendary players were on hand for the proceedings, while millions of TV viewers from around the world watched on to see who their team would be playing in the group stage of next summer's tournament.
Here's a quick look at the groups: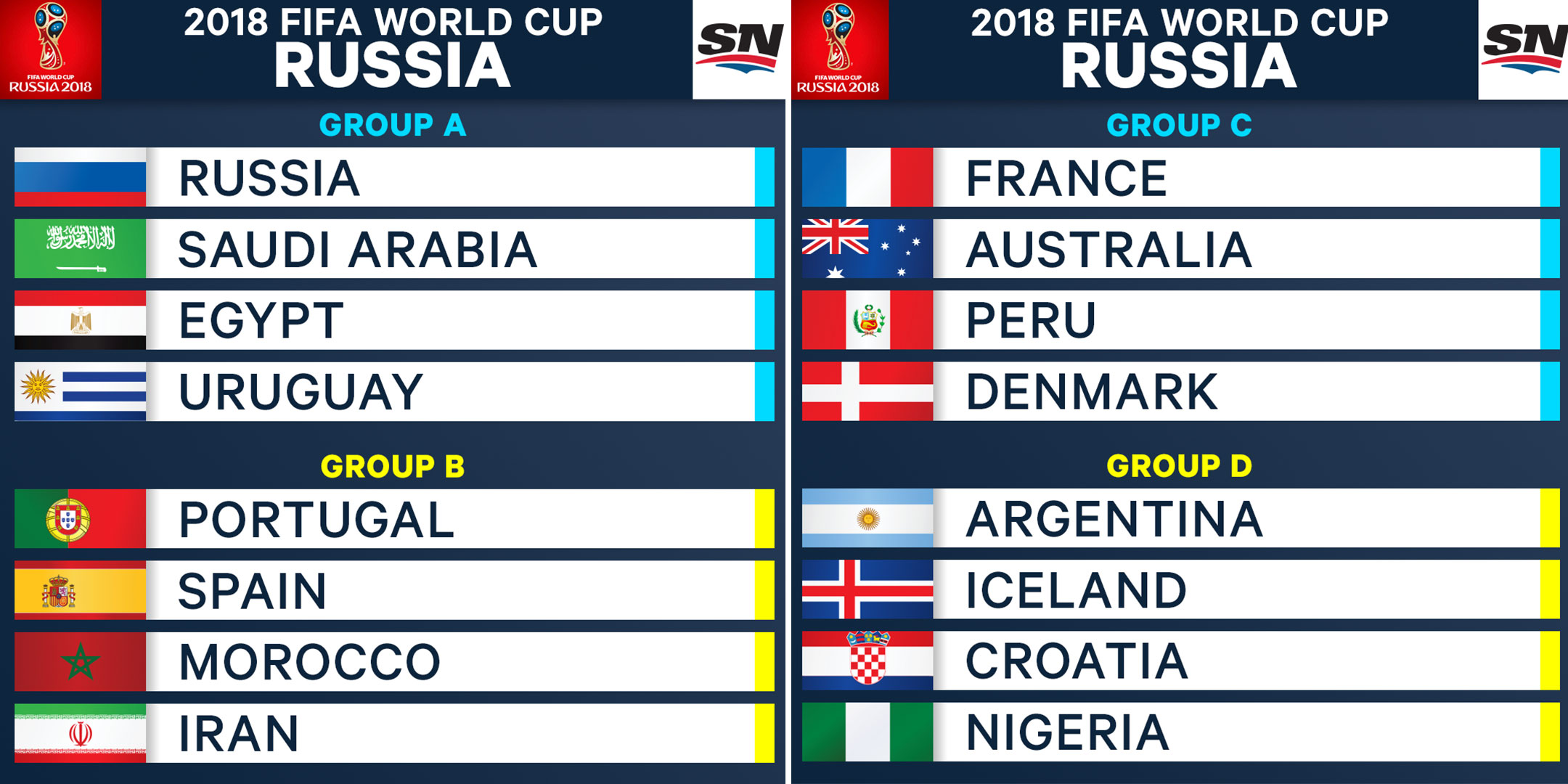 What does this all mean? Glad you asked…
MOST COMPETITIVE GROUP
Let's be clear – there is no "Group of Death" at this World Cup. The term "Group of Death" implies four heavyweight nations being pooled together, with any one of them able to win the group.
That said, there are several competitive groups, with Group D foremost among them. You have to believe that Argentina is the favourite to win the group, but the South Americans will have their hands full with Croatia and Nigeria – an opening game against Iceland looks pretty straightforward. Don't be fooled by the fact that Croatia needed to qualify for the tournament via the playoffs. Boasting players the calibre of Luka Modric, Ivan Perisic, Mario Mandzukic and Ivan Rikatic, the Croatians are a quality side that not enough pundits and fans are talking about. Look for them to be one of the dark horse teams that could go on a run at next summer's tournament in Russia.
MARQUEE MATCH OF THE GROUP STAGE
Mark down June 15, 2018 on your calendar because that's when Portugal clashes with Spain in the Group B opener from Sochi. These European powers have met in big tournaments before, including the 2010 World Cup and Euro 2012 semifinals, and there will be plenty of star power on display, with Cristiano Ronaldo and Andres Ineista leading the way. Whichever nation wins will have the inside track on finishing first in Group B, while the loser will have some work to do in order to catch up. A draw could leave the door open for Iran or Morocco to take one of the two spots and move on to the Round of 16.
IT WAS A GOOD DRAW FOR BRAZIL
Five-time winners Brazil are no doubt ecstatic after being drawn into Group E with Switzerland (their opening opponent), Costa Rica and Serbia. It could have been far worse for South Americans, who were in Pot A, as they could have ended up with Spain from Pot B – they got the modest Swiss, instead. Brazil has to be considered the overwhelming favourite to win this group, and if they do they'll likely avoid Argentina, as their heated rivals would be on the other side of the draw provided they also win their group. Their path to the semifinals, where they could meet France, looks pretty clear.
IT WAS A BAD DRAW FOR MEXICO
Mexican has made it through to the Round of 16 in each of the last six World Cups, but that streak is in danger next summer after El Tri were put into Group F with Germany, Sweden and South Korea. An opening game against the reigning World Cup holders looks pretty daunting for the Mexicans, and Sweden and South Korea aren't pushovers, either. At best, Mexico will finish second, and if that happens they'll likely meet Brazil in the next round. Good luck with that.
WHAT ABOUT THE HOSTS?
All things considered, Russia has to be pretty happy after being paired with Saudi Arabia, Egypt and Uruguay. Saudi Arabia is the perfect opponent for their first match, as it the allows the host nation to get their feet wet without too much hassle. Placed in Pot A for the draw, the Russians avoided Spain or Croatia from Pot B, and they ended up getting Saudi Arabia, the weakest team from Pot D. Uruguay will pose a challenge for the Russia, but it's set up for them to get out of the group and move on to the knockout round.
INTERESTING FACT
JAMES SHARMAN'S TAKE
BEST LINE OF THE NIGHT
Gary Lineker hosted Friday's proceedings in Russia, and the English legend delivered a number of one-liners, including remarking to Fabio Cannavaro, "It's nice to have an Italian involved in the World Cup." Ouch!
But Lineker's best quip was directed at Diego Maradona, who helped with the draw by pulling the balls out of the glass tumblers, when he said, "Diego has always been good with his hands."