Look, Aston Villa is bad. They're having a bad season that could end up culminating in one of the worst point totals in the Premier League era. But sometimes number crunching, analytics and projection can't completely capture a team's performance.
The harmony between objective quantification and a deep, emotional grasp of how the sport functions is what can create a more complete understanding. Totality aside, it can certainly be deployed to understand Aston Villa's nightmare thus far.
The club finds itself a lamentable culmination of being bad in a few crucial categories, the ones that really matter, and being fairly mediocre in the others.
#rstats exploding boxplot ex #EPL after 20 games Interactive https://t.co/gPtxottziY HT @timelyportfolio pic.twitter.com/uDhBm90sn0

— Andrew Clark (@pssGuy) January 10, 2016
Premier League positions by team from 1992 through 20 games. 2015-16 Aston Villa only above Sunderland (from 2004-05) and Derby County (from 2006-07).
Micah Richards has been an ineffective leader and denies his own strengths.
I tend to shy away from statements like this, as it's difficult to succinctly identify leadership just through numbers and by not being in the locker room of a club, but it's unavoidable in Richards' case.
Let's try to define him as a player. He's a hulking, strong defender with above average athleticism and pace when he needs it. He is not a central defender that is hyper spatially aware and distributional. He can pick timely moments of when to dribble, spray long balls or contribute to tight possession. These traits have been reinforced at every topflight club he has played for, and truly represent his skill set as a defender.
Coming off of an unsuccessful loan spell at Fiorentina in Serie A, Richards came back to the Premier League with Aston Villa and was immediately named on-field captain. Although it is evident that he is a gregarious and commanding presence, his play does not display traits you usually associate with the captaincy.
He consistently tries to make up for his other defenders across the back line, or his deep lying midfielders by hastily coming to their rescue. Richards repeatedly and incorrectly double teams and flies at opponents in possession without abandon who could easily be dealt with proper spacing and structure. Rather than addressing the problems as a unit, through communication, Richards puts on his hero cape and tries to mop up with his athleticism, causing problems in the form of conceded goals.
With the hero cape firmly attached, the newly appointed captain also brings it upon himself to forge forward in possession via dribble to add another dimension to a meager Aston Villa attack. The issue is that he is neither tidy on the ball nor spatially aware enough to demand the ball back when necessary or release the ball in a timely fashion. This culminates in him attempting the most dribbles (1.9 per 90 minutes) and inevitably the most unsuccessful dribbles (0.5 per 90 minutes) of any central defender in the Premier League who has played more than half of the games thus far.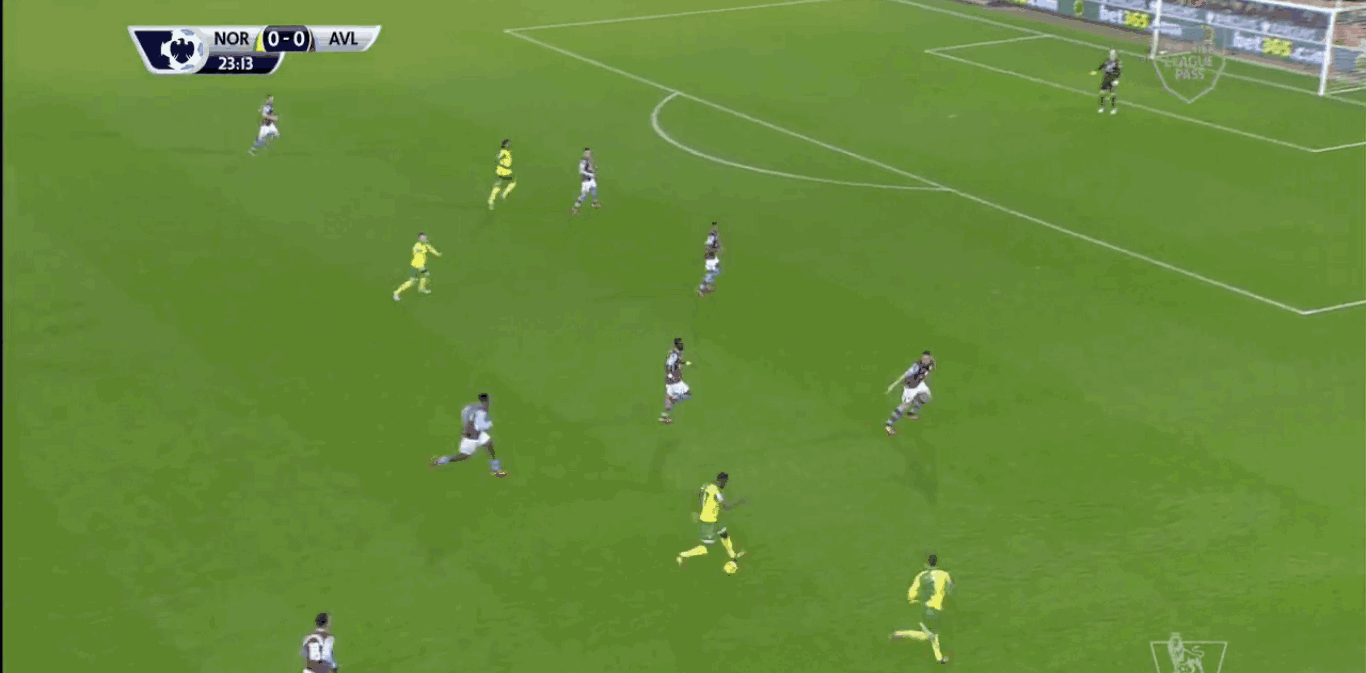 Richards unnecessarily tracking down winger instead of delegating, forcing teammate Leandro Bacuna inside to eventually lose header to Norwich City's Dieumerci Mbokani. Richards tries to help with challenge instead of marking Jonny Howson back post who eventually scores.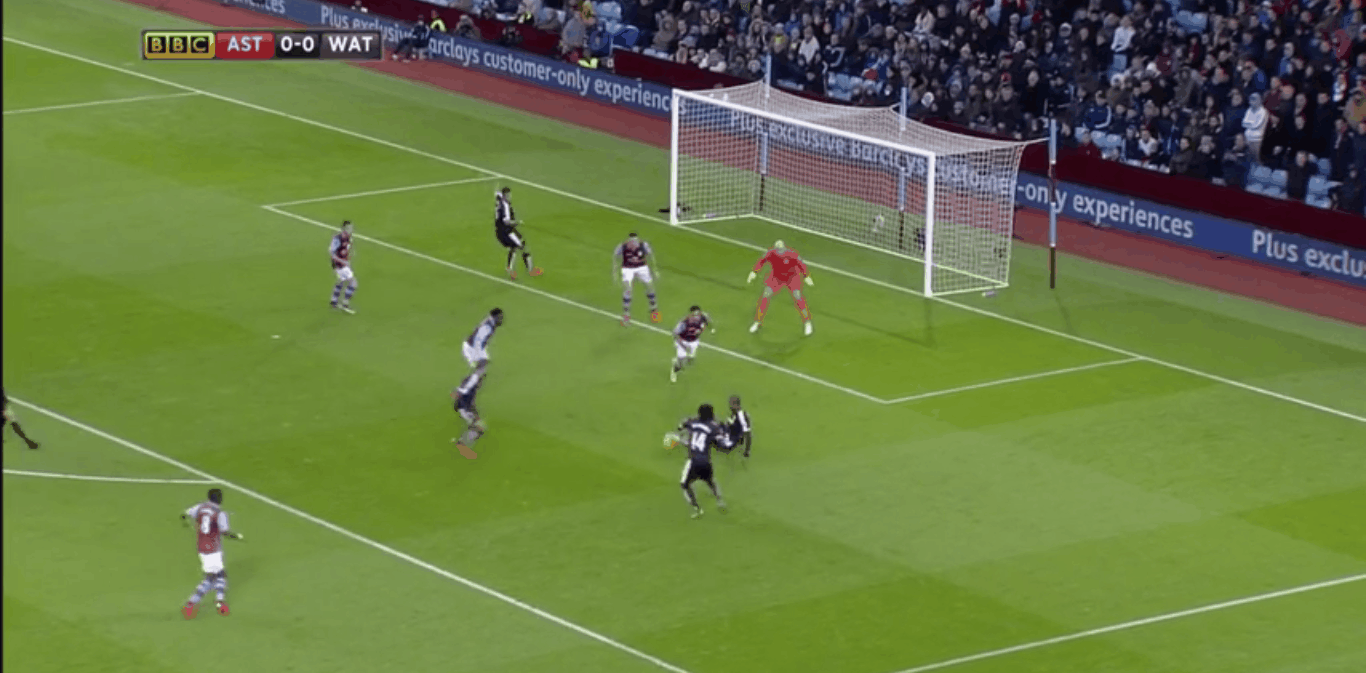 Richards leaving Watford Odion Ighalo open 12 yards from goal to assist a teammate in blocking a less dangerous threat.
No one wants the ball in the hardest, attacking area of the pitch.
It's extremely difficult to receive passes, maintain possession and distribute vertically in the final third. Hence why the No. 10 position (attacking central midfield) is usually reserved for the tidiest and cleverest of attacking players.
Aston Villa has no player close to good enough to consistently pull the strings in this deep, progressive role and yet they refuse to commit to systemic styles that admit it. Instead of prioritizing counter-attacks, condensed defensive shapes or consistent wide play, Villa spreads open their team shape in order to attempt to create chances through established possession.
The 4-3-3 has been Villa's preferred formation through the season, with a couple of unsuccessful attempts at a 4-2-3-1 and a 4-3-1-2. But, the side lacks a natural attacking midfielder to sit in between defensive lines and connect midfield to attack.
This tasks Jack Grealish, Jordan Veretout and Carles Gil with slipping into a No. 10 space, either through a formation or more frequently asking them to pinch inside from a wider position to fulfill the space and to open the channels they have vacated. None of them have found consistency, or even mild effectiveness as Aston Villa has completed the second least amount (6.2) of short, key passes in the Premier League per game.
It's clear that none of the managers have trusted their attacking midfield talent either, as none of the three players have played more than 50 percent of 11v11 minutes played this season.
The difference between scrappy and drunk.
At the beginning of matches Villa rarely seem grossly outmatched and tend to display good accounts of possession and shape. But, as soon as something distracts them, be it a hard challenge or a goal conceded, the wheels fall off.
As another indication of the lack of on-field leadership, Villa can't commit to being scrappy, aggressive and disciplined, but rather fall into petulance and get caught up in haphazard spirals throughout games.
As a team that's not physically imposing or particularly intimidating to play against, they seem to fall into a trap of battles in most games. Whether the opposing side will unfairly leave a foot in a challenge, use excessive force in a tackle or incite some sort of battle, Villa will get negatively obsessed for a chunk of time directly after the event. As they become distracted with the seemingly inconsequential, 'small' things their team shape and discipline suffers, as they allow the opposition back into the game through a window of vulnerability.
This is one of the variables contributing to their lack of identity, and underlying numbers don't help them get out of this frequently self-dug hole. Their PDO (88.5), the product of scoring efficiency and save efficiency (Scoring % = Goals For/Shots on Target For; Save% = 100 – (Goals Against/Shots on Target Against)) is third worst in the Premier League, which is sunk by their league worst (24.3) Scoring%.
As a result, the club has spent the least amount of time ahead in games (139 minutes) in the Premier League through 22 games, although taking the lead in five separate instances.
Aston Villa will get relegated this season, players will be sold and they'll have to grind their way back to where the club should be. To get there they'll need better leaders on the pitch, players talented and willing enough to operate in difficult areas and a more humble and self-aware identity.
But, that's just me. What do you think?
---
Coleman Larned is soccer analytics writer based in Antwerp, Belgium. Follow him on Twitter