When a professional athlete's legacy runs far beyond the record books, they might be immortalized in bronze to live forever.
Some are simply perfect—Michael Jordan's iconic dunk in Chicago, Bobby Orr's famous leap, and too many baseball legends to count.
Others? Not so much.
On Wednesday, soccer star Cristiano Ronaldo was on his home island in Madeira, Portugal, for the unveiling of a newly-rebranded airport now named "Aeroporto Cristiano Ronaldo."
Happy and honored to have my name given to the Madeira airport!
With the rebranding also came a bronze bust of Portugal's most famous athlete that might just show up in your worst nightmares.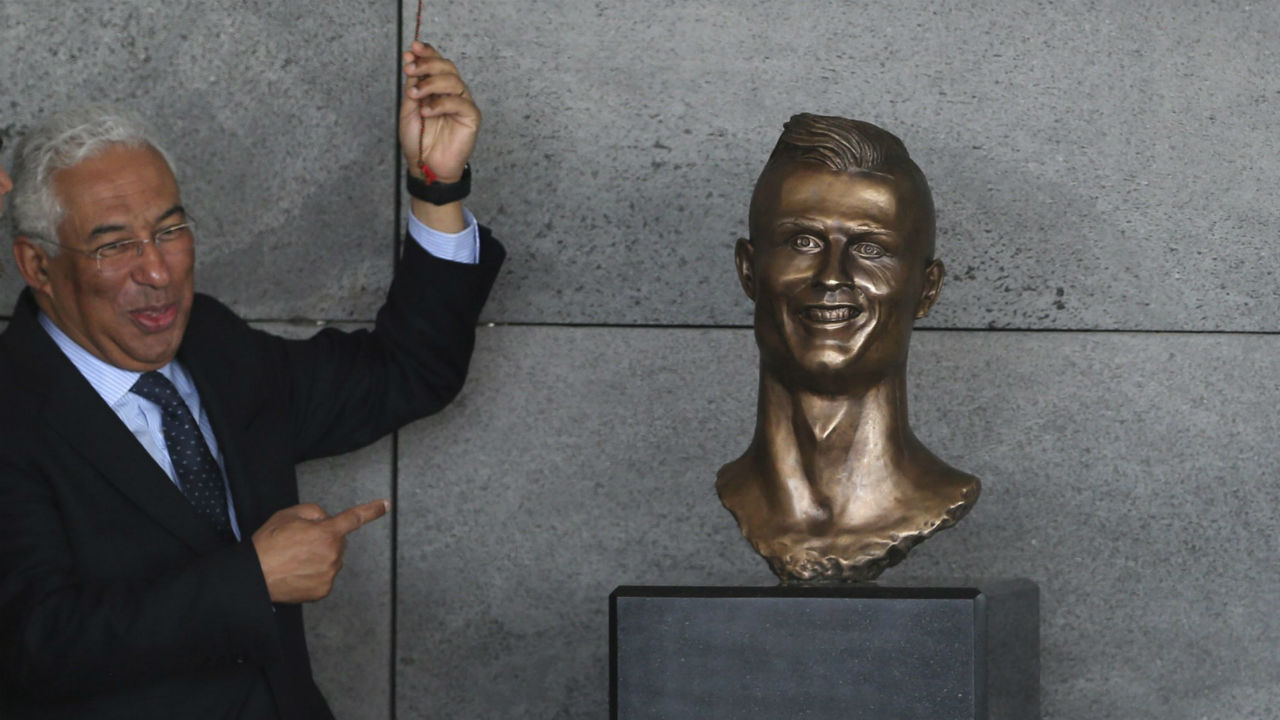 The bust quickly became the butt of countless jokes on Twitter due to its, let's just say questionable appearance.
In honour of this unintentionally terrifying tribute, we're looking at some of the other notable athlete statues out there.
We'll start on a positive note.
THE GOOD
Michael Jordan
United Centre, Chicago | unveiled in 1994
Like Jordan, his statue is simply the best, right down to the details of his iconic dunk.
Shaquille O'Neal
Staples Center, Los Angeles | unveiled in 2017
Congratulations, @SHAQ! #TheBigStatue
From one great baller to another, the L.A. Lakers honoured their biggest star with a pretty cool statue on Friday. The larger-than-Shaq statue is attached to the side of Staples Center and depicts the Lakers great dunking, suspended in the air.
Wayne Gretzky
Northlands Coliseum (now located at Rogers Place) | unveiled in 1989
A landmark for hockey fans not just in Edmonton but across Canada, this statue is as much part of Edmonton as the hockey culture itself. There was no question, then, that it would be moved to the Oilers' new home at Rexall Place prior to this season.
Arnold Palmer
Bay Hill, Orlando | unveiled in 2017
A statue fit for the king of golf, this Palmer tribute was unveiled ahead of this year's Arnold Palmer Invitational and received approval all around.
THE BAD
Ted Bates
St Mary's Stadium, Southampton | unveiled in 2007
On the subject of statues – & in a bid to avoid talking about – let's remember the worst statue ever. This is supposed to be Ted Bates…
Fans were so outraged by the strangely-proportioned statue that it was actually removed and replaced a year later by one that actually looks like the late legendary Southhampton player, manager, director and president.
A decade later, the Bates statue is still remembered.
Andy Murray
Qizhong Tennis Center, Shanghai | unveiled in 2011
The Scottish tennis star was immortalized as part of the Shanghai Masters tournament and made to look like Terracotta Warrior. Interesting in concept, but in clay? We're not so sure.
Michael Jackson
Craven Cottage, Fulham | unveiled in 2011
OK, the music icon isn't an athlete, but the location of this strange statue allows us to include him on this list. Jackson was a friend of then-Fulham FC owner Mohamed Al-Fayed, who commissioned the statue. Originally intended to be placed inside a Harrods location, it wound up settling outside the soccer stadium.
THE UGLY
Cristiano Ronaldo
Madeira, Portugal | unveiled in 2014
This statue has received plenty of criticism since it was, uh, erected. It's so bad, we don't even know where to start.
Oh. Never mind.
Cristiano Ronaldo, again
Madrid | unveiled in 2010
Poor Cristiano. The soccer star is known as much for his good looks as he is for his goals, yet artists can't quiiite get it right. This silver statue was unveiled by Nike during the World Cup. Another miss.
Maybe the soccer world should just stick to two-dimensional tributes.
[relatedlinks]