TORONTO – This has not been an easy year for Toronto FC's Benoit Cheyrou.
Signed prior to the 2015 Major League Soccer campaign as a free agent, the veteran midfielder played and started in 28 games last year, firmly establishing himself as one of coach Greg Vanney's go-to players during his first season in the league.
This year has been different. Injury problems, a change in formation and tactics, and the arrival of Will Johnson meant that Cheyrou dropped down the depth chart. As a result, he appeared in only 14 regular seasons games in 2016, with just nine of them coming as a starter.
It was Cheyrou, though, who scored one of the biggest goals in Toronto FC history when his diving header sailed past Montreal goalkeeper Evan Bush in extra time of the Eastern Conference semifinals second leg earlier this week. That goal stood up as the winner, as Toronto went on to beat the Impact 5-2 and clinch a berth in the MLS Cup. TFC will host the Seattle Sounders on Dec. 10 at BMO Field.
Cheyrou, 35, couldn't have picked a better time to score his first goal of the year. It was just reward for the former Olympique Marseille star who's endured a difficult campaign, one mostly spent on the treatment table and on the bench.
To Cheyrou's great credit, he's never publicly complained about his reduced role. If anything, he seems to have embraced it, and he understands that it's up to players such as himself to push TFC's starters in training to better prepare them for these crucial playoff encounters, including the MLS Cup final.
"It's always better to be on the pitch than on the bench, but anytime I can help the team I will do it," Cheyrou said after Friday's practice.
"We need talent, work and luck to be successful. Wednesday night [proved] that point. We need everybody. Some guys were in the stands [watching]. Maybe they'll be there again on Dec. 10 [but] they're going to help the team to win MLS Cup. … It's important that the 25 guys are a group, a team. Everybody on the roster is important, and that showed against Montreal."
Sitting on a 3-2 lead in extra time, TFC was pressing for the goal that would clinch the aggregate series when captain Michael Bradley played a simple pass to Jozy Altidore, who then fed it out wide to Steven Beitashour. After taking a few touches, Beitashour created enough space between himself and Montreal's Ambroise Oyongo to deliver a cross deep into the box. Cheyrou had been lurking just inside the penalty area as the play developed, and he wisely held back a bit before making a darting run towards the goal, beating Impact defender Hassoun Camara to the ball and expertly nodding it home.
"I knew when I had to go, and I was lucky to be at the right spot," Cheyrou said with a great deal of modesty.
Asked to rank the moment among his career highlights, he admitted "It's not one of the nicest [goals], but maybe it's one of the most important."
"In terms of emotions, it was very big for me to do this here in another country, another league," Cheyrou offered.
"I'm very comfortable in this team, this club, and this city, so it's my contribution. If we can see smiles on Torontonians' faces for the next couple of days, and weeks and months, that makes me proud."
Cheyrou cut a relaxed figure as he spoke to a throng of journalists on Friday afternoon. It'd been some time since the reporters who regularly cover this team even requested to interview him at practice, so you could hardly have faulted the midfielder if he felt a bit put off by the lack of attention, and viewed the assembled media as vultures who suddenly swooped in.
Instead, the handsome and stylish Frenchman was his usual charming self, using self-deprecating humour to poke a bit of fun at himself.
"I'm not really known for being a good header; I have scored some goals that way. But maybe it's my [secret weapon] because even the opponent doesn't know that I can score with my head," Cheyrou quipped.
If they didn't know before, they certainly do now.
Cheyrou's goal-scoring heroics against Montreal were even more amazing when you consider he only stepped onto the pitch just moments earlier. The Frenchman entered the game in the 96th minute as a substitute for Sebastian Giovinco who limped off due to cramping. Two minutes later, Cheyrou connected on Beitashour's great cross into the box with just his second touch of the contest.
And what special instructions did Vanney give Cheyrou on the touchline as he waited to enter the game?
"Just score the goal to qualify us," Cheyrou deadpanned, before breaking out in laughter.
There's that humour, again.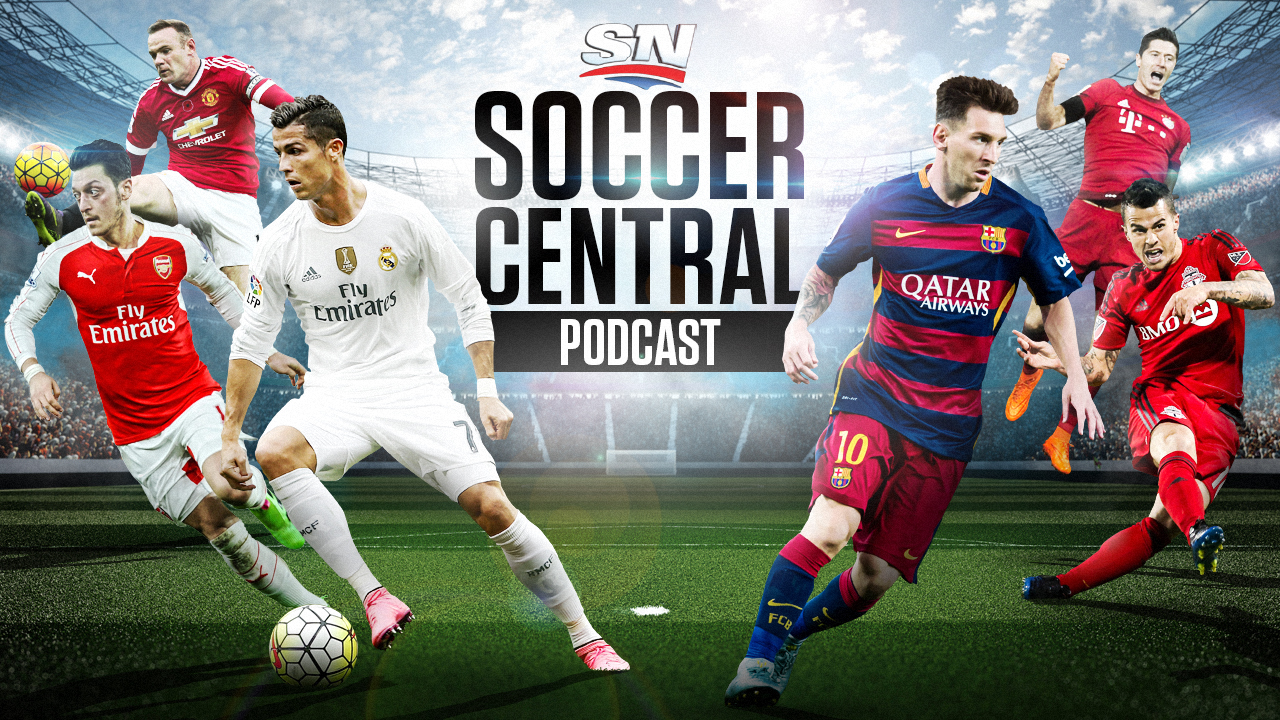 Sportsnet's Soccer Central podcast (featuring James Sharman, Thomas Dobby, Brendan Dunlop and John Molinaro) takes an in-depth look at the beautiful game and offers timely and thoughtful analysis on the sport's biggest issues.
Listen now || iTunes || Podcatchers