For over a decade, Brittany Timko Baxter was a mainstay on the Canadian women's team.
Debuting in 2002 at age 16, she went on to wear the Maple Leaf at two U-20 FIFA Women's World Cups (previously known as the U-19 FIFA Women's World Championship), a pair of Olympics and three FIFA Women's World Cups.
Even though she played her final game in 2014, she continues to be in the top 10 for all-time appearances (132) and assists (nine) with the Canadian women's side.
Accolades and statistics aside, the Vancouver native provided the team with tremendous depth, whether it was in the starting lineup or coming off the bench.
In the first instalment of a "Where Are They Now" series on former women's team players, Sportsnet catches up with the now mom of two about her career and her current involvement with the game.
Let's go back to the 2004 U-19 FIFA Women's World Championship in Thailand. You scored seven goals, won the Golden Boot and were named to the all-star team. You also faced players such as Marta, Anja Mittag, Megan Rapinoe and Becky Sauerbrunn. What do you remember most about that competition?
I remember our team was so close that tournament. The games were a ton of fun. There's something about those youth national tournaments. The intensity was always high, and the games were pretty close. I just remember walking away from the tournament thinking that we could've won it because that China game [a quarterfinal loss] didn't really go in our favour. I loved playing with all the girls on that team.
You look at that 2004 U-19 Canadian roster and there was a key group that went on to do a lot of things with the national program, including eventually winning an Olympic medal.
And even the team before that, the 2002 group, both of those youth teams had a very special dynamic. Every girl got along and genuinely were friends with each other. There was something really special about both of those teams, and to this day, I talk with a lot of those girls. The 2004 team had such a calibre of players that we were playing against, like you mentioned they went on to do incredible things for their own senior teams. It was a great tournament.
What do you remember about your role when you made the jump to Canada's senior team?
I started as a midfielder, and that's how I started on the youth teams, too. But I do remember, I was playing in Nebraska for my sophomore year in school, and they were playing me as a striker. Ian Bridge, who was the coach of the [Canadian] U-19 team, decided to play me as a striker as well. Things worked out that way that I was already playing as a forward for Nebraska. I played as a forward during my youth career, on the provincial teams and then moved back to the midfield on the national team.
You were with the national program for a very long time, 132 appearances, which is tied for sixth all-time. What are some of the highs and lows from your tenure?
Highs, for sure, would be the 2002 U-19 Women's World Championship, playing in Edmonton with all the Canadian fans. I still get goosebumps talking about it now. And then, of course, the [2012] Olympic bronze medal would be up there, too. Being able to progress through both of those tournaments the ways that we did with the group of players that I was playing with was incredible.
Lows would be my injuries. I tore my ACL in 2008, I think it was. It wasn't ideal. But to be honest, I don't have a lot of regrets. I really enjoyed my time with the national team, and even when things weren't working out soccer-wise, I always felt very thankful to represent Canada and do it with some of my best friends.
Of course, you mentioned 2012. What was it about that group that won bronze at the London Olympics? From a distance, and as a member of the media, I always felt that particular team had a spark – something special all the way from the coaching staff to the alternates who ended up playing a crucial role in the podium finish.
It's exactly like you said. There was that spark, and I give a big credit to John [Herdman] for that. He fostered such a positive environment day in and day out. As for the girls, there was a bunch of us who had been playing together for 10 years at that point, but even the girls who had come in just added something to the team with their energy. The staff was just such a fun staff to be around.
Do you ever look at your Olympic medal some days and think, "Wow, that actually happened?"
It still feels surreal to be able to say that you were able to win an Olympic medal for Canada. I tried to show my son recently, and he's two-and-a-half, and he didn't really understand. But to think that it'll be part of our family — I still get speechless when I talk about it. It's one of the most special things I've ever been able to accomplish.
When did you feel your career shifted from being a prolific scorer to being a dependable utility player for the national side?
Looking back on it, if you were to ask me when I was 12 if I would end up playing every position other than centre-back and goalkeeper on the national team, I probably would've said no. I think I tried to fit in where I was needed the most. That becomes an asset to be able to fill in spots. Sometimes though, I wasn't in one spot long enough.
With the three coaches that I played for, Even [Pellerud], Carolina [Morace] and John, I was used in different ways for all three. I really appreciated them utilizing me in different positions and being able to showcase the things that I did well in different positions. It gave me a better overall concept of the game at different points.
Being on the sidelines now, what are your views on the progression of the women's game?
I love it. The girls are just flying, and I'm super excited for the Canadian team and women's soccer in general. With Karina [LeBlanc] and her role with Concacaf, I think the women's game is in such a good place. It's headed for these levels that have never been seen.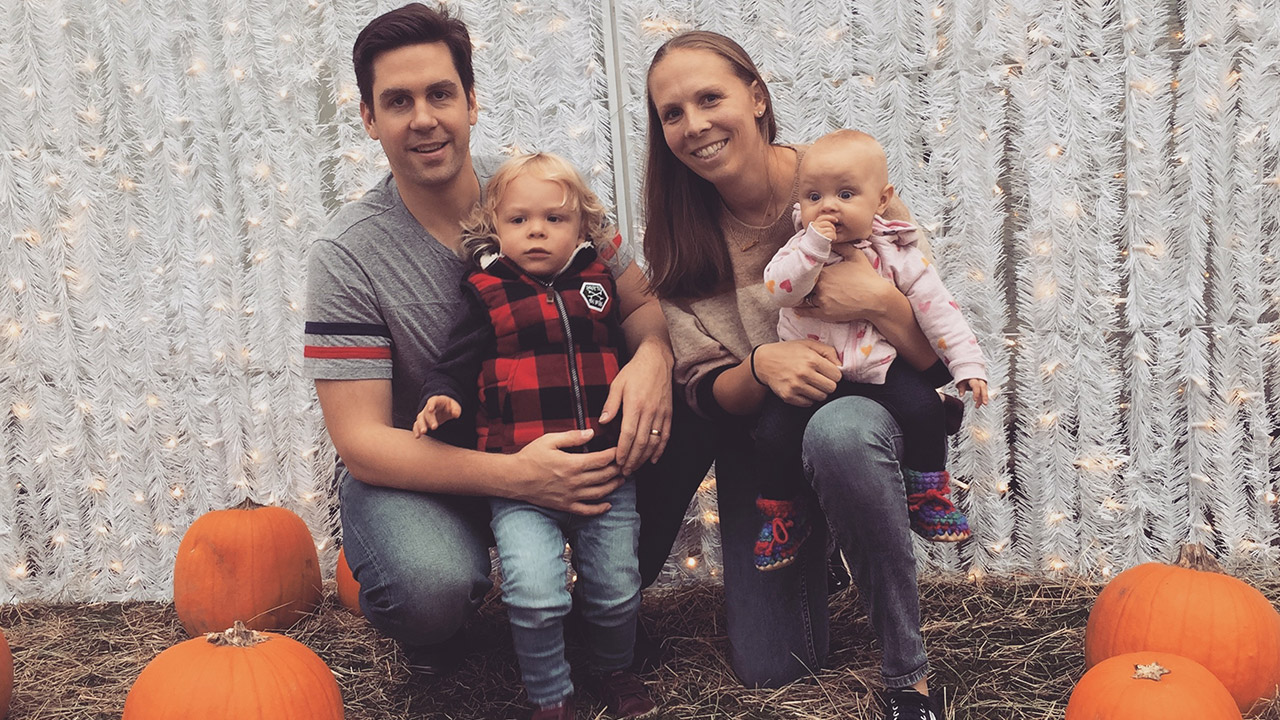 And what about Christine Sinclair. She might be 35, but sometimes she's out there playing like she's 20.
She is the most driven, talented and humble athlete you'll ever meet. The sky is still the limit for her. And you're right, she's still playing like she's 20. I feel very special to say that I have been her teammate. She's one of those players that comes once in a lifetime who ticks all of the boxes. She's just so humble. She pushes herself continuously and I think she'll continue to excel for as long as she chooses to play.
You mentioned that you have a son. Tell us a bit about your family and what you are up to these days.
My husband Sean and I have a son, Johnny, and a daughter Zoe. They keep us on our toes. They are two happy kids, and I couldn't be more thankful for them. Besides being a mom, I'm also the head girls' soccer coach at Port Moody Soccer Association. I get to help with the girls' program there for six to 18-year-olds. It's been really cool for me to make the transition from playing to coaching and hopefully help inspire the next generation of players.
We're seeing your generation moving into the coaching folds, Rhian Wilkinson with the Canadian U-20s and Robyn Gale with both the Canadian men's and women's national programs.
That's been super cool to see. Rhian, Robyn, Carmelina Moscato has done some work in Australia. These girls have so much to offer. Rhian and Carm, I can see the girls feeding off what they're doing because they have done it. They've lived the life of going through the national team program. That's something John worked really hard on helping girls transition into life after playing. That's another one of his legacies to the women's program — he guided so many former players into prominent roles now.
Would you like to see your kids play soccer at a high level?
[laughs] Well, my husband, he loves hockey, but, I would love it. Who knows though, maybe they'll end up being artists or something, but whatever they want to do, I'll support them. It would be cool though if they had a passion for soccer.