Friday marks the opening of the FIFA U-17 Women's World Cup in Jordan, and Canada will be there.
Canada's 21-player roster includes some returnees from the 2014 World Cup, including striker Sarah Stratigakis and goalkeeper Lysianne Proulx. Also in the mix is recent Olympic bronze medalist Deanne Rose.
Although Canada was eliminated in the quarterfinals two years ago, the U-17 tournament provided a springboard for Jessie Fleming, who was the team's captain, and Marie Levasseur, who led the group in scoring.
This is the fifth consecutive appearance for Canada at the U-17 Women's World Cup. Canada is also the only nation in the CONCACAF region to qualify for each edition of the tournament, which began in 2008 and is played every two years.
Sportsnet recently caught up with Canadian coach Bev Priestman from Jordan to get her thoughts on the tournament and what her expectations are for her side.
Two years ago, Canada made it to the knockout stage of this tournament. What's the goal this time?
I think we have to reach that as minimum. Our senior team has led the way with two bronze medals and being fourth in the world. I think when you wear that Canadian jersey, as I've said to the girls now, you have to represent with pride and hold that on your shoulders. But, I think more importantly for this group, we want to get as many games as possible and by reaching the quarterfinals and semifinals it means these individuals get very, very good games in their journey towards the women's national team. For us, it's about getting as many games as possible. I think with our history, the quarterfinals is our minimum target basically.
What can you tell us about your group (Venezuela, Cameroon, Germany)?
We've managed to get footage of all three teams and we've broken them down. They're three very different teams, which is fantastic again because as these players move up through system, for them to play these three different styles is great. Obviously Germany will be more of a European style, like England that we played a friendly against. Cameroon will be move like that African style like Ghana who we played last cycle and obviously Venezuela, we faced them in the knockout stage [in 2014]. They're a very counterattacking team and very dangerous when they win the ball. It's going to give us three very different games, but again, we just keep adding different curriculum pieces in these girls to help them in their journey toward the women's national team. You have players like Deanne Rose who can now bring that experience. She's been capped and she's played in an Olympic Games and that's only going to help the players around her.
You mention Deanne Rose. She's coming off an exciting summer winning an Olympic medal in Rio. She's only 17 and yet she's already experienced so much as a soccer player. How do you think she can take that and bring it to this group?
For anyone that knows Deanne, she's a very humble, down-to-earth person and a hardworking girl. I think she'll bring that to the environment, which sets the tone for an aspiring player and she tells them what the national women's team is all about. It's about being a great character, hardworking and she'll bring that. Also, she'll bring a bit of the system learning, because we have a curriculum that moves toward that women's national team. She's experienced that at the highest level. I think all of the things we do move toward that and I think she'll really help the girls in understanding it more and more. Even just on the pitch, she'll form that partnership and the feedback she'll give players will no doubt really, really help them.
It's inspiring. We have some young players who have another U-17 cycle to go and it's a little bit like Sarah Stratigakis, who was with me last cycle. Again, what I've spoken to the girls about is if you view yourself as someone who wants to be at that Olympic Games in 2020, because Jessie Fleming, Deanne Rose, they've paved the way to show the system is waiting for them if they really work hard toward that. In some ways, her coming back is a little bit of an inspiration of someone in their own age group that's gone on to do so much already.
What should Canadians keep in mind when they watch this particular tournament?
I'd say the style of play and the type of player we view in 2020 or 2024, it's the type of player and the attributes of what we want our future Canadian players to look like. I think we pick our players based on that. Although it's a team and we want to get as many games as we can, there's also projecting about what certain positions we need to have and that's what we've picked this team on. With the ball is a key attribute, but we also don't want to lose that Canadian grit that we've seen at the Olympics. Hopefully, that'll be on display also.
How did you prepare for the climate and potential weather conditions in Jordan? (Afternoon temperatures are 30C)
Luckily, we have those resources in our system and they learn from the senior team and they feed that down. We came in early and we've done everything we can to give every player the chance at success. We come in and learn, we adjust with heat strategies, with cooling strategies and obviously extensive travel, particularly those players from B.C. I'm counting on that sport science team. They've set the girls up well. Fingers crossed. We have to be clever tactically as well and make sure we get everything right to help them do what they need to do with the ball and without the ball. We're real lucky that all our systems are aligning. Like playing in the heat at the Olympics and in Canada in the summer, we've learned a lot.
You were part of the coaching staff in Brazil with the senior team that captured the bronze medal. What has that experience taught you?
It was a fantastic experience and it taught me many things. In many ways, it taught me about the culture of the current crop of girls that came through in the senior team, with that blend of youth and senior. That really inspired me even more to know that Jessie [Fleming] was with me two years ago to see that players can progress if the right jigsaw pieces are put into that. It made me even more motivated to know the system is working and leading to the national women's team success. I think also being surrounded by John [Herdman], and I have been for a long time in my career, I think he's constantly evolving and innovating and that impacts the youth system. We're constantly learning and pushing new things forward. Coming fresh off the back of an Olympics, I'm inspired, I'm passionate and obviously tactically along the way of all the things the senior team has to cope with, but then it's really boiling that down to a youth mindset and simplifying it, giving them a chance to be successful.
CANADA'S WORLD CUP ROSTER:
GK- Sophie Guilmette, 15, from Montreal, QC (CS Lakeshore)
GK- Lysianne Proulx, 17, from Boucherville, QC (AS Varennes)
GK- Marissa Zucchetto, 17, from Mississauga, ON (Aurora United FC)
CB- Samantha Chang, 16, from Mississauga, ON (Unionville-Milliken SC)
CB- Hannah Taylor, 17, from Edmonds, WA, USA (Eastside FC)
FB- Ashley Cathro, 16, from Victoria, BC (Vancouver Whitecaps FC Girls Elite BC Soccer Rex)
FB- Julia Grosso, 16, from Vancouver, BC (Vancouver Whitecaps FC Girls Elite BC Soccer Rex)
FB- Nadège L'Esperance | CAN / Lakeshore SC
FB- Emma Regan, 16, from Burnaby, BC (Vancouver Whitecaps FC Girls Elite BC Soccer Rex)
M- Marika Guay, 16, from Châteauguay, QC (CS Saint-Lambert)
M- Kaela Hansen, 16, from Vancouver, BC (Vancouver Whitecaps FC Girls Elite BC Soccer Rex)
M- Anyssa Ibrahim, 17, from Repentigny, QC (AS Varennes)
M- Vital Kats, 16, from Toronto, ON (Scarborough GS United)
M- Caitlin Shaw, 15, from Vancouver, BC (Vancouver Whitecaps FC Girls Elite BC Soccer Rex)
M- Sarah Stratigakis, 17, from Woodbridge, ON (Aurora United FC)
F- Mikayla Dayes, 16, from Brampton, ON (Woodbridge SC)
F – Jordyn Huitema, 15, from Chilliwack, BC (Vancouver Whitecaps FC Girls Elite BC Soccer Rex)
F- Florence Laroche, 16, from Mirabel, QC (Lakeshore SC)
F- Lauren Raimondo, 17, from Niagara Falls, ON (Unionville-Milliken SC)
F- Jayde Riviere, 15, from Markham, ON (Markham SC)
F- Deanne Rose, 17, from Alliston, ON (Scarborough GS United)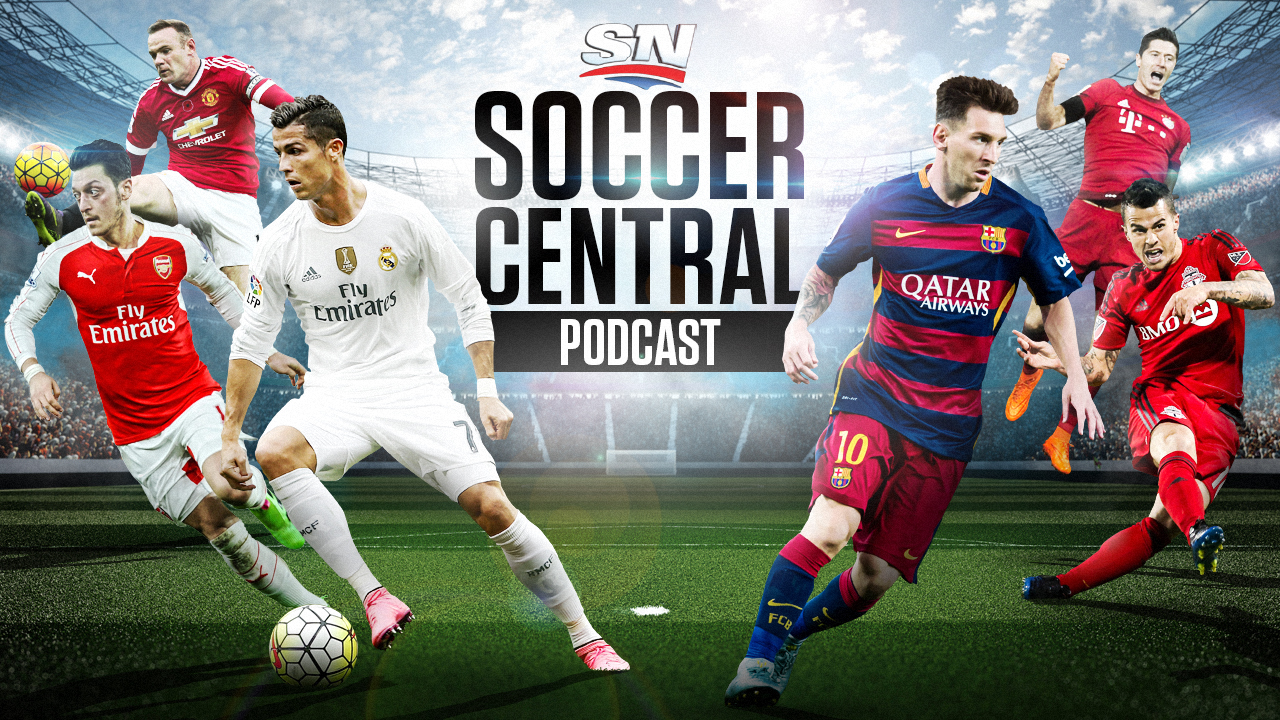 Sportsnet's Soccer Central podcast (featuring James Sharman, Thomas Dobby, Brendan Dunlop and John Molinaro) takes an in-depth look at the beautiful game and offers timely and thoughtful analysis on the sport's biggest issues.