Canada plays Mexico on Tuesday in a World Cup qualifier at Mexico City's Estadio Azteca, a stadium that Sportsnet commentator Craig Forrest knows all about.
A former goalkeeper and a recent inductee into Canada's Sports Hall of Fame, Forrest earned 56 caps for Canada during a 14-year international career, including a trio of games in the 1990s at Azteca.
In this interview with Sportsnet, Forrest recalls what it was like playing for Canada at the fabled soccer stadium.
You played at Azteca three times for Canada. What are your memories of the stadium?
Amazing. It's an amazing place. Everything about it, from the drive on the team bus to the stadium—and it's a massive place that seats 100,000—to training and playing on the same pitch where Maradona scored the 'Hand of God,' and the 1970 World Cup final. The sense of history is what stands out when you're on that pitch. It was an incredible experience all around.
Did you feel in awe while playing there?
A little, yeah. I mean, we'd show up at the stadium early to train, and I was shocked by how many people were already there. You'd have 90 percent of the stands full when we were out for our warmups. They had a spiral staircase that you'd have to walk up to get to field level—you could hear them when you're are the bottom of the stairs from deep within the bowels of Azteca and then you hit the pitch, and you're just overwhelmed by the sheer noise and sea of humanity.
You've previously shared stories of being pelted by bags of urine and other projectiles while playing for Canada in places such as El Salvador and Honduras. What are the Mexican fans like? Describe the atmosphere at Azteca.
It's not a hostile crowd and you don't feel threatened, primarily because there's a moat around the pitch, and there was barbwire fence and you have the military soldiers standing 10 yards apart on guard with guns—so you feel pretty protected.
When fans show up there they're expecting the lambs to be led to the slaughter, and they get that. So it's a respectful crowd, in many ways. When they score, it bloody erupts and you feel like the ground is shaking. And when Mexico plays poorly, they let them know. It's not a crazy, hostile atmosphere, but it is damn loud. The sound stays inside, so the stadium buzzes like a beehive. It's easily the noisiest place I've ever played.
I didn't feel intimidated—I felt more amazed by the sheer numbers of fans and the noise. You really do feel outnumbered 100,000 to 11. You feel that, physically.
I enjoyed playing there. I just loved it, even at the risk of getting hammered, because as a footballer it's one of those places that not everybody gets to play at. It's something else, such an iconic stadium.
Azteca sits 7,200 feet above sea level. How much of a factor is the altitude? Physically, what kind of toll does it take on opposing players?
The air is so thin, so it makes it very hard to breathe, and our guys had a rough time with it. Many of them were on IV drips after the game. It was a big factor for the outfield players—it just wipes them out physically and it drains you.
I remember a World Cup qualifier we played there in 1997. We were outshot something like 15-0 in the first half but it was nil-nil. I was walking into the dressing room with [coach] Bobby Lenarduzzi and we were full of life: "Come on guys, we're 45 minutes away from getting a result. We have to dig in." Then I looked around the dressing room and you see half the guys frothing at the mouth and gassed, so I quickly sat down and kept quiet. We ended up losing 4–0. [laughs]
The key is you have to keep possession for as long as you possibly can; take some pressure off, otherwise you're chasing shadows.
How did playing at altitude affect you?
Physically, it didn't that much, but it does change the flight of the ball—that was the most difficult thing for me as a goalkeeper. The ball travels further and faster, so you have to take that into account when you come out for crosses—you have to pick up the path of the ball from distance a lot sooner, otherwise you're going to pick it out of your net. The ball pings and flies; it doesn't knuckle as much. So it travels fast and further.
One of the heaviest defeats you suffered in your international career was an 8–0 loss to Mexico at Azteca during the 1993 Gold Cup. How demoralizing was that?
What was interesting about that game is that they were up 5–0 going into the break, and at the start of the second half they played their goalkeeper Jorge Campos up front as a striker.
I knew Jorge quite well. After the games, we used to go out with the Mexican players for drinks, and we became good friends. They were a great group of guys. But when they moved Jorge up front, I remember telling him on the field when we were close together, "I will f–king kneecap you—I will not let you score under any circumstances. You can give it to someone else and let them score, but I'm not letting you beat me." [laughs]
What was your take on Canada's 3–0 loss to Mexico last Friday in Vancouver?
Mexico is a good side. You look at the Mexican team and their entire setup and developmental system—the quality of players they have and conveyor belt of players they produce is just incredible. Compare that to Canada where some guys aren't even playing regularly for their clubs, we're playing guys out of position—I mean bloody hell! Seriously, it was professionals against non-professionals, really. That was the difference—there was a massive gulf in terms of talent and quality between them and us. We've got a long way to go.
Do you like Canada's chances on Tuesday in Azteca?
Oh boy. No, I don't. I just don't see them getting a result there—I really don't. A draw, at best. I mean, keeping Mexico down to three goals would be a decent result. Honestly, I think this is just about damage control.
I tell you something: If they get something from the game, give Benito Floro a five-year contract extension. Honestly, if he can manage to get the guys up after that hammering last week and earn a result at Azteca, give him the keys to the kingdom.
---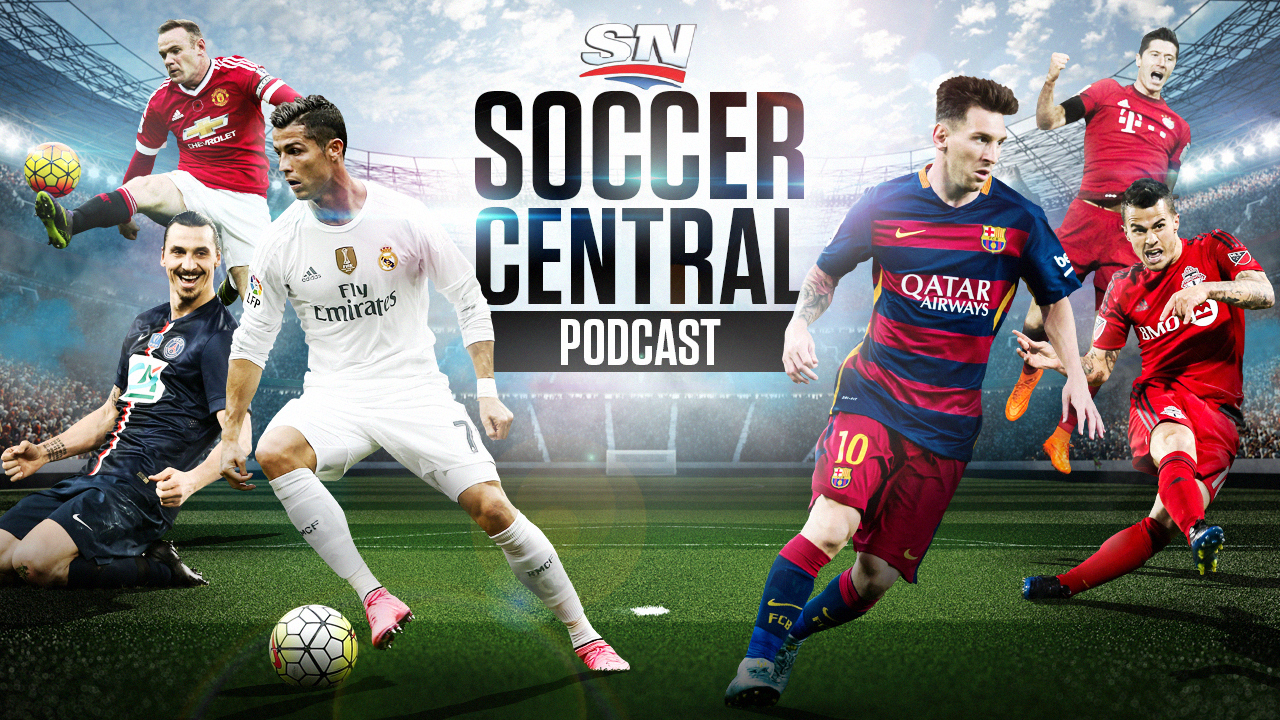 SPORTSNET.CA's Soccer Central podcast, hosted by James Sharman, takes an in-depth look at the beautiful game and offers timely and thoughtful analysis on the sport's biggest issues.
Listen here | iTunes | Subscribe to the podcast
---