VANCOUVER—It was a record home attendance for a Canadian men's team game, but it was Mexico's night.
Goals from Javier Hernandez, Hirving Lozano and Jesus Manuel Corona sank Canada 3-0 on Friday at BC Place in front of 54,798 fans, ensuring a harder road ahead for qualification to the 2018 World Cup in Russia for coach Benito Floro's side.
Hernandez, the former Manchester United forward, opened the scoring 32 minutes in, getting on the end on a Miguel Layun cross from the left, before Lozano doubled Mexico's lead seven minutes later with a shot into the right side of goal from just inside the area.
---
MORE ON CANADA vs. MEXICO: Report card: Canada gets average grade in loss to Mexico || Veteran de Guzman keeps going for Canada || Video: Atiba Hutchinson on Tim and Sid || Canada not a second choice for Arfied || Osorio has Mexico on cusp of the Hex || Video: Mexico matchup crucial for Canada || World Cup qualifier vs. Mexico a test of Canada's progress
---
Then in the 72nd minute, Corona plunged the knife in a little deeper, duking past a sliding Doneil Henry in the 18-yard box, before blasting a shot past goalkeeper Milan Borjan, who managed to get a hand to the shot but could only deflect it to the top right corner of his goal.
"What I want to say is that, for us, it has been a good experience," Floro told reporters after the game.
"At the same time, Mexico considered us a good team—not a very good team, but a good team, a serious team. For that, Mexico started to develop from the beginning of the game—hard pressing, and that demonstrates that we need to increase our tactical level, realizing if it's not possible to combine attack, we need to [go long]. So, it is an experience very important for us."
While Floro credited the play of the Mexicans, some of his players felt they could have got more out of the match, especially after a promising opening 15 minutes in front of a partisan home crowd.
"I tend to think it's more of the way that we didn't execute what we were trying to do versus what they did," midfielder Will Johnson offered. "They're going to do what they're going to do. They're a good team. We knew what they were going to do, but I feel we let ourselves down. We showed we weren't as sharp as we needed to be and our structure wasn't very good."
There was also a suggestion that perhaps the crowd instilled a bit of nerviness.
"We were a little excited, a little bit too eager to get that first goal," Johnson said. "I guess we don't have as much experience as they do playing in these types of games with this kind of a crowd, with this kind of a buzz. It's not a lack of fight or a lack of effort or any of those things. If we get the first goal that game's going to be a lot more fun for everybody.
"Good teams punish you. We learned we need to control ourselves a little bit and realize where we are and who we are."
Mexico tops Group A with nine points after three games. Canada (four points) is second, followed by El Salvador (two points) and Honduras (one point). El Salvador and Honduras played to a 2-2 draw on Friday in San Salvador. The top two teams in the group advance to the "Hex," the final stage of the CONCACAF qualifiers for the World Cup.
Canada and Mexico meet again next Tuesday at Mexico City's Azteca Stadium.
"For us, these two games—this one, and the next, and the next come in June, are very important," Floro stated. "We need to increase our level playing games, official games. So, we are going to extract what is important from this game, positive and negative…and to increase the positive, and, to think only to win in Mexico. This is the way."
The first hint of danger came in the 11th minute, as Layun took a shot from the top of the box, only for his effort to ricochet off Canadian defender Adam Straith, going wide to the left of a fortunate Borjan.
Moments later, Borjan dove to his left at full stretch to stop Hector Herrera.
BC Place took a collective gasp in the 21st minute, as Canadian captain Julian De Guzman crossed to David Hoilett, only for the winger to sky the ball well over the bar from about eight yards out.
But did that missed opportunity matter?
"Not important because the real superiority—Mexico's superiority today—was very, clear, no," Floro asked rhetorically when questioned on this miss. "So what matters in this moment is to analyze currently, not only the result, the performance, and we need to extract the positives because the rest depends—the other team, is better than us, no?"
Soon after, Lozano drove to the box under pressure from Straith, going down in the area, only for the referee to ignore appeals for a penalty. Canada immediately countered, with Cyle Larin getting a half-breakaway from a tough angle, only to fire well wide of target.
Borjan came up big minutes later, diving to his right to stop a low shot by Andres Guardado labelled for the bottom right corner of goal. The goalkeeper's clinic continued as he dove to his right to stop a low, hard effort by Layun.
Canada stayed in the match in the 34th minute, thanks to Mexico hitting both posts—first Hernandez hit the left, before Herrera hit the right. In the 36th minute, Hoilett fired over the goal from the top of the area with a left-footed effort.
There were shouts for a penalty just before halftime when Atiba Hutchinson went down in the area, but once again, the referee was unmoved.
On his Canadian debut, Scott Arfield saw yellow for a high challenge on Andres Guardado in the second half. In the final minutes of regulation, Marco Fabian almost added to Canada's blushes with a volley, but his attempt bounced off the crossbar, before the danger was cleared.
Arfield was sent through clear on goal in stoppage time, but the Mexican netminder came out well and the chance was neutralized.
---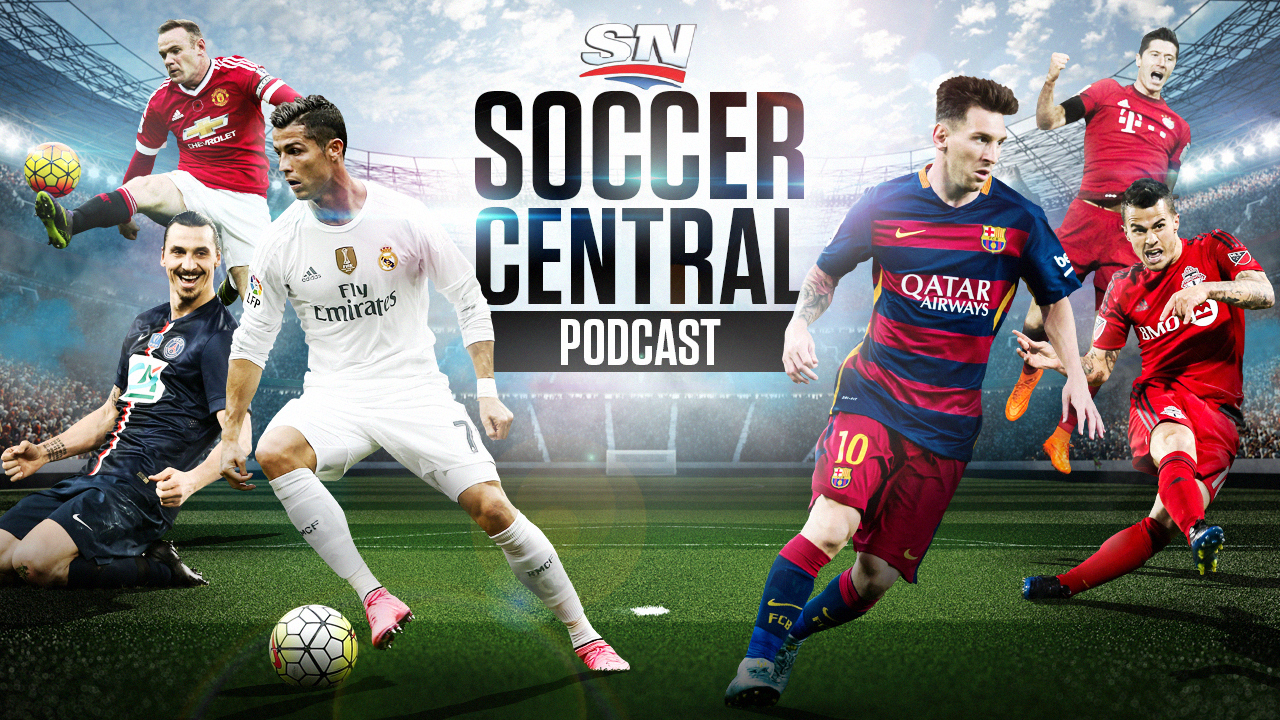 SPORTSNET.CA's Soccer Central podcast, hosted by James Sharman, takes an in-depth look at the beautiful game and offers timely and thoughtful analysis on the sport's biggest issues.
Listen here | iTunes | Subscribe to the podcast
---