VANCOUVER — Cyle Larin knows his side is facing long odds. The Canadian men's national team striker understands how it looks from the outside—a tall order, an uphill battle, however you want to describe it.
In order to reach "the Hex," the final stage in CONCACAF World Cup qualification, Canada must beat El Salvador at BC Place on Tuesday evening. At the same time, the Reds, currently third in Group A and trailing Honduras by three points, need to overcome a five-goal differential in order to grab the second spot in the group—which means scoring a bunch of goals, and also hoping for some help from Mexico, who will host Honduras that same evening.
Considering that Canada has scored just twice in this fourth round of qualifying, it's a lot to presume that it can unleash a flurry of goals in one high-pressure match. But asked about the task at hand and Larin smiled, embracing the role of the underdog.
"Anything can happen in sports," he said. "Leicester City won the championship."
Prior to last Friday's 2–1 loss in Honduras, Canada's odds of continuing on the path toward the 2018 FIFA World Cup in Russia were more favourable. The dropped points were a huge blow, but the attitude on display after training this week was one of defiance in the face of tough odds.
"I think we just have to be patient," said Tesho Akindele, another forward who'll be charged with trying to pile on the goals for the Reds. Akindele acknowledged that Canada is planning on taking a more attack-minded approach given all that's required of them.
"Obviously we're gonna have to score a lot of goals, but I think we have the goals in us, and if we're patient and we stick to the game plan I think we'll get it done," Akindele offered.
If there's a danger in such an attack-minded approach it's that Canada could leave itself too open, vulnerable to a Salvadoran side that might be eager to redeem itself from embarrassment (the team is last in the group and will not advance to the next round). As much pressure as there could be for Canada to score, then, a clean sheet will be almost as imperative.
"I think the game will be open, but I think we'll put a lot of pressure on them," Larin said.
If anything, Canada's approach is likely to put more pressure on the defence. The group will want to stay compact at the back, and they'll need another formidable performance from goalkeeper Milan Borjan, who made some crucial saves last Friday to prevent the game from turning into a blowout.
"You just have to make sure you keep your shape defensively," Akindele said. "I think it's going to come down a lot to the back four especially. Maybe they'll have a lot more pressure on them than usual because the front guys are going to be a little more focused on attacking and less focused on defending."
Against Honduras in San Pedro Sula, the Canadian side seemed to lose its shape as the match stretched on, the oppressive heat causing several players to look sluggish and fall out of place. But on Tuesday, Canada will have the cooler and friendlier confines of BC Place, and the team is hoping Vancouver's stadium will once again act as a fortress.
"In a game like when we played Mexico here I thought [the crowd] made a big difference, and the first 30 minutes of the game we were just back and forth with them," Akindele said. "I think the crowd was a big reason for that, so I hope they come out in numbers again."
Larin, who scored Canada's first goal of this round of qualifying in the team's 1–0 win over Honduras at BC Place in November, explained that he's grown used to playing at BC Place. The 21-year-old Brampton native scored here in July, when his Major League Soccer team, Orlando City, faced the Vancouver Whitecaps.
"Each time I play here I get comfortable," Larin said. "I have to figure out the field and how it moves … I like playing here now. It's like home here."
While fans taking in Canada's matchup with El Salvador will no doubt keep one eye on the Mexico-Honduras game occurring at the same time, Akindele insisted his team is trying to focus on steering its own fate when it comes to making up the goal differential.
"I think the best that we can do is come out and try to score five goals," he said. "If it doesn't happen, it doesn't happen, but I don't think we can be worried too much about what's going on over there."
Larin echoed his teammate's sentiment, noting that Mexico is a strong team but placing the responsibility for a scoring onslaught in Canada's hands.
"I think we have to just focus on our game—focus on our game and just live in the present and make sure we're doing our job, every player," he said. "And I think if we do that, hopefully we get a result."
As much as there's pressure on Larin and Akindele to bury the ball into the back of the net, there's a collective sense of urgency with this team to get the necessary result. The Reds are sharply aware of just how much this match means: moving on to the next round for the first time in nearly 20 years could do wonders for the growth of the game in Canada.
"It's huge," Akindele said. "We're trying to kinda make soccer mainstream in this country. We're trying to bring—and the women's team is doing a great job of it too—we're trying to just kind of help the movement and just bring soccer to everybody."
After the loss in San Pedro Sula, the job of reaching "the Hex" became a whole lot harder. But Akindele and his teammates haven't lost hope.
"I'm still confident," he said. "We've still got this."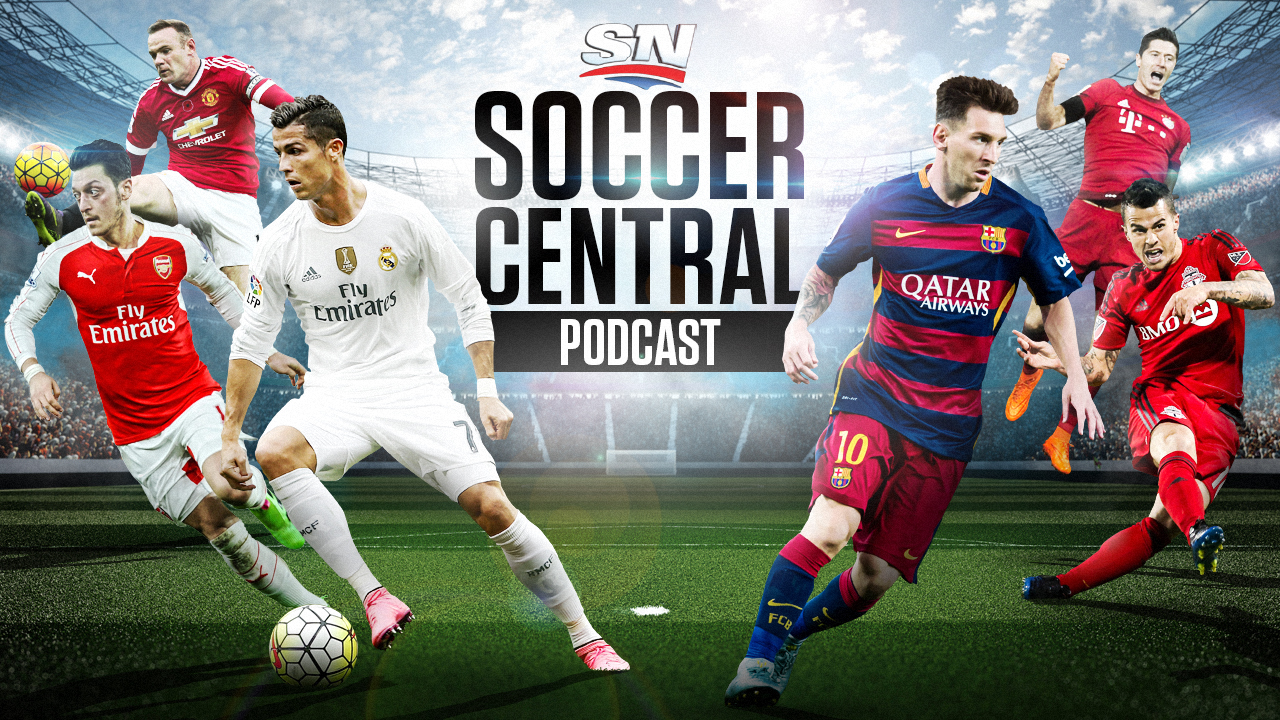 Sportsnet's Soccer Central podcast (featuring James Sharman, Thomas Dobby, Brendan Dunlop and John Molinaro) takes an in-depth look at the beautiful game and offers timely and thoughtful analysis on the sport's biggest issues.
Listen now | iTunes | Podcatchers