It's hard to believe that nearly four years have gone by since the Canadian women's soccer team won bronze at the London Olympics, capping off a historic run to the podium. It marked the first time since 1936 in Berlin that Canada won a medal in a summer team sport at an Olympic Games.
What likely still resonates most with Canadians is the adversity the team faced throughout the tournament. They had to deal with a number of injuries to the back line, as players shifted positions and were taking on responsibilities they'd never had before. They also had to emotionally and physically regroup after their infamous semifinal loss to the United States.
Their performance at London 2012 helped ignite a passion for women's soccer in our country. Look no further than the sold out stadiums during the 2015 FIFA Women's World Cup to know the impression this group left on Canada.
Sportsnet recently caught up with a number of players from the bronze medal team to find out how their journey to the podium changed their lives.
Have the past four years gone by quickly for you?
Diana Matheson: I guess they have and they haven't. It's kind of crazy thinking that huge moment was four years ago, but at the same time, looking at the team and how we're playing, the different faces, it's a totally different group. We've come a long way. It's both! [laughs] It flew by and then it didn't.
Christine Sinclair: They have. It seems like only yesterday we were in London winning a bronze medal. It's amazing how time flies.
Marie-Eve Nault: Yes, very! It seems like just yesterday that we were leaving for London and starting our Olympic journey. Obviously, a lot has happened since then, but I still remember the two weeks very clearly. It was an unbelievable experience; one that I'll always cherish.
Karina LeBlanc: Yeah, it's been incredible. You obviously dream of winning an Olympic medal, but you don't think much about what life is going to be like after. I think seeing how Canadians reacted to winning the medal and seeing the emotions that came with it—each time someone sees my medal, it's almost like a new experience for me because one of things is, it never gets old. Canadians truly value that. The stories that people share with you about what they were doing that moment or how that moment inspired them or just the little things that come with it, I think changed a little bit of my life. John Herdman told me that if you think your purpose is to kick a soccer ball for Canada, then I failed you. That shifted my mind set. It helped me tap into, 'What is my purpose on this earth?' It helped me realize soccer was a platform for me and that's what I'm exploring now. I see the power of sport and how it can truly inspire people you've met.
What is your favourite memory from the podium run?
Lauren Sesselmann: I would have to say my favourite memory of the 2012 Olympics was standing on the podium with the bronze medal around my neck and watching the Canadian flag rise with my family cheering me on in the stands. There are so many surreal and incredible memories from that experience; I still remember all the big plays and each game like it was yesterday. It's truly something I will never forget.
Desiree Scott: My fondest memory from London 2012 would be just after that final whistle blew in the bronze medal game versus France. Our team literally had nothing left in our legs and gave everything we had in that game. And to hear that whistle blow being one goal up, knowing we had achieved greatness and reached a podium regardless of the exhaustion we felt it was just pure emotion. I just remember putting my arms in the air and screaming, 'Yes! We did it!' which then turned to tears. Knowing you worked your butt off toward a goal like reaching an Olympic podium and actually achieving it is something I'll never forget.
Kelly Parker: What I remember most about the journey to the podium was how strong our group was. We had an experienced group, full of tremendous leaders. John [Herdman] did a fantastic job designating our team roles and responsibilities. We were very organized and determined. Our goal was the podium and we were clear in our direction. Of course all the gruelling work is hard to forget also! [laughs]
Diana Matheson: When you're with a team full of friends, your best friends, those people you've been through the hard times with, when you get to have a moment like that, where it's just pure joy and satisfaction in what you've accomplished together, it makes it even more special, that's for sure. That group had been through huge ups and downs together and to be able to stand on the podium together was incredible.
What's the best piece of advice you remember receiving in London?
Christine Sinclair: I didn't really get too much advice in terms of soccer. I just wanted to enjoy the journey and being an Olympian again, but deep down I knew this was a business trip.
Marie-Eve Nault: It wasn't so much advice, but words from our captain, Sinc [Christine Sinclair]. I remember after the loss to the USA in the semifinal, the locker room was so silent and we were still in shock and devastated at what had just happened. But, she stood up and told us how much she loves this team and how proud she was of everyone and just said that now we still have the opportunity to bring a medal back to Canada, so let's just go and do it. And these were the words I was holding on to and that kept me going in the bronze medal game.
Karina LeBlanc: It's interesting. We prepared mentally for the games. It wasn't just a physical preparation. Throughout the tournament, our team psychologist he kept saying, 'There are going to be three things that happen: a whistle before the game, a whistle at half and to end the game. That's the only thing that's predictable.'
Canada's back line struggled with injuries over the course of two weeks. Stalwart central defender Candace Chapman was unable to continue in the tournament. The Reds were without the services of Emily Zurrer, who had been hurt prior to the start of the Olympics. Defender Robyn Gayle was also sidelined. As a result, Carmelina Moscato stepped up to play every single minute of action in London. Coach John Herdman also shifted Lauren Sesselmann, normally a fullback, to central defence. Marie-Eve Nault, one of the alternates (along with Melanie Booth and Christina Julien) would be called upon by the coaching staff to enter the lineup. She ended up playing 361 minutes.
You were in a unique situation because you came in as an alternate and ended up being on the pitch for a lot of important minutes. What was it like being thrust into action?
Marie-Eve Nault: It was very surreal. You never want to see your teammates go down injured. I'll never forget the meeting we had with John after the second game explaining the situation and what the girls had decided. It just showed the amount of respect and trust we had for each other. I remember being very nervous before the Sweden game because I didn't want to let them down. But, as soon as the game started and I was able to connect with my first pass, the nerves went away and I just let my instincts take over. I knew I could feel the support from all of my teammates and the staff; it made everything easier. The connection we had on and off the field made it possible.
Canada's meeting versus the U.S. in the semifinal was pegged by some as David versus Goliath. Because the Americans hadn't lost to Canada in over a decade, they were the clear favourites. However, Canada relished the underdog role, answering everything the Americans threw at them, thanks to a hat trick by captain Christine Sinclair. Although the match ended in heartbreaking fashion for the Canadians, it showed them they belonged.
Are you surprised at how many people still talk about the Canada/USA semifinal?
Lauren Sesselmann: I don't think I'm that surprised because I think it was a pivotal moment for the game of soccer, especially the women's game. It was a back and forth game. Those don't happen much. One team would score, then the other would respond; it was so cutthroat and such a battle. We had always been great competitors and when we played each other it was always a great game and that game amplified the rivalry even more.
Karina LeBlanc: You go back to the USA game and you imagine finally beating your big brother and then the comeback and it's just back and forth. It's just the emotions of that game. It was so emotional. You just can't prepare yourself exactly for that. The biggest thing for us was after we'd lost to the Americans and we had been dead last at the World Cup less than nine months before, it was a sense of wondering if we had let the country down again. What was incredible is that we had a video the next morning in our meeting and it was basically just Canadians reacting. It was the first time because at the Olympics, you're basically just in your little bubble. You don't know that Canada's watching. The video had clips of Stephen Harper and young girls crying, scenes of bars being packed and people cheering. Canadians are the reason we were truly able to bounce back from that US game.
What was your reaction when Christine Sinclair scored a hat trick on Hope Solo?
Desiree Scott: Christine Sinclair is an absolute legend not only in Canada, but is one of the best in the world. It was like a storybook, without the fairytale ending! Olympic semifinal versus all-time rivals USA and our captain scores a hat trick? It's never been done, let alone heard of before. I have never seen someone rise to an occasion like Sinclair and to be honest, in the moment I was thinking we are going to win this game. This is happening. Once the final whistle blew and we lost that game, I just kept thinking, 'How?! How is it possible we didn't come away with more?', especially after the performance we put in.
The Canadians admit they were mentally and physically spent going into the bronze medal match versus France. Even so, Erin McLeod was outstanding in goal. She kept a potent French offence at bay, as she made save after save in front of 12,465 at Coventry Stadium. Midfielder Desiree Scott even made a crucial goal-line stop during a scramble in the penalty area. Much of the match was played in the Canadian third and extra time seemed inevitable. But, it would be Diana Matheson who would score her iconic goal in the 92nd minute to seal the victory in memorable fashion. The diminutive midfielder's celebration grabbing the Canadian crest on her jersey and kissing it won't soon be forgotten.
What do you remember most about the match versus France?
Diana Matheson: The goal itself was one of those sporting moments you don't really remember after it happens. I know people asked me about it right after the game on the sidelines and I had no idea! I described it all wrong [laughs]. That moment itself wouldn't be the vivid moment. We were just so physically and emotionally exhausted coming off that USA game and we hit a point in that game against France where it was just like we were running through cement. I do have a vivid memory in the second half, probably midway through, of myself and Rhian Wilkinson and we tried to block a shot. We didn't get it. I ended up on the ground and I waited face down to hear if the crowd was going to cheer or not, to see if it went in the net. That's the moment that I remember. Obviously I remember after the game, the celebration.
Marie-Eve Nault: I remember how excited and pumped we were, but we were also emotionally and physically drained because the semifinal heartbreak versus the USA took a lot out of everyone. But, we promised ourselves that we were going fight for each other no matter what. And as much as France dominated the game, with every chance they missed, our belief grew stronger. After a save from Erin [McLeod] or a clearance of the line by Desi [Scott], we would look at each other and feel a sense of calmness that everything was going to be okay. And of course when the ref blew the final whistle seconds after D's [Diana Matheson] goal, I remember the amount of joy and pride that I felt and sharing it with that group of women was just magical!
Karina LeBlanc: Rhian Wilkinson describes it perfectly. This was toward the end of the game and she went to do a slide tackle. She was just done and said she didn't know how much she had left. Then she looked up and saw one of our teammates start making this long run, so she said, 'If she's doing it, I have to do it.' When you see D score that goal and she's pumping her chest, kissing the flag on her jersey, that was it. That was her saying, 'This is for you guys.' I'll never forget that moment. I can watch it on replay over and over again and every single time it gets to me. I did a speech not long ago and had a couple of my teammates in the room, and Carmelina Moscato was crying as she was watching it. It's a connection we as players will have for the rest of our lives. You don't even need to say a word, but that moment was so much more for us. It was for Canadians. We were so connected as a group to something greater than ourselves. If a camera had been focused on our bench when that ball went in, it would've been us holding hands and then standing up and believing.
How vividly do you recall your goal line stop versus France?
Desiree Scott: It's funny, due to my tall stature [laughs] you'll often find me on the posts for any defensive corner kicks and out of the mix and normally the ball gets cleared and I'll jog out of the 18 yard box, so job done! But, this game, all the years of being on that post paid off. I saw the ball at a French player's foot and Erin diving to make a save and it was as if time slowed down. I shifted a couple steps and thank the Lord for my quads. My mom says God made them for a reason [laughs]. I was in the right place and was able to keep it out of the back of the net. Looking back at the replay of that save at a different angle had I not been there, I think that ball was in the back of the net.
Looking back, whose performance at the tournament stands out to you the most?
Christine Sinclair: I have to say Erin's performance in the bronze medal game against France. We were absolutely exhausted and she kept us in the game and gave us a chance.
Diana Matheson: There are a few. I think what made that tournament so successful is we had a lot of people playing the best soccer of their lives. Erin McLeod stood on her head, Melissa Tancredi carried us through the group games with her goals, Desiree Scott in the midfield was incredible, Jonelle Filigno stepped up and got a big goal. You could go through the whole team and everyone was performing when we needed them to. Christine, obviously in the USA game was unbelievable. You could name a person and I would say, 'Yeah, they had a great tournament.'
Sinclair, who led the tournament in scoring with six goals, would go on to be named Canada's flag bearer at the Closing Ceremony. As a result of her Olympic performance, she also won the Lou Marsh Award as 2012 Canadian Athlete of the Year.
When you look back at winning bronze, as captain, what are you most proud of?
Christine Sinclair: I'm most proud of how our team rebounded from the loss to the US. We were devastated, but we quickly turned that around and managed to give everything in the bronze medal game against France.
For midfielder Kelly Parker, the 2012 Olympics marked the end of her career. She retired with 40 appearances for Canada, scoring three goals and seven assists.
Was it always your plan to retire after London? Or did you want to go out on top?
Kelly Parker: I was forced into retirement due to a knee injury. I knew going into the Olympics that I would be retiring afterwards. I had my third knee surgery four weeks before the Olympics and knew that this was my last chance on the world stage. It was our goal to medal, but it was still surreal standing on that podium with the bronze medal around my neck. It was an incredible send off.
The women received a rock star's reception when they returned to Canada. Although some of the personnel have changed on the roster, the impression they've left across the country stays true. The team's home attendance since winning bronze has sustained excellent levels over the past four years. Canada's recent two-game series versus Brazil saw over 52,000 watch the team in Ontario, while attendance records were broken at last year's FIFA Women's World Cup.
How do you think the perception of women's sports has changed since London?
Lauren Sesselmann: I think there's been a huge shift in the women's game since London, which is so incredible to see. Our attendance rose, our games were sold out, people wanted to see us play and battle, and kids wanted to be like us even more. I think beforehand the women's game was just beginning to gain traction, and after it rose to another level. I think people have this perception that women are boring to watch, that they don't fight, that they aren't fast and technical and that they don't understand the game as well. I've had many people apologize and say they were completely wrong and that they actually like watching us more than the men. I think that speaks volumes.
Kelly Parker: I think that winning the bronze in London gave the nation a new respect for women's sport in Canada and it certainly brought more attention and admiration for the women's soccer program. With the bronze came higher expectations and a desire for consistency. We had consistently been a competitive top 10 team, but it was our goal to compete with the top three world leaders consistently. Winning the bronze in London showed we're capable, and let Canada and the world know we're a threat.
Desiree Scott: I think the game is always evolving. The world's game is changing and teams are improving. Sheer ability of players and pace is improving. I think the tactical side of the game is growing as well, especially with our team. In the London Olympics, we went in comfortable with one playing model; four years later we can now adapt in three different models and make those changes in game without hesitation. The preparation going into Rio cannot be the same as what it was for London. It is going to require much more than that. We all will need to adapt and add to our game physically, technically, mentally to get back on that podium this summer.
What are you up to these days?
Lauren Sesselmann: I'm still training every day. After my injury after the World Cup, I took some time off to get my body back to where it needed to be and back into training mode. I also run a fitness company called "Fit As A Pro" with my business partner, which is 10 minute full body workouts on the go. I also have a camp that we do worldwide called "Success Through Soccer," as well as a clothing line that is set to launch in 2017. I also have started to do more TV and movie work. I did my first two feature films "Dark Awakening" and "X-Species" a year ago and am set to do another movie this fall and a TV show. I am keeping busy and loving life!
Kelly Parker: I'm currently living and working in Los Angeles. I helped start a youth soccer club, Chelsea LA SC, and am also working with Force Football Academy, a private training academy. My love for the game wouldn't allow me to leave it behind. I absolutely love sharing my experience and knowledge with the youth. I'm extremely excited to watch the girls take on the world this summer in Rio. They have a great mix of youth and experience, and I'm certain that John has prepared them to compete strongly for another medal. Go Canada!
Karina LeBlanc: [laughs] Now that's the question of the day! I'll be working with Yahoo! at the Olympics and I'm covering all sports. I'll be doing CBC in Rio for soccer. That will be my month of August. I just recently got back from Zurich with FIFA and what FIFA is done is they've put together a leadership program for 32 female leaders around the world. I'm the only one fresh out from being a player. I'm blessed and lucky. I'm doing lots of motivational speaking, which is incredible and my speeches aren't just on soccer. My speeches are more about purposeful living and being the best version of you. I'm trying to make the world a better place. I don't dream small! [laughs]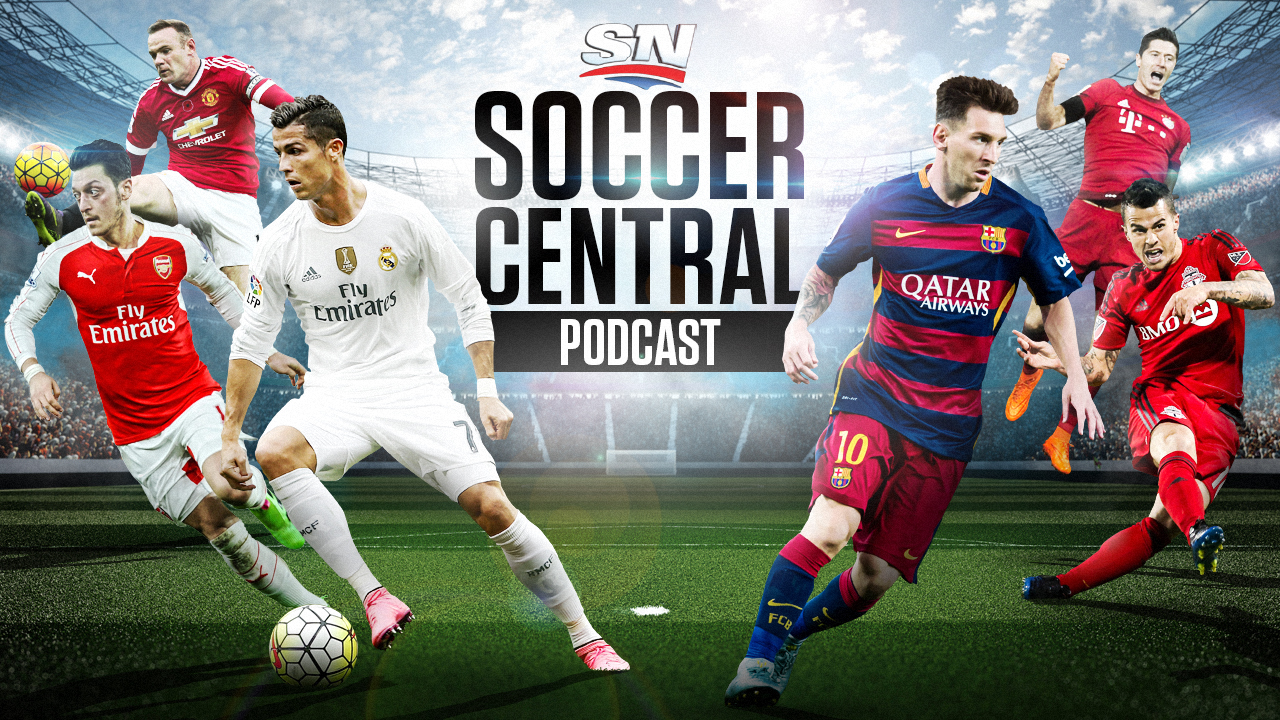 Sportsnet's Soccer Central podcast (featuring Thomas Dobby, Brendan Dunlop, John Molinaro and James Sharman) takes an in-depth look at the beautiful game and offers timely and thoughtful analysis on the sport's biggest issues.