TORONTO—In a game littered with Americans, Frenchmen and Argentines—and featuring an Ivorian and a Ghanaian—it was the Canadians who were the biggest stars on Wednesday night.
Hometown boy Jonathan Osorio scored a first-half brace to guide Toronto FC to a 4-2 win over the Montreal Impact in the first leg of the Amway Canadian Championship semifinals before 22, 143 fans at BMO Field. Local native Jordan Hamilton also scored twice, and fellow Canadians Mo Babouli and Ashtone Morgan registered assists for TFC, who fielded a makeshift starting 11 due to a series of injuries and international absences.
Montreal was forced to play the entire second half a man down after captain Patrice Bernier earned a red card for a crude challenge on Daniel Lovitz.
Toronto is in the driver's seat in this two-game semifinal, needing only a draw in next week's return leg in Montreal to move on to the final. Even a 1-0 loss would see them advance on aggregate.
"It's very important, not only for the club but for this country. It's a good moment for us to play so many young Canadians," Osorio said of the strong Canadian content factor in TFC's victory over their biggest rivals.
He later added: "It's a win. At the end of the day, it's a win… We have to finish the job over there."
Finishing the job was something TFC didn't exactly do on this night, and you have to seriously wonder if those two late goals will come back to haunt them.
The Reds were up 4-0 as late as the 85th minute, and at that point the series was over—Montreal was dead and buried. By conceding twice in the dying minutes, TFC let the Impact get up from off the canvs, and gave them a life line—Montreal needs only a 2-0 victory at home next week to win the series on away goals. Considering how the Impact conjured a pair of goals out of nothing on this night, a two-goal deficit at home isn't too much to overcome.
"We weren't happy about the two goals. But at the same time if you told us that we'd get to take a two-goal advantage into Montreal from the beginning of the game, we'd take it happily. We're not too worried," Osorio said.
This was a very surprising result because Toronto was missing a host of regular starters, including all three designated players: Michael Bradley (away with the U.S. national team), Jozy Altidore (hamstring injury) and Sebastian Giovinco (abductor injury). The Reds were also without Canadian midfielder Will Johnson (international duty), and Japanese rookie Tsubasa Endoh (leg injury). Justin Morrow, Damien Perquis and Drew Moor were given the night off.
TFC coach Greg Vanney had four Canadians in his starting lineup: Morgan, Osorio, Hamilton and Babouli. Two other Canadians—Jay Chapman and Malik Johnson (who plays with the TFC 2 farm club)—entered the game as late substitutes. French midfielder Benoit Cheyrou also started and made his first appearance since being sidelined in early April with a quad strain.
All three DPs for Montreal—Didier Drogba, Ignacio Piatti and Lucas Ontivero—were in the starting lineup. Coach Mauro Biello fielded a team that was a mix of starters and fringe players, and featured four Canadians: defenders Wandrille Lefevre and Jeremy Gagnon-Lapare, and midfielders Bernier and Kyle Bekker.
Despite the star power leaning heavily in Montreal's favour, it was Toronto who bossed the game, with Drogba and his attacking cohorts looking uninterested. Even without more than half of their starters missing, TFC looked lively on the night, while the Impact played without a pulse.
The opening moments were sloppy, with both sides creating little and featuring little link-up play. Then in the 13th minute, out of nothing, TFC opened the scoring. Morgan played a cross from the left flank for an unmarked Osorio, who was able to take two touches on the edge of the six-yard box before firing past goalkeeper Eric Kronberg.
Toronto doubled its advantage in the 34th minute. This time Babouli worked the ball down the left before sending it near-post. His pass took a deflection off Hamilton, and it landed at the feet of Osorio who slid it home.
Tempers flared just before halftime when Bernier lunged with two feet and caught Lovitz as they both went for the ball. A melee broke out and the players had to be separated, but not before Lovitz shoved Bernier twice in the chest. The TFC midfielder escaped punishment, even though he should have been issued a yellow card. The Impact captain deservedly saw red.
After 60 minutes it was 3-0. Cheyrou and Babouli combined to set up Hamilton, who scored with a lovely finish from in close to seal the win for TFC. Babouli's sublime flick-header in the buildup that sent Hamilton in on goal was the single best piece of skill on the night.
Hamilton added another goal in the 80th minute, this time slotting past Kronberg after Steven Beitashour put it on a plate for him.
Impact substitute Michael Salazar scored late in regulation time, while Drogba connected on a gorgeous free kick in injury time to give Montreal a bit of hope going into next week's decisive second leg.
NOTES: Toronto or Montreal will meet the winner of the Vancouver Whitecaps-Ottawa Fury semifinal. The two-legged final will be played during the weeks of June 21 and June 28… Last year, Vancouver knocked off Montreal in the final to win their first Voyageurs Cup… The cup itself was originally funded and awarded by the Voyageurs, a Canadian soccer supporters group founded in 1996. Since 2008, the Canadian Soccer Association has presented the Voyageurs Cup to the tournament champion… The Canadian tournament winner will also qualify for the group stage of the 2017-18 CONCACAF Champions League as Canada's lone representative in the continental competition.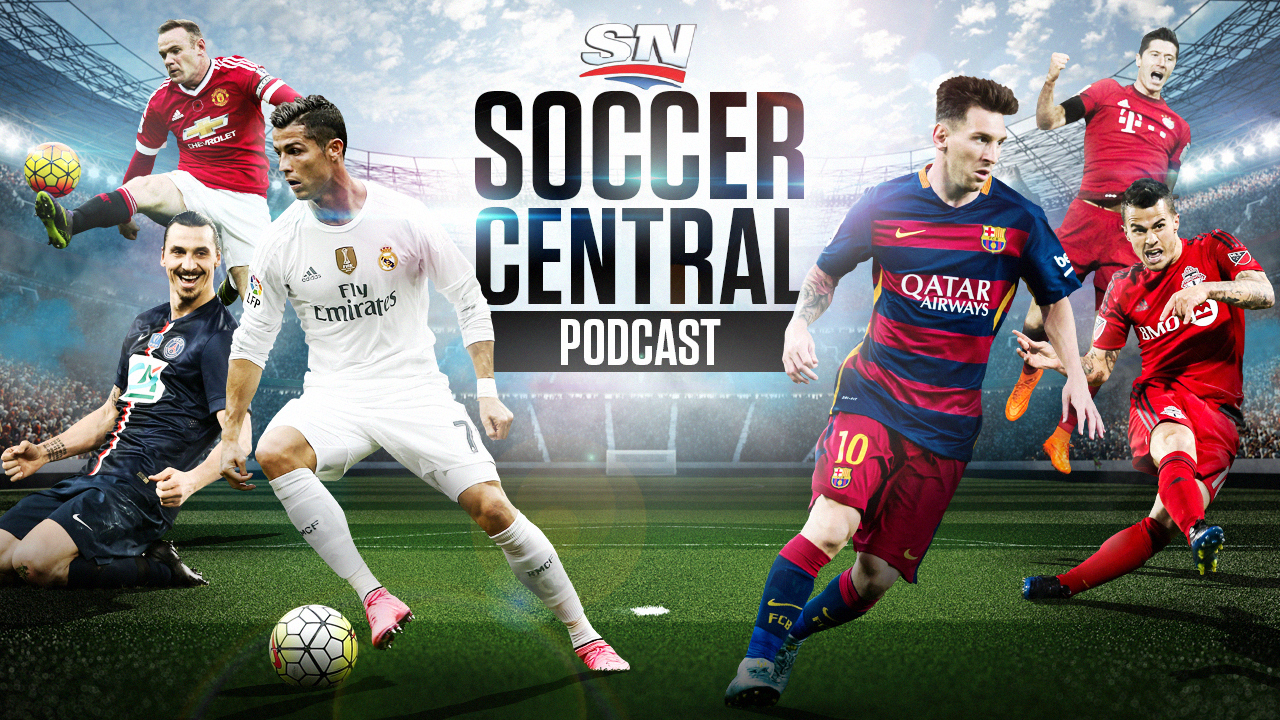 Sportsnet's Soccer Central podcast (featuring Thomas Dobby, Brendan Dunlop, John Molinaro and James Sharman) takes an in-depth look at the beautiful game and offers timely and thoughtful analysis on the sport's biggest issues.