There is a reason why football is a team sport. It takes a collective to succeed.
That's why both Liverpool and Tottenham are both in the UEFA Champions League final. They received tremendous efforts from the key figures and the unheralded players as well.
If it wasn't for a few crucial saves from Alisson at Anfield, Liverpool's comeback against Barcelona might've ultimately failed. Jan Vertonghen's attacking contributions played a pivotal role in Tottenham reaching their first Champions League final, too.
One-off games can produce the unexpected, so here are three unsung heroes for each team who could potentially make the difference in Saturday's final in Madrid.
Hugo Lloris (Tottenham)
The French international has received his fair share of criticism. However, when it's mattered most, Hugo Lloris has produced some game-changing moments for Tottenham.
Look no further than Lloris' save on Sergio Aguero when Spurs squared off against Manchester City in the first leg of the quarterfinals. If Aguero converted from the spot after 13 minutes, the entire complexion of that tie could've swung in favour of Man City.
This save on Hakim Ziyech in second-half stoppage time in the second leg of the semifinals versus Ajax proved decisive, too. If Ziyech converted that chance, then Lucas Moura's historic goal might not have transpired.
Most goalkeepers are usually invisible, unless they commit a howler. But if Spurs want to lift the European Cup on Saturday, Lloris will have to be alert.
Alisson (Liverpool)
Unlike his counterpart, Alisson has been consistently lauded since joining Liverpool last summer. Yet amidst all of the hysteria during Liverpool's dramatic win over Barcelona in the second leg of the semifinals, the Brazilian shot-stopper's efforts seemed to go undetected.
Alisson Becker denies Barcelona, again & again…#UCL | @LFC pic.twitter.com/PkvBvVDuN1

— UEFA Champions League (@ChampionsLeague) May 14, 2019
Simply put, if he doesn't make some of these saves against Lionel Messi, Barcelona might've done enough to overcome Liverpool's onslaught.
That's one of many reasons why Liverpool splashed $95 million to sign him. The very best goalkeepers produce masterclass performances when their teams need them most.
Of course, Alisson is also vital to Liverpool's build-up phase. His vision and ability to spray passes across the pitch allows the Reds to bypass the opponent's pressure and launch quick, dangerous counter-attacks.
Jan Vertonghen (Tottenham)
Most of Tottenham's tactical tweaks in the Champions League have involved Jan Vertonghen and it has led to some dramatic turnarounds.
Vertonghen exploiting Borussia Dortmund's right flank led to Tottenham advancing past the Germans in the round of 16. Then, in the semifinal second leg, the Belgian's long passes to Fernando Llorente unsettled the Ajax defence and kick-started the comeback.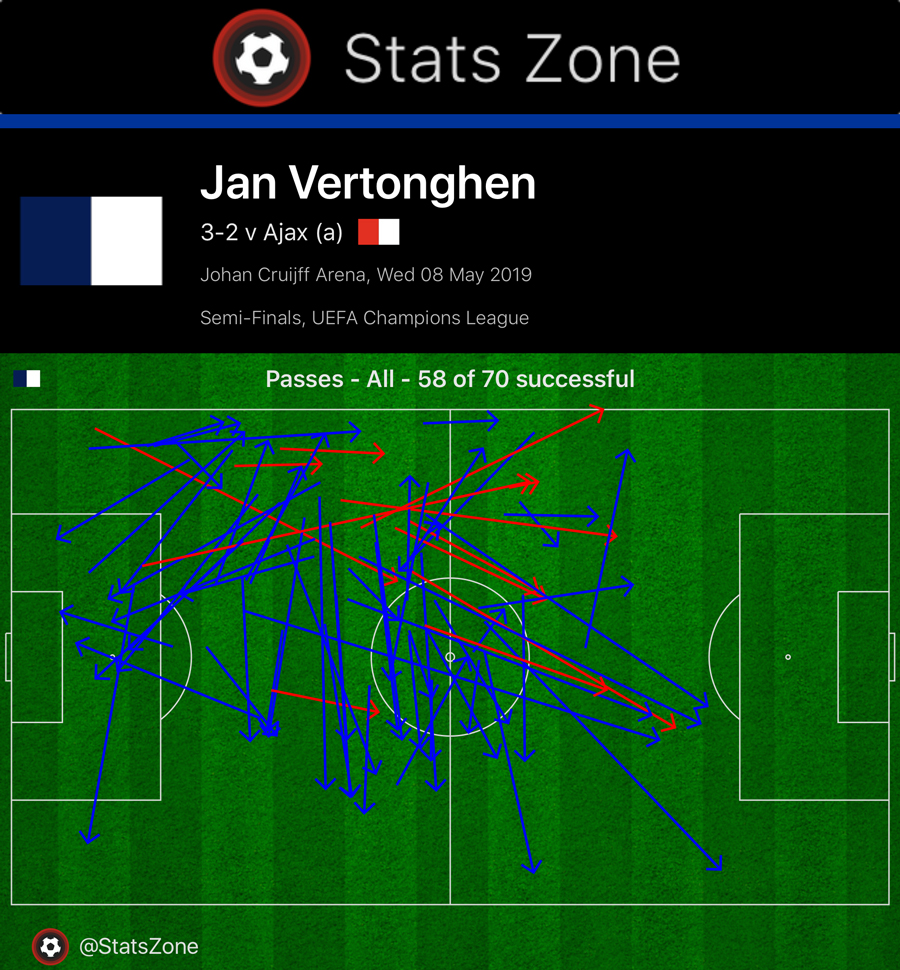 Considering Liverpool loves to press high up the pitch, Vertonghen's direct passes could lead to a few quality chances on the counter-attack for Tottenham.
Fabinho (Liverpool)
If Fabinho starts on Saturday, it will be a welcome sight for Liverpool fans. The Brazilian literally does everything in the midfield, so it might be a no-brainer for manager Jurgen Klopp.
Fabinho's game by numbers vs. Barcelona:

100% aerials won
90% pass accuracy
63 touches
10 recoveries
4 tackles
3 fouls won
1 interception

Worthy of a 'VVD Bump'
pic.twitter.com/8WlUNmBCz1

— Squawka Football (@Squawka) May 7, 2019
Whether it's breaking up oncoming attacks or distributing under pressure, Fabinho has been crucial to Liverpool's defensive success this season. The Reds conceded 16 fewer goals this year compared to the previous campaign. Virgil van Dijk deserves some of those plaudits as well, but playing with a strong No. 6 in front of him certainly makes van Dijk's job easier.
Fabinho making the holding role look easy against Porto #UCLfinal pic.twitter.com/pvuAmOsxOf

— UEFA Champions League (@ChampionsLeague) May 30, 2019
The likes of Dele Alli and Christian Eriksen will have to keep checking over their shoulders, just in case Fabinho is lurking around the half spaces on Saturday.
Moussa Sissoko (Tottenham)
Last year at this time, mentioning "Moussa Sissoko" and "reliable" in the same sentence would have been met with endless derision. But dependable is exactly what Sissoko has become.
Sissoko's introduction in the first leg of the semifinals completely transformed Tottenham's attack, even though they were held scoreless in that match. However, the Frenchman's incisive runs and passes in the final third meant Ajax had to pay attention to the zones Sissoko was occupying. Spurs just didn't have a fit or in-form striker to convert those opportunities.
With Harry Kane, Son Heung-min and Lucas Moura available, this should not be an issue.
Georginio Wijnaldum (Liverpool)
One of the heroes of the comeback against Barcelona, Georginio Wijnaldum has become ever-present in Liverpool's midfield.
Wijnaldum's tactical awareness makes him Liverpool's Swiss Army knife. The Dutchman can operate in a two- or three-man midfield, be it as a box-to-box player who can aggressively counter-press and cover ground, or in a playmaking role. This allows manager Jurgen Klopp to approach a match with a variety of options.
It's expected that Wijnaldum will start, so whether he's deployed closer to his back line or behind the front three, Tottenham has to be on high alert.