As the great Sir Alex Ferguson once said: "Football. Bloody hell."
Roma, against all odds, mounted an incredible comeback to defeat Barcelona 3-0 in the second leg of their Champions League quarterfinal. Goals from Edin Dzeko, Daniele De Rossi and Kostas Manolas helped the Romans advance to the semifinals via the away goals tiebreaker, less than a week after losing 4-1 at the Camp Nou.
Here are three thoughts from the match.
Roma press, defence nullifies Barcelona midfield
Entering this game, Roma had never recovered from a three-goal deficit in European competition. Barcelona was never knocked out in any situation, so it was going to take a perfect performance to make history.
That is exactly what happened.
Lining up in a 3-5-2, Roma utilized a high press against Barcelona's midfield. From the first minute to the full-time whistle, the Giallorossi continually hounded Sergio Busquets, who still doesn't look fully fit after suffering a foot injury against Chelsea on March 14. At 29, Busquets is not as limber compared to his younger years, so when he's contained, Barca rarely thrive in games.
Barcelona only completed 76 per cent of its passes, by far the team's lowest success rate in a Champions League match this season. Andres Iniesta, Ivan Rakitic and Sergi Roberto were disconnected with the forwards due to the lackadaisical movement in midfield as well. Even when Lionel Messi and Luis Suarez were on the ball, the Roman defence effectively snuffed out the danger.
It was a perfectly executed strategy by Roma coach Eusebio Di Francesco, who has taken the Italians to their first European Cup semifinal since 1984.
Decisive Dzeko
In yet another marquee Champions League match, Edin Dzeko made the difference.
After six minutes, it was evident that Dzeko was going to thrive. He split Jordi Alba and Samuel Umtiti, latched onto a lovely long ball from Daniele De Rossi, and finished calmly past Marc-Andre ter Stegen. Roma had the early goal it needed to spark its remarkable recovery.
Following the goal, Umtiti and Gerard Pique were clearly focusing on Dzeko and ensuring he didn't receive any passes near the box. However, Pique couldn't cope with the the Bosnian forward's strength and deceptive pace, so the Barca centre-back had to resort to hauling him down from behind, thus conceding a penalty, which De Rossi converted.
Dzeko has six goals in 10 Champions League games this season, and they were all decisive. He scored in both Barcelona matches, the winner against Shakhtar Donetsk (plus one assist in the first leg) in the Round-of-16 second leg, plus he completed a brace at Stamford Bridge against Chelsea in the group stage.
In total, Dzeko has 69 goals in 131 appearances since arriving from Manchester City for a total of €15 million. He's proven to be a heck of a signing.
De Rossi turns back clock
There has been some justified criticism of Daniele De Rossi over the past few seasons. He is 34 years old and can no longer contribute every three or four days for Roma. However, this is when De Rossi's experience is highly valuable.
The Roma captain did not play in the team's 2-0 loss to Fiorentina, so he had nearly a full week to rest up for this match and it showed. After scoring an unfortunate own goal in the first leg, De Rossi rolled back the years to help guide his boyhood club to a historic comeback.
De Rossi led Roma in passes, per WhoScored.com, which includes the assist to Edin Dzeko for the opening goal. The midfielder covered a ton of ground as well, roaming forward on occasion whenever the capital club won possession. Compare his average positioning to Busquets, and it's apparent who was more influential in the game.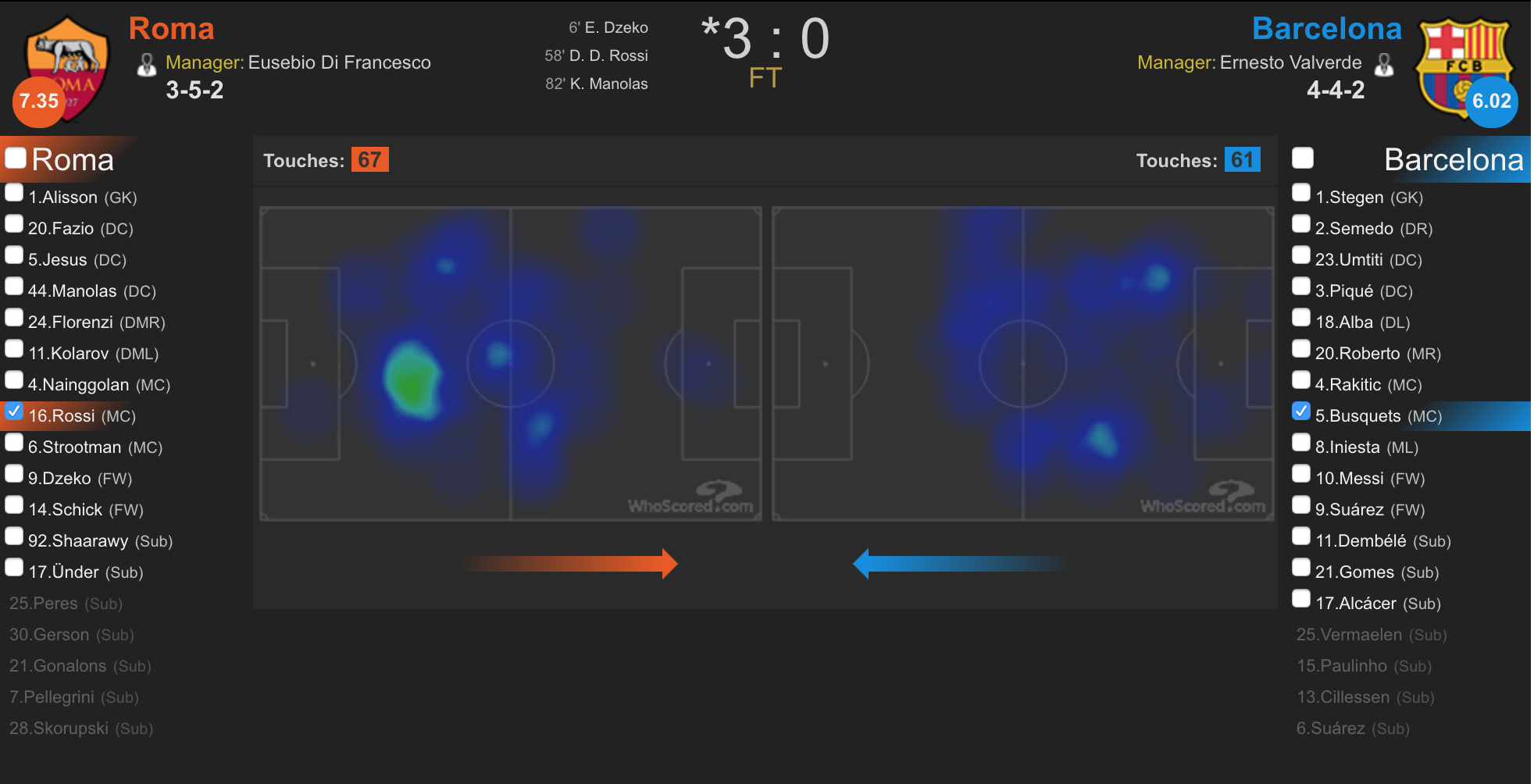 He may not have the stamina to play three times a week, but if Eusebio Di Francesco only needs De Rossi for one match, then the Roma lifer can be counted on.