The UEFA Champions League semifinals kicked off on Tuesday with Ajax earning a well-deserved 1-0 win over Tottenham in London.
Donny van de Beek's 15th-minute goal stood up as the winner, which gives the Amsterdam-based club the advantage entering the second leg next week.
With Son Heung-min (suspension) and Harry Kane (injury) unavailable, Tottenham's attack struggled to produce any quality chances. Now Spurs travel to Amsterdam with a mountain to climb.
Here are four takeaways from Tuesday's first leg.
A frantic affair
When two teams press each other high up the pitch, it usually leads to a frenetic match. That was certainly the case on Tuesday.
Tottenham was content to cede possession to Ajax in the first half, which pleased the Dutch. Any time they lost the ball, it was recovered in the attacking third and it allowed the Amsterdam club to catch Spurs napping at the back.
Once Tottenham opted to push higher up the field in the second half, it unsettled Ajax. But without a dynamic striker leading the line, most of the attacks fell flat.
This wasn't a free-flowing match and that is to be expected with two clubs who deploy a high press. But Ajax surely won't be bothered given the outcome of the game.
Lacklustre Llorente
Without Son Heung-min and Harry Kane, Tottenham manager Mauricio Pochettino named Fernando Llorente as his starting No. 9 against Ajax. Unfortunately for Pochettino, though, the Spanish forward was not suited for this game.
Llorente is excellent at holding up the ball, involving the rest of the attack and winning aerial duels. Despite missing Son and Kane, Tottenham was set up to accommodate a more dynamic striker who could burst between the lines of the opposing defence.
When analyzing Spurs' expected goals (xG), it's evident that they lacked the firepower to trouble Ajax's defence.
Lucas Moura was pretty active and lively during the game. He could've been a decent option up front, especially since he has more pace than Llorente.
Son will be available for the second leg, and he'll be a welcome addition to Pochettino's starting 11 next week.
The Sissoko Resurgence
One of the turning points in the match was Moussa Sissoko checking into the match late in the first half. With only Victor Wanyama and Christian Eriksen operating in the midfield, there was no box-to-box presence for Spurs in the centre.
Once Sissoko entered, there were more incisive passes into the final third and it helped Tottenham win the midfield battle in the second half.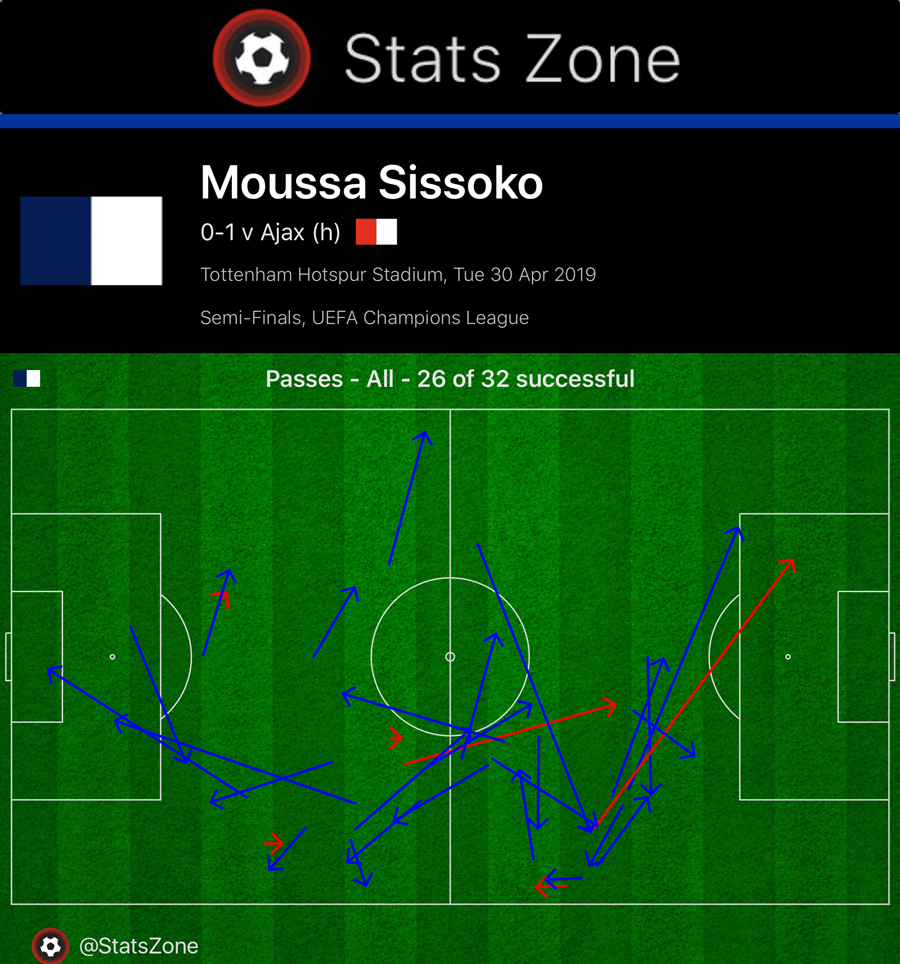 Pochettino should be enticed to start Sissoko for the second leg given how successful that tactical tweak was on Tuesday.
Fantastic Frenkie
To no one's surprise, Frenkie de Jong was exceptional against Tottenham. Not only did he lead all Ajax players in passes, he also completed 11 recoveries. This played a vital role in Spurs' attack being contained.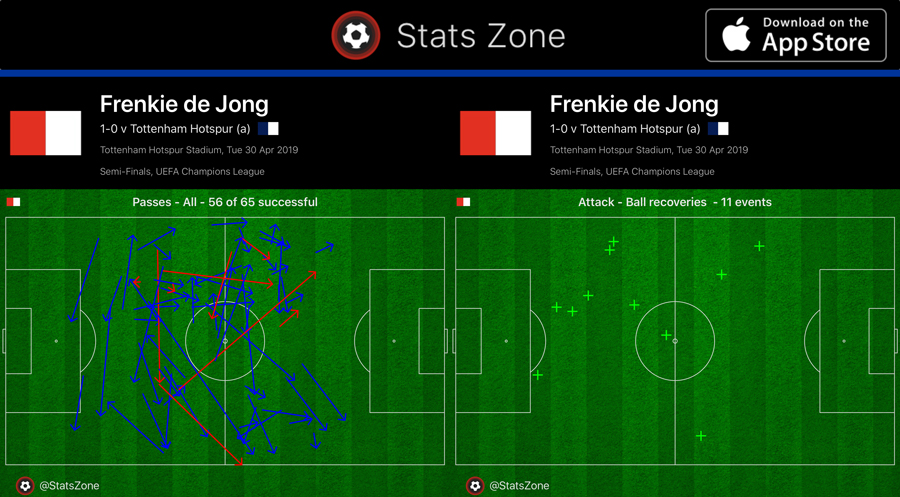 Most of Ajax's recoveries were in their defensive third, so when de Jong pushed forward, he had to track back or else Dele Alli and Christian Eriksen would have had acres of space to exploit.
That tenacity, intelligence and fluidity are just a few reasons why Barcelona snatched up de Jong. And if Ajax can reach the final in Madrid, the 21-year-old will have been a huge factor.