You've heard about the Chinese Super League and how it is spending vast sums of money to sign top international soccer players from around the world, right?
No?
The enormous spending power of the Chinese Super League has been one of the biggest developing news stories in world soccer over the past two years. Diego Costa and Sebastian Giovinco have recently been linked with moves to China, while the Chinese Super League has already lured players such as former Chelsea star Oscar.
Still in the dark? Don't worry. Sportsnet breaks down the situation in China…
Why is the Chinese Super League investing big money on foreign players?
Jerrad Peters wrote this piece for Sportsnet last year that perfectly explains it.
President Xi Jinping rather fancies the values expressed on the soccer pitch. He's a self-admitted fan of the game, although his recent fascination with it has more to do with politics than anything else. In his 2013 inauguration address he evoked the notion of a "Chinese Dream" to unite the massive country—both in terms of space and population—and its fragmented, transitioning society.
"The Chinese spirit brings us together and builds our country together. To create the Chinese Dream we must unite all Chinese power," he said. Whether in campaigning against corruption, smothering opposition or carefully targeting those elements of the arts deemed useful to the "Dream," Xi has endeavoured to centralize everything, to "unite," as he said he would, "all Chinese power."
Soccer has been part of that centralization, and the exorbitant transfer fees paid by China's professional clubs is only part of the process. External investment in [foreign teams] such as Manchester City and Atletico Madrid and internal outlays for grassroots development are others, but it's because of those player acquisitions that Chinese soccer is about to use the sport as a national expression, as a sort of soft power, like never before.
With the express backing of Xi, much of the money has come either directly from government or through channels it has opened, networks it has facilitated.
For example, Shanghai SIPG (managed by former England boss Sven-Goran Eriksson) is owned by that city's port authority—a government company. And Jiangsu, the biggest spenders ahead of the upcoming season, is chaired by Zhang Jindong—a retail magnate, but also a member of the National Chinese People's Political Consultative Committee.
Money is no object to Xi where soccer is concerned. He wants Chinese people in Chinese stadiums and Chinese viewers watching Chinese telecasts—all of them captivated by Chinese soccer. In that, he is creating a unifying, shared experience that fits within the cultural classification of his Chinese Dream.
Is Chinese unification the only reason?
China also wants to become a soccer superpower, and is aiming to have 50 million children and adults playing the game by 2020, with the long-term goal of being able to field a national team that can win the FIFA World Cup by 2050.
As such, soccer has become a major part of the national curriculum, so it's hardly a surprise that Chinese clubs are splashing big cash on players as it helps to grow the sport's popularity in the country.
Also, companies that own China's top pro teams view investment in foreign players as a way to gain favour with the government, so they're quite eager to spend big.
What kind of money are we talking about here?
The Chinese Super League collectively spent more money during the 2016 and 2017 winter transfer windows than all of the top European divisions, including Spain's La Liga, Germany's Bundesliga, France's Ligue 1 and Italy's Sere A.
Chinese spending during the last two winter transfer windows was even greater than in the English Premier League, the richest and most popular soccer division in the world.
It's important to keep in mind that because the Chinese Super League season runs from March to October that its winter transfer window runs longer than the one in Europe. That being said, the money that Chinese clubs are throwing around is staggering.
Shanghai Shenhua is reportedly paying Argentine striker Carlos Tevez $40 million US in salary over two years. Chelsea is believed to have sold Brazilian star Oscar to Shanghai SIPG for $64.6 million US.
The wild spending that's been going on in China hasn't gone unnoticed by soccer clubs in Europe and North America.
"It will impact Major League Soccer and it will impact the global game when you have these fees being paid for these players. It's really astonishing, and it'll be interesting to watch how that develops over the next six months to see if those fees continue," Toronto FC general manager Tim Bezbatchenko offered.
Which big-name players have moved to China?
It's a long list—and it's growing.
Recently, Brazilians Oscar (formerly of Chelsea), Hulk (Zenit Saint Petersburg), Ramires (Chelsea), and Paulinho (Tottenham), as well as Colombia's Jackson Martinez (Atletico Madrid), Argentina's Ezequiel Lavezzi (Paris Saint-Germain) and Carlos Tevez (Boca Juniors), John Obi Mikel (Chelsea) and Odion Ighalo (Watford) of Nigeria, Italy's Graziano Pelle (Southampton) and Belgian Axel Witsel (Zenit Saint Petersburg) have made the move to the Chinese Super League.
Didier Drogba also had a short stay in China with Shanghai Shenhua in 2012-13 after his initial stint with Chelsea.
MLS fans will remember Obafemi Martins, formerly a standout with the Seattle Sounders—he signed with Shanghai Shenhua in 2016. Former New York Red Bulls designated player Tim Cahill signed with Shanghai Shenhua in 2015.
So, it's not just aging stars looking for a final payday who are making the move?
That's right.
Tevez (33) and Portugal's Ricard Carvalho (38) are in the twilights of their respective careers. But it's interesting to note that Oscar (25), Witsel (28) and Ighalo (27) came to China long before their 30th birthdays.
That Chinese clubs were able to lure players of this calibre when they are still in the prime of their careers speaks to the league's growing influence and drawing power.
Chelsea forward Diego Costa (28) was recently linked with a transfer move to one Chinese club. Even though it didn't pan out, there is a chance the Spanish international could leave the Premier League and move to China during the summer transfer window.
Could Sebastian Giovinco be next?
It's possible, although it's unlikely.
Giovinco's agent Andrea D'Amico made headlines last month when he revealed that a Chinese Super League club contacted him with a huge transfer offer for the Italian striker. Toronto FC responded by saying it hadn't been contacted by any Chinese team interested in acquiring Giovinco. Bezbatchenko said last week that was still the case.
"I haven't got a phone call, an email or a text. I've received nothing by way of a formal expression [of interest] in Sebastian from any club or group," Bezbatchenko stated.
Chinese teams have until the end of February to acquire players via transfer, but Bezbatchenko maintained TFC is not looking to cash in on Giovinco, and that they haven't put any kind of price tag on the Italian.
"We're a club that wants to be contending for championships each year," Bezbatchenko said. "It's not about money or about buying low, selling high. We want to partake in the import and export of players, for sure, but we're not a selling club. We want to be at the top of MLS in every category.
"Obviously Seba is one of the best players, if not the best in MLS, so we're not looking to sell him or put a price tag on him."
Should MLS be worried about the Chinese League's big spending?
It's a valid question, especially when you consider its recent spending spree.
Bezbatchenko feels the Chinese Super League's ability to draw top players from around the world will be somewhat mitigated by its new roster rules.
When the new season kicks off on March 4, each team can only have three foreign players on the field at the same time. (Previously, teams were allowed to field one non-Chinese player from the Asian confederation, plus three non-Asian foreigners per match.)
Also, at least two domestic players who are under he age of 23 must be in each team's game-day roster, including one in the starting line-up.
"The ramifications are going to be limited to just three players. Who they're going to spend on those three players is probably going to be some of the top names around the world. Frankly, we're just flattered in some sways that these clubs are looking at [Giovinco] as one of the top players in the world," Bezbatchenko said.
The new rules could mean a lot of disgruntled foreign players who won't be happy about the lack of playing time, while the Chinese clubs who paid large sums for those foreign players won't want to see their stars forced into part-time roles or sitting on the bench.
Mark Dreyer, a soccer journalist based in Beijing, told Sky Sports News that the new roster rules limiting the number of foreign players could actually drive prices up even further due to competition for squad spaces.
"Fewer spots is just going to mean more competition for those spots and perhaps even higher prices because it is so competitive," Dreyer said.
The Chinese Soccer Association also recently suggested that it would institute a new salary cap and perform financial audits of clubs in an attempt to curb the massive spending in the Chinese Super League.
While officially issued by the CSA, it is widely accepted that the new regulations have come from the Chinese government.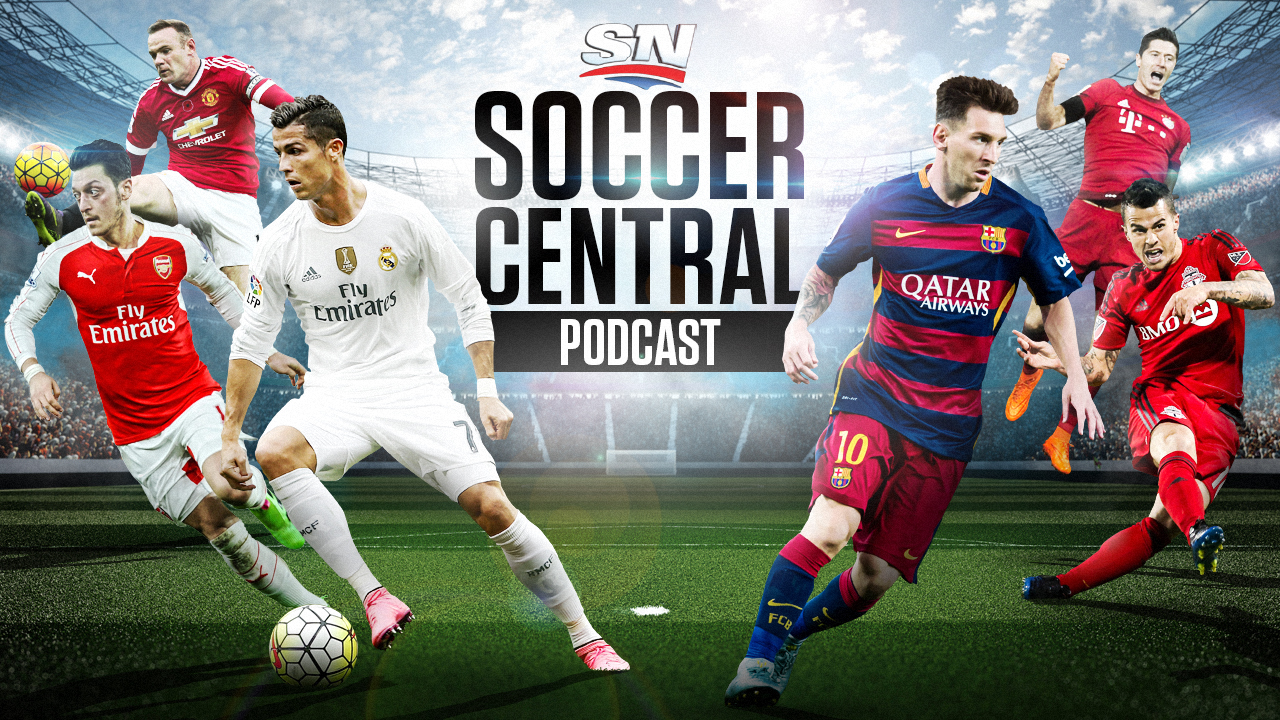 Sportsnet's Soccer Central podcast (featuring James Sharman, Thomas Dobby, Brendan Dunlop and John Molinaro) takes an in-depth look at the beautiful game and offers timely and thoughtful analysis on the sport's biggest issues.
Listen now || iTunes || Podcatchers