History was made for Croatia on Wednesday in Moscow, while England suffered heartbreak at the Luzhniki Stadium.
In the end, the more tactically savvy and resilient side in Croatia advanced and it's defined their entire World Cup campaign thus far.
Here are three winners and three losers from Wednesday's 2018 World Cup semifinal.
WINNERS
The Croatian resolve
Croatia has dealt with countless issues on and off the pitch throughout the 2018 World Cup cycle. From the Dinamo Zagreb transfers scandal, to corruption within the Croatian federation and switching coaches right before the UEFA qualifying playoff, there has been no shortage of drama.
Even on the pitch, Croatia was behind the proverbial 8-ball after playing four hours of soccer in the knockout stage, with two penalty shootouts. There was no shootout on this occasion but another 120 minutes followed in the semis.
Yet, despite admitting that Croatia was "tired" before Wednesday's game, Zlatko Dalic's side looked like the fitter side by the final whistle.
Croatia was probably lucky to not concede at least twice. Harry Kane being flagged for offside before his two failed attempts in the first half bailed out the Croatians. Additionally, England was constantly breaking up passes in their own half before countering through acres of open space in the midfield.
But eventually, Croatia started to press England's back line, forced mistakes and capitalized on two wonderful goals.
By comparison, France has breezed through to the final without breaking much of a sweat. Perhaps that will benefit Croatia if the game is tight.
Ivan Perisic
Once Croatia gathered more pace with their attacks and swiftly distributed the ball, few players were as influential in the comeback as Ivan Perisic.
Yes, Perisic scored the equalizer and assisted the winner but it was his work off the ball that sparked Croatia in the second half. He continually pressed John Stones, Kyle Walker and Kieran Trippier, which forced some uncharacteristic turnovers in England's defensive third.
Perisic finished the match with two tackles, one blocked shot and several kilometres of covered ground. All in a day's work.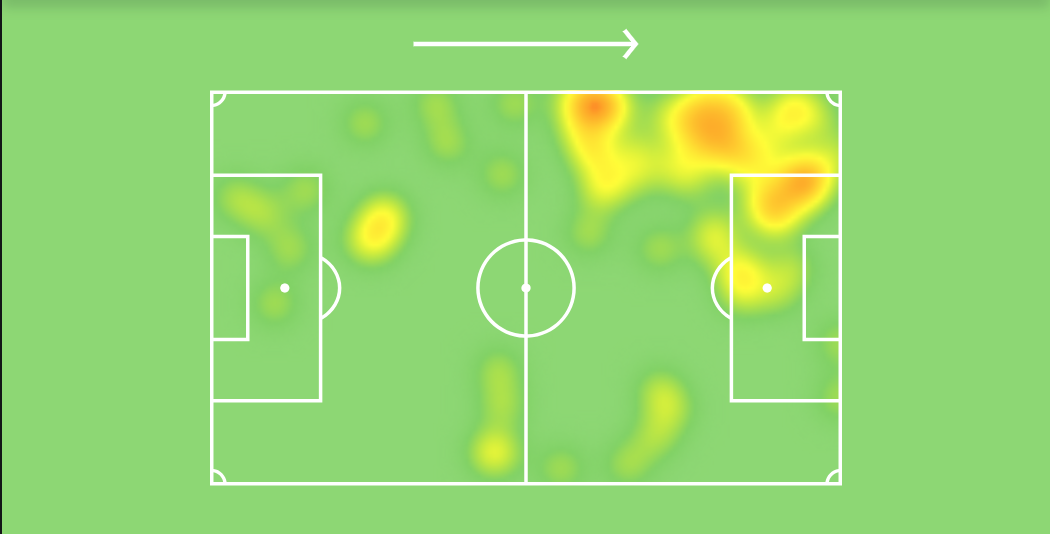 Kieran Trippier
It's arguable that no other English player's stock has risen as highly as Kieran Trippier's at this World Cup.
Trippier's first-ever international goal came in the defeat to Croatia, but it was a magnificently taken free kick. He also became the third Englishman to score in a World Cup semifinal after Gary Lineker and Bobby Charlton.
Once again, Trippier was excellent on both sides of the pitch, even in defeat. He had two tackles, three interceptions and seven ball recoveries.
Where Trippier struggled, like most England players, was his distribution. Because both sides were pressing intensely, there were very few short-passing sequences. Usually the ball was knocked long and the match was slightly disjointed as a result.
On the bright side for Trippier, he's an established member for club and country at 27 years of age, with a few more quality years still ahead of him. This is only the beginning.
The FIFA World Cup in Russia runs from June 14 to July 15, and Sportsnet.ca will have in-depth daily coverage.
LOSERS
Gareth Southgate
Following a nerve-wracking game over Colombia, Michael Cox of The Independent pointed out that there were a few tactical concerns from England coach Gareth Southgate.
One of those issues was evident in Wednesday's semifinal, and that was Southgate's in-game adjustments.
In the round of 16, Colombia began the match with three defensive midfielders before eventually adding a box-to-box presence in Matheus Uribe. He torched England through the centre of the pitch on counter-attacks during the final hour of the game and Southgate didn't really have an answer.
On Wednesday, Croatia was flat for about an hour. Then they suddenly regained incisiveness and hounded England with their pressing.
Jordan Henderson was the sole reference point in the midfield, which made Croatia's task of pressing England's chief distributors – in this case, Henderson and the defenders – easier.
Adding Eric Dier next to Henderson would've provided more balance and calmness to England's midfield. Instead, Southgate completed a straight swap between Henderson and Dier.
In Southgate's defence, he is still a young coach and will surely heed some valuable lessons for the future.
Harry Kane
It's evident that Harry Kane suffered with England's direct approach in the knockout stage.
Kane finished the knockouts with six shots and one on target (his penalty versus Colombia). He only had two against Croatia on Wednesday.
Most of the passes Kane was receiving were not ideal, either. He was either competing in aerial duels or collecting the ball from deeper positions. He only had four received passes in the box across 120 minutes.
That explains England's two shots on target in two hours.
Fluid soccer
This was not a free-flowing match by any means. The conservative shapes from both sides, mixed in with the counter-pressing, led to a significant amount of long passes.
When Croatia regained control, they started stringing together a few positive sequences. But the passing in the attacking third was usually direct.
A knockout-stage match can be intense and tight, so it wasn't a surprise to see. But if anyone was wondering why both sides were disjointed at times, that's a perfect explainer.