Canada's first-ever Toulon Tournament concluded with the team finishing sixth out of 12 nations after a 2-1 loss to hosts France in the fifth-place playoff on Thursday.
Up until the final match, Les Rouges did not lose a single game. Canada had a young squad with just four players over the age of 19, with 17-year-old Noble Okello earning regular minutes and vital experience.
Festival international espoirs Provence @TournoiToulon

Canada 6th / 6e

0-0
1-0
1-1
1-2

Goals / les buts Noah Verhoeven, Theo Bair & Mathieu Choinière

SQUAD https://t.co/Forvmn3YHa
NEWS https://t.co/je34Am7htt pic.twitter.com/16NGDad5wJ

— Canada Soccer (@CanadaSoccerEN) June 7, 2018
Here are five things we learned about Canada at this prestigious youth tournament.
1. Tactical consistency at all levels
One of the major qualms of the international game is how little time the teams have to prepare. That didn't hinder Canada as they bought into coach John Herdman's 4-3-3 system with a high press almost immediately.
These tactics are similar to the senior team, which is crucial. Spanish sides at all levels play a possession-based 4-3-3. The Dutch tend to lean towards a 4-3-3 as well. They've both had great success producing high-calibre players.
Mauro Biello "we are building that foundation, that cultural and tactical identity and aligning our #CANMNT with our youth teams."

#canm15 #canm17 #canm19 #canm20 #canm21 #canm23 #CANMNT pic.twitter.com/VEZaZ7Z6se

— Canada Soccer (@CanadaSoccerEN) June 3, 2018
Having that consistency across all Canadian teams is essential. If a younger player is called up to the senior side, he will know exactly what is required when slotting into the lineup.
There were some kinks, though. The Japanese and Portuguese carved through Canada's press at times, which exposed the space in behind the flanks and the midfield.
That ultimately led to Japan's decisive equalizer in the final match in Group C. The goal all but ended Canada's chances of reaching the semifinals. A ball over the top of the Canadian midfield meant the Japanese attack could exploit the back line, and they took advantage.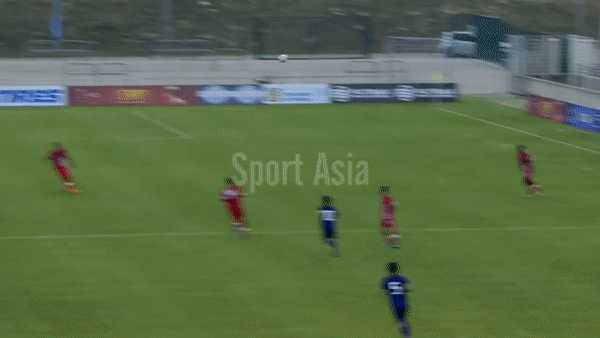 However, it's a positive that Herdman and the coaching staff have identified the ideal system for the Canadian men's national teams. That will only help in the future.
2. Cornelius, David the standouts
The Japanese goal aside, 20-year-old centre-back Derek Cornelius was absolutely immense for Canada at the back all tournament long.
The Serbia-based defender marshalled an inexperienced Canadian defence and was at the heart of every defensive action. Cornelius's best showing was the opening match against Portugal, where he helped Canada earn a 0-0 draw.
Derek Cornelius vs. :

80 mins (full match)
45 touches
33 passes (73% accuracy)
5 tackles
3 interceptions
2 fouls won

— Peter Galindo (@GalindoPW) May 28, 2018
Cornelius was in Canada's last senior squad in March, but he did not see any action. With these displays, not only could he be playing for the first team soon, but he might be moving clubs, as well. FK Javor Ivanjica was recently relegated, and with dozens of scouts present for this tournament, someone could snap up the young centre-back.
Elsewhere, 18-year-old striker Jonathan David only started two of Canada's four matches, but he was very impressive against Portugal and Turkey.
While he did not score, David's traits are perfect for this Canadian system. He has tremendous stamina for the high press, plus his movement – especially under pressure on the ball – is exceptional. David's selflessness in getting his teammates involved in the final third was notable as well. No player at the tournament had his level of vision, which aided the attack.
Here David (No. 9) can be seen receiving the ball deep in his own half before driving forward through the Turkish midfield to kick-start the attack.
The Canadian style @CanadaSoccerEN

Full highilights on our website #CANTUR pic.twitter.com/uisrMxxOHV

— Toulon Tournament (@TournoiToulon) June 1, 2018
David joined Belgian side Gent earlier this year from his local team in Ottawa following a strong showing at the CONCACAF U-17 championships last summer. He will be one Canadian player to watch over the next few players.
3. Decision-making in final third
There is no doubting the talent of forwards Liam Millar and Kris Twardek.
Millar is coming off a fantastic season with Liverpool's U-18s, bagging 10 goals and nine assists in 26 matches across all competitions. Twardek has struggled to earn consistent minutes in the lower leagues in England, although he has lots of potential.
Still, the decision-making in the final third was lacking at times, especially from both players. They hesitated on the dribble or took too long on deciding whether to pass, which hurt the attack. Canada failed to score multiple goals in a game, despite dictating the tempo for large stretches of its matches.
On the other hand, this tournament came after a long season for some of these players and it takes time to find consistency. It's just slightly disappointing that a few of these gifted forwards weren't as impactful.
4. Surprises aplenty
There were a few unexpected surprise individual performances across this tournament from certain players.
Daniel Kinumbe, a member of the Montreal Impact academy, was a very dynamic left-back for Canada. The 19-year-old's distribution, particularly when pressed by the opposition, was stellar. His willingness to dribble forward was also refreshing. Kinumbe's one-on-one defending and positioning was questionable at times, but he did well considering the quality of the opposition.
Aidan Daniels of Toronto FC 2 was lively in the opener versus Portugal as a roaming playmaker. He started up front in the fifth-place match against France and had a couple of decent attempts at goal, too.
Aidan Daniels vs. :

80 mins (full match)
53 touches
38 passes (87% accuracy)
2 key passes
1 shot

— Peter Galindo (@GalindoPW) May 28, 2018
It wasn't always consistent, but that is to be expected with young players.