TORONTO — Earlier this week Toronto FC captain Michael Bradley warned that TFC isn't good enough yet to be able to take its foot off the gas.
He was right. They're not.
Bradley's words proved to be quite prophetic, with the Reds looking positively lethargic in coming out of the gate on Saturday night en route to dropping a 4-3 decision to the Vancouver Whitecaps before 24,748 fans at BMO Field.
TFC had a chance to move into first place in the Eastern Conference with a win. Instead, they blew it by putting in their worst defensive performance of the campaign. Not even the brilliance of Sebastian Giovinco, with two goals and an assist, could rescue the Reds on this night.
Making matters worse, forward Jozy Altidore suffered a hamstring injury—he has a long history of them—and had to come out of the game in the first half.
The Reds were down 2-0 after only 18 minutes in a start to the match that coach Greg Vanney described as "pathetic." He bemoaned his team's sloppy play, lack of concentration and defensive miscues which lead to Toronto coughing up a season-high four goals, all of them of the cheap or easy variety.
"The whole thing was an anti-thesis of everything we've done in the first nine games [of the season}," Vanney said.
When asked by Sportsnet what positives he took away from this performance, Bradley just shook his head. "None?" came the follow-up. Again, he just shook his head.
"It's not good enough, in any way," Bradley bluntly stated. "From the get-go, we were no good. What else can you say? In terms of being sharp and into it, we weren't even close."
He then repeated the same warning he issued on Friday.
"I've said it numerous times this year in using different words [that] if we start to get away from the things that have been positive for us, and if we start to think that we can afford to take our foot off the gas a little bit, and start to cut a few corners, then the margin of error is not that big," Bradley explained.
The American midfielder, did, however, state that there's no reason to go off deep end, that this was one poor game and that it doesn't wipe out all the good Toronto achieved thus far in the campaign.
"It's a long season. Nothing's lost tonight, other than a few points… You're bound to have [games] like this over the course of the season."
Vanney made one lineup change from last week, replacing Marky Delgado (hamstring) with Canadian midfielder Jonathan Osorio. Vancouver was missing defender Kendall Waston (suspended), and forwards Masato Kudo (broken jaw) and Octavio Rivero (ankle). Erik Hurtado made his first start of the season up top for the Whitecaps.
TFC came into this contest with the league's best defensive record, only seven goals against. But their early play in this one was marred by heavy touches and sloppy giveaways. Defender Damien Perquis' horrible pass attempt for Osorio was picked off by Kekuta Manneh, who sped up-field and slipped a shot through the legs of goalkeeper Clint Irwin to give Vancouver the lead after 12 minutes. Manneh was credited with the goal, but it was an absolute gift from Perquis.
Still shell shocked, Toronto was caught flat-footed six minutes later. Manneh burst between two TFC players and forced a fine kick save out of Irwin from in close. Christian Bolanos collected the rebound, scoring from an angle to double Vancouver's lead.
That terrible opening 20-minute period—one of the worst stretches of the season from the Reds—seemed to wake them up, as David Ousted made a fantastic finger tip save to direct Giovinco's angled shot just around the far post.
Moments later Altidore won a penalty for Toronto, but not only did he not convert—Ousted made a great diving stop—the American forward also suffered a hamstring injury on the play. Altidore was subbed out of the game, and replaced by Canadian Mo Babouli.
Vanney said Altidore suffered the injury in the run-up to hitting his penalty. He offered no time line as to how much time, if any, the American will miss.
Before Toronto could even get Babouli on the field, Giovinco came up with a bit of magic. The Italian collected a high ball on the edge of the box, and used a sublime first touch to turn two Vancouver players before slipping a shot underneath a diving Ousted in the 38th minute.
Giovinco drew TFC level in the 66th minute off a brilliant set up by Bradley. TFC's captain capitalized on a Bolanos turnover and then went on a gut-busting run down the middle before playing a perfectly weighted ball for Giovinco to slot home. The goal was the Italian's 30th in MLS regular-season play, moving him past Dwayne De Rosario for the club's all-time record.
The game turned again when Manneh undressed the TFC defence, especially former Whitecaps teammate Steven Beitashour, and fired home from in close to restore Vancouver's lead in the 70th minute. Pedro Morales wasn't closed down quickly enough and made it 4-2 for the visitors just two minutes later.
Drew Moor made it a one-goal game again when the TFC defender scored on a header in the 80th minute off a ball played into the box by Giovinco. Too little, too late, as it turned out.
Osorio came out of the game late with an ankle injury, the same ankle that bothered him a few weeks ago. There was no immediate word on the seriousness of the injury.
NOTES: Toronto FC honoured Danny Dichio, who scored the club's first-ever goals in its inaugural 2007 MLS season, in a special ceremony prior to kick-off… Saturday was the second match of a four-game home stretch for the Reds, who will also host New York City FC (May 18) and the Columbus Crew (May 21). Vancouver visits the Portland Timbers on May 22… Saturday was the only league meeting between Toronto and Vancouver this season. They could potentially meet in the final of the Amway Canadian Championship.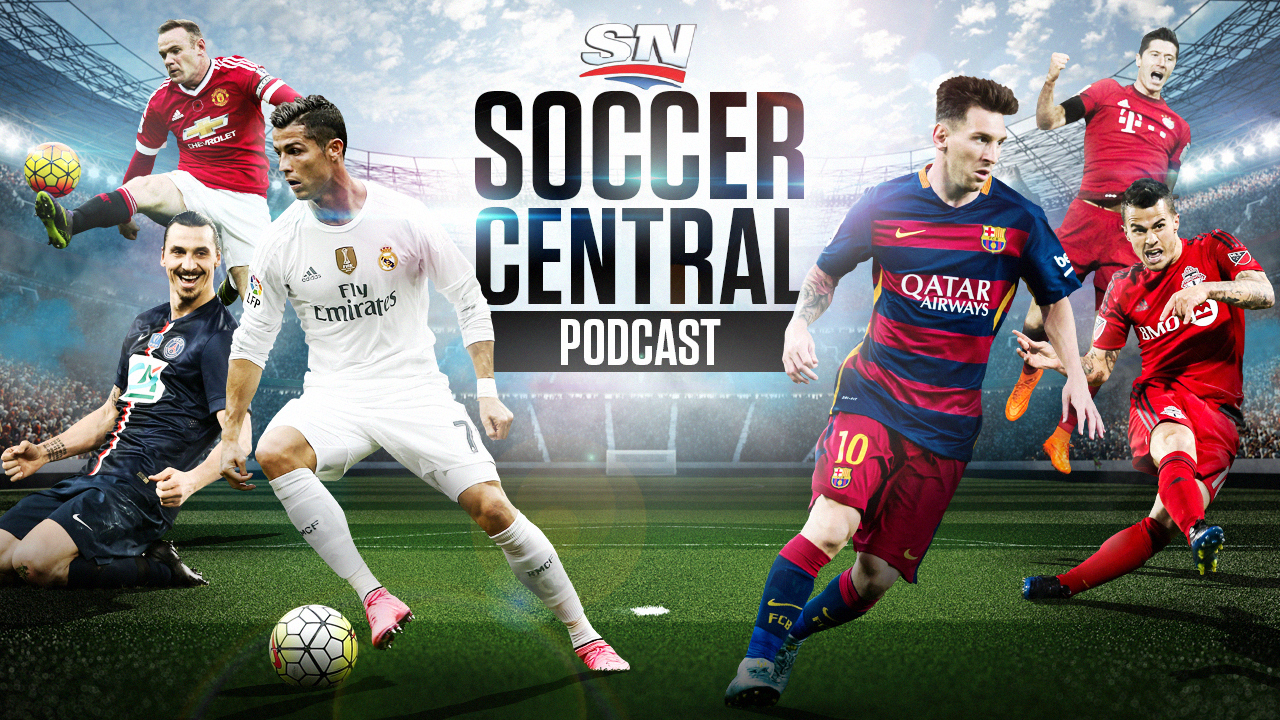 Sportsnet's Soccer Central podcast (featuring Thomas Dobby, Brendan Dunlop, John Molinaro and James Sharman) takes an in-depth look at the beautiful game and offers timely and thoughtful analysis on the sport's biggest issues.
Listen now | iTunes | Podcatchers