On the date of his two-year anniversary as Toronto FC coach, Greg Vanney sat down for a lengthy, one-on-one chat with Sportsnet.ca earlier this week to discuss a variety of subjects, including: how he got the job, his managerial style, Sebastian Giovinco's influence, last season's playoff loss in Montreal, club president Bill Manning's decision to stick with him after the playoff loss, his views on social media criticism of the team, and his future with TFC.
Below is part two of our Q&A. You can read part one by CLICKING HERE.
Has there been a manager—whether it's one you played under, or talked to, or admired from afar—that you've used a reference point during your time as TFC coach? Do you have any managerial influences?
Greg Vanney: I played under Sigi [Schmid] for a long time, and for me Sigi always creates a really competitive environment where guys work hard every day and that's the expectation; you were competing for your position and you were competing for your job, and I think that's important, and that's how he's been so successful as a manager.
There's Bruce [Arena] who I played for as well, who I think is a very good 'man manager.' He's fairly even-keeled about his day-to-day work. He allows the players some space and to be themselves, and has done a good job over the years of helping guys, and when he took over the U.S. national team he created an environment where there was fresh blood and everybody felt truly invested in the national team. I think he does a good job of that—wherever he goes, people feel their importance in terms of the club.
So, I've taken those parts from Sigi and Bruce, and I had a manager in Gerard Gili [at French club Bastia] who was a very, very good tactician. We played a number of different systems under him, but we were a small club in a big league, and in order to stay in the first division year after year you have to be well organized because from a roster standpoint we were nowhere near PSG, Lyon and Olympique Marseille. Every week we had to prepare for the game from a very tactical approach, so a lot of how he prepared the team on a week-to-week basis, I use some of those things.
Within all of that, though, it's important to stay true to who you are as a person. I care about the players, and I want them to feel invested and feel that they matter, so you have to stay true to that and not try to be someone you aren't. So I've taken pieces I've learned from managers I played for along the way, but as a personality, I try to stay true to who I am. Sometimes it works, sometimes it doesn't. [laughs]
The playoff loss last year was pretty disappointing and embarrassing. The media took you and the team to task, and fans were baying for blood. Bill Manning had just been hired as the new club president, and the easiest thing he could have done from a PR move would have been to fire you and hire Jason Kreis. But he didn't. He kept you on as coach. Why did he stick with you?
Vanney: When people come into our building now and interact with our people, what you realize is that this cub is a real community, and everybody is working together, which is the culture change that we wanted. There was a foundation here, and I think there was this general feeling that success was going to come; it's just a matter of continuing, sticking to the process, being clear about the next steps and adding the right pieces along the way. I'd be speaking for Bill here, but I firmly believe that that's what he saw, and that he felt our staff and myself were the people who could get us there.
When you look back at Real Salt Lake [where Manning served as club president before coming to Toronto], one of the reasons for their success was the continuity of their group. It's never change, and change and change that ever gets you to anywhere successful. It's continuity and building upon the building blocks that you put down, and not constantly changing things. There was a solid foundation here, and I think Bill picked up on that.
One of the major criticisms of this team is that it relies too much on Sebastian Giovinco; that if you take him away, TFC would be an average side. Is that a fair critique? Do you feel you get enough credit for whatever role you've played in the team's success?
Vanney: As far as Seba goes, I think when you have the best player in the league and he's the most exciting player in the league, people are going to naturally gravitate towards that and say, 'or course TFC is doing so well.' But do they say the same thing about the LA Galaxy? When the LA Galaxy don't have Robbie Keane, they don't win many games. But does that mean Bruce Arena isn't a very good coach and that anybody could coach that team? I don't think it does.
I was listening to a podcast the other day that was very interesting and [applied to] MLS in that it was about how you spend your money. The guy was talking about soccer being a 'weakest-link' sport compared to basketball—in basketball you can have one great player and that great player can go get the ball on the inbound and take it all the way down the court and score a bucket because it becomes a one-on-one game and they have much more greater influence on the game. So his point was you can have one great player but that doesn't necessarily mean you're going to be a good soccer team because in soccer you need to have far more links in order for that one great player to have an impact on the game than you do in other sports—that's what he meant by soccer being a 'weakest-link' sport.
It's important that all of your other pieces are in sync so that that one great player can be successful as well—get him the ball in the right spaces at the right time. So that's how I look at it. Now, obviously Seba is the best player in the league. Does he help us win games? No question. But winning games also requires other things. Last year we didn't win that many games because we gave away too many goals, and that's not something that Sebastian necessarily has much influence over, but the rest of our team has to be solid enough to do those kinds of things.
So I'd make the case that having one great player doesn't necessarily make you a great team. You still need to have a very good foundation and a group of players who are capable of supporting and working with that great player for that great player to be successful. That's where I think coaching comes into play, along with bringing in the right types of players, along with putting them in the right types of systems that leads the group to be successful.
TFC has a very engaged and passionate fan base. The fan support, for the most part, is positive. But there's a pretty vocal minority of supporters who don't like you; that no matter the results on the field, they simply don't think you're a good coach. I appreciate that you say you're not really tuned in to what is being said about you on social media, but what about your family? Are your kids on social media, and do they tell you what's being said about you? Or even your wife? How tuned is she to what's being said and written about you?
Vanney: I know there's pressure from the fans, and I know being in this position there's always going to be people that like you and people who hate you. I'm perfectly fine with that.
My kids aren't really on social media, and really only my [11-year-old] daughter would be at the age where she's on it regularly, but she's so involved in gymnastics that I don't think she even has the time to do much of it.
My wife picks up on it, though. If I hear about that stuff, most of the time it will come from her. It's not easy because she takes it to heart. She'll feel uncomfortable and say to herself 'here we go, we could be moving again,' or 'who are these people? And do they really think this? How many people think this? And does the club think this?' So it becomes a bit of an issue. More times than not I have to ease her fears in many ways.
Sometimes people have their opinions on a fraction of the information, and sometimes the information doesn't matter—they just don't like me. They're totally entitled to those opinions. For me, when it upsets my wife, I just try to calm things down with a level head and remind her that one of these days is going to be our last day [in Toronto], we don't know when that day is going to be, but in the meantime I believe in what we're doing and the direction we're headed in. We just have to trust that. So no doubt it's hard on her, but my wife loves it here, and she doesn't want to move, and the kids are very happy.
I can't imagine there was much of a media presence at games when you were an assistant coach at Chivas USA. By MLS standards, TFC gets a lot of media attention and press coverage. What's it been like for you dealing with us? Do you feel much pressure from the media?
Vanney: Oh, you can't even compare. There's way more media attention in Toronto than Chivas. [laughs]
I try to treat the media like I treat my players. I feel the media is important and I want people who I come into contact with to feel like they're important. I genuinely feel that way. With you guys, I'll be honest about what I think; sometimes I can't be 'all-the-way' honest because we can't have everything that's going on at the club reported. [laughs] But I try to be as forthright as I can.
The hardest thing for me has been fighting the history of this club. It's very easy when something is not right or goes wrong to reflect on the past. I think it's not as bad as it used to be, but there's still this tendency [in the media] to tap into the feelings that fans had for many years before—the disappointments under previous coaches and regimes—and say, 'well, it's the same old TFC.' It's got a lot better to be honest, but I still think there's an element of that out there in the media.
I think it can be hard sometimes on the players, who read this stuff, in this age of social media because everybody has a voice—not just reporters, but people who have less information than you guys do and sometimes write negative things about the players. That stuff affects their confidence and their psyche. I try to keep them away from it, to shield them from it and reassure them, so sometimes it feels like I'm dealing with my wife in that sense. [laugh] But if affects these guys, because they care, and they care about the fans, and they want to win. So you're fighting that also.
For me, I haven't had a real issue personally with anybody in the media, or with what any of you guys are writing. For me, the goal and mission has been to try to get the media to believe in what we're doing, and in such to write the positive stories, as well as the negative stories.
TFC currently sits in first place in the Eastern Conference and is challenging for the Supporters' Shield. There's been some rumblings about you being nominated for the MLS coach of the year award. Have you thought about it?
Vanney: Not really. It's an outcome thing, and I try to focus on my day-to-day routine, and how I can make this team better, and how I can become better. I'm still learning and trying to get better. If people are talking about it, I appreciate it, but I haven't spent too much time thinking about it. We have far more pressing business to think about.
What about your future at TFC? What's your contract situation? Has there been talk about the club signing you to a new deal?
Vanney: I have one more year [on my contract] after this season.
A lot of the [contract] discussion has been let's get through the season, and we'll revisit where we're at the end of the season. We really don't need to get in the middle of that discussion while the season is going on. I think there's a possibility it could become a topic of discussion once the year is over, so that's fine.
Do you want to stay in Toronto?
Vanney: I'd love to stay here. I feel like we are taking steps forward and accomplishing things. We still have lots more to accomplish. Even if we end up having a great year this year, that doesn't mean we're all the way there yet. We want to be a club that every year is competing for championships and every year is proving that we are at the top of the league. So yeah, I'd love to stay here because I think we're still smack, dab in the middle of trying to become a great club.
You've broken the mould in celebrating your two-year anniversary as TFC coach, as none of your predecessors lasted this long. How do you feel about that? How do you feel about your place at this franchise at the moment?
Vanney: Good, but it's the same with our team in that I'm never satisfied, so that's why I always remain so open minded to learning and improving and getting better.
I feel like we're making progress as a club, and we as a club can continue to make progress, and if I as an individual can continue to learn and find various ways to get better and what I do, we'll keep going up. I feel good about where we are, but not enough to feel complacent. I'm not nearly as satisfied.
We have a good ownership group, and we have passionate fans, and that means a lot. Passionate fans are better than complacent fans and I'll take that any day. People can yell whatever they want [from the stands] but as long as they support the team and the players, than I'll take that.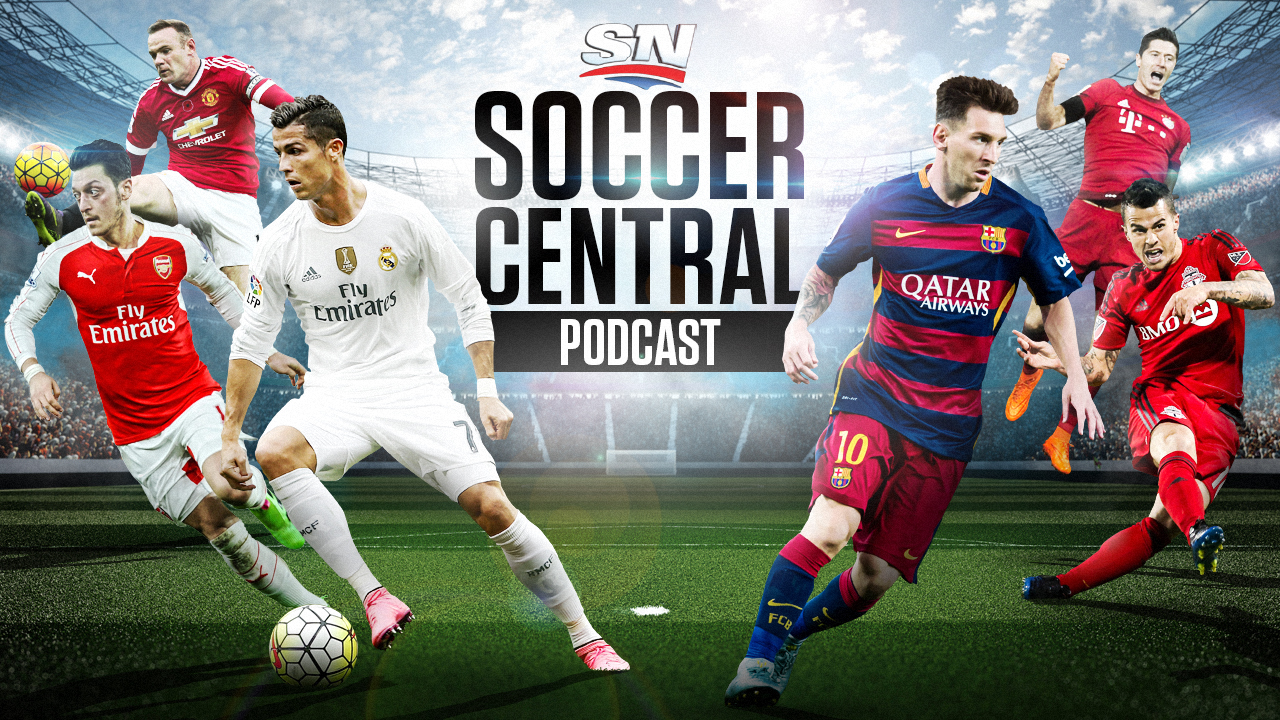 Sportsnet's Soccer Central podcast (featuring James Sharman, Thomas Dobby, Brendan Dunlop and John Molinaro) takes an in-depth look at the beautiful game and offers timely and thoughtful analysis on the sport's biggest issues.