As the old cliche goes, 2-0 is the most dangerous lead in football and the Canadian men's national team learned that harsh lesson on Saturday in Houston.
Haiti, after trailing by two goals at halftime, scored three times in the second half to recover a 3-2 victory to advance to their first-ever Gold Cup semifinal.
Canada, meanwhile, is eliminated at the quarterfinal stage — as was Octavio Zambrano's side in 2017.
Here are four takeaways from Canada's dramatic defeat.
Individual errors lead to an avalanche
The opening 15 minutes were positive for Haiti. Four players pinned Canada's defence, and Atiba Hutchinson, deep in its defensive third. This cut off all outlets for the Canadians to play out from the back.
Eventually, Canada dropped deeper to ensure that there were multiple options for a Canadian player. Then, Alphonso Davies caught Haiti napping on a free kick, picked out an onrushing Jonathan David, who converted with aplomb to give Canada the lead.
Before long, it was Canada who was asleep at the wheel in the second half.
One, two or all of the following occurred in the 50th minute: Goalkeeper Milan Borjan and right-back Marcus Godinho failed to communicate properly. Godinho was too sluggish to rush to his right to receive a pass from Borjan. The Canadian shot-stopper failed to recognize the threat of Duckens Nazon and instead of clearing the ball, opted to dribble around Nazon, which was — in hindsight — a mistake.
Either way, it was a cacophony of errors on Haiti's opening goal.
If Godinho was exempted for the first goal, he was definitely at fault for the equalizer. Lunging in recklessly like this, especially while holding a slender lead, is inexcusable. Perhaps the more match-fit Zachary Brault-Guillard, who is familiar with that starting back line, would have handled that moment differently.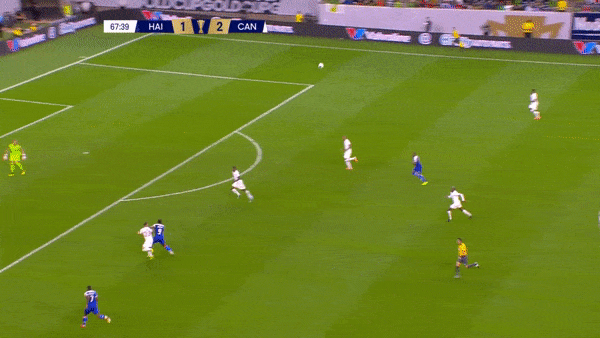 That was the beginning of the end for Canada. Once Haiti smelled blood in the water, the game slowly unravelled for Les Rouges.
Herdman didn't react in time
No coach is perfect. It's also convenient to reflect on a match having witnessed it all unfold.
That being said, when a team is on the ropes and the opposition has momentum, a coach has to do everything in his power to extinguish that spark.
Lucas Cavallini, who was relatively ineffective apart from his goal, checked out for Ashtone Morgan when Canada fell behind 3-2. In those circumstances, when the trailing side plays more direct in an effort to get the ball up the pitch as quickly as possible, it needs a commanding striker to win aerial duels. Without Cavallini, most of those long balls were won by Haiti.
"We are disappointed in that second-half performance because we gave Haiti everything that they wanted," said Canada coach John Herdman after the match. "We've got all the talent here, but at the end of the day Haiti were very direct and made it difficult for us. That was tough.
"It's a young team that is learning and growing, There are some learnings in every loss. For this group to stay together, we need to keep believing in each other, keep believing in what we've put together."

If Herdman wanted that change, he should have done so at the hour mark. That way, Davies moves from left-back into his more natural position on the wing, thus preventing him from being targeted by Haiti. Morgan may not have been as match fit as Davies, but at least he has the spacial awareness to recognize oncoming runners into the box.
There was also an instance in the first half when Wilde-Donald Guerrier could've executed a similar run but he failed to do so, meaning Frantzdy Pierrot had to hit the ball from distance instead.
There was a need for Jonathan Osorio to be replaced due to the widening gaps in midfield, which Herdman recognized. That was one of the few astute tweaks he executed.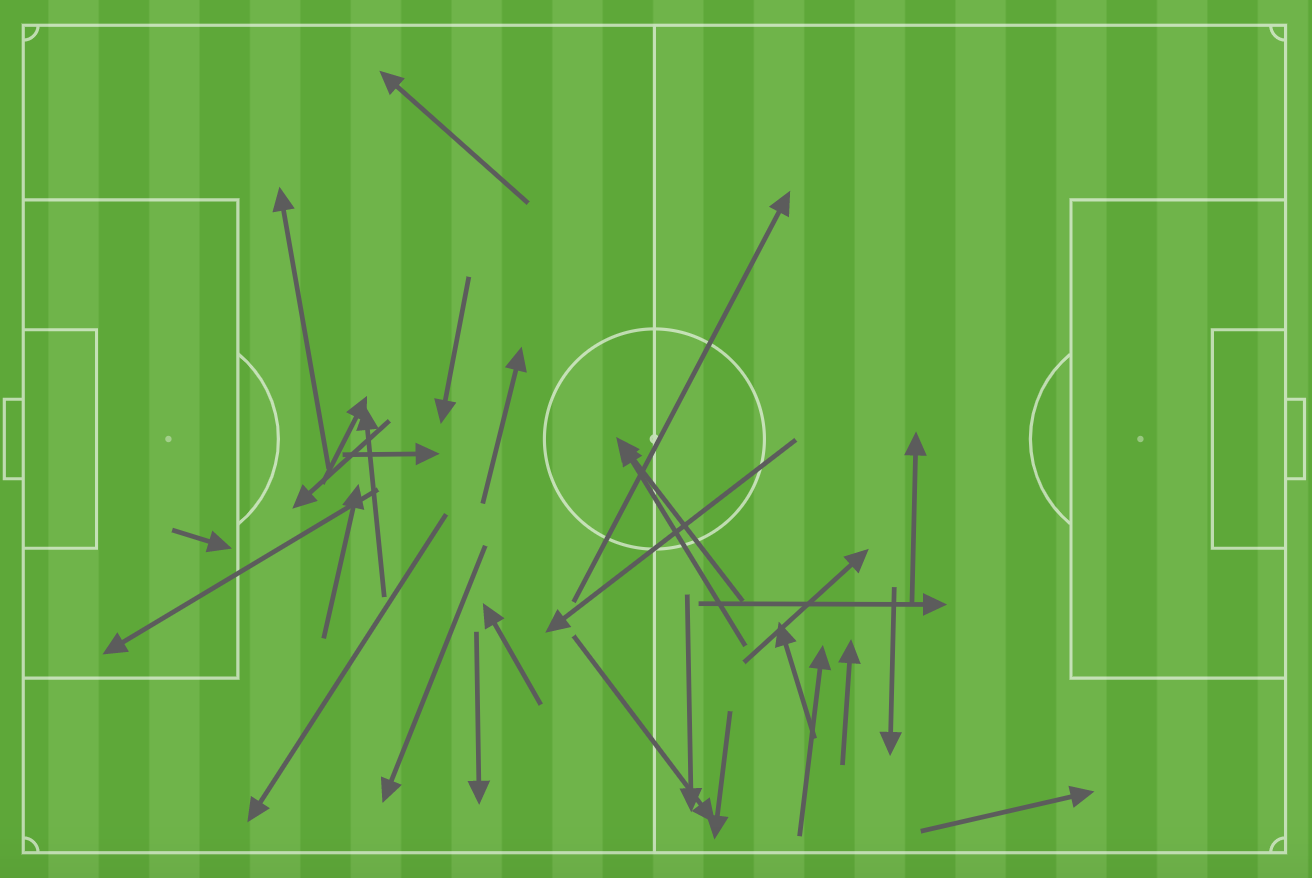 But Haiti coach Marc Collat made his necessary changes. In came Derrick Etienne Jr. to stretch the pitch and target the open space in behind Godinho. Then, as Canada kept pushing forward and its shape became more stretched, the Haitians launched diagonal long balls — always a challenge for a defender to deal with — towards the Canadian centre-backs.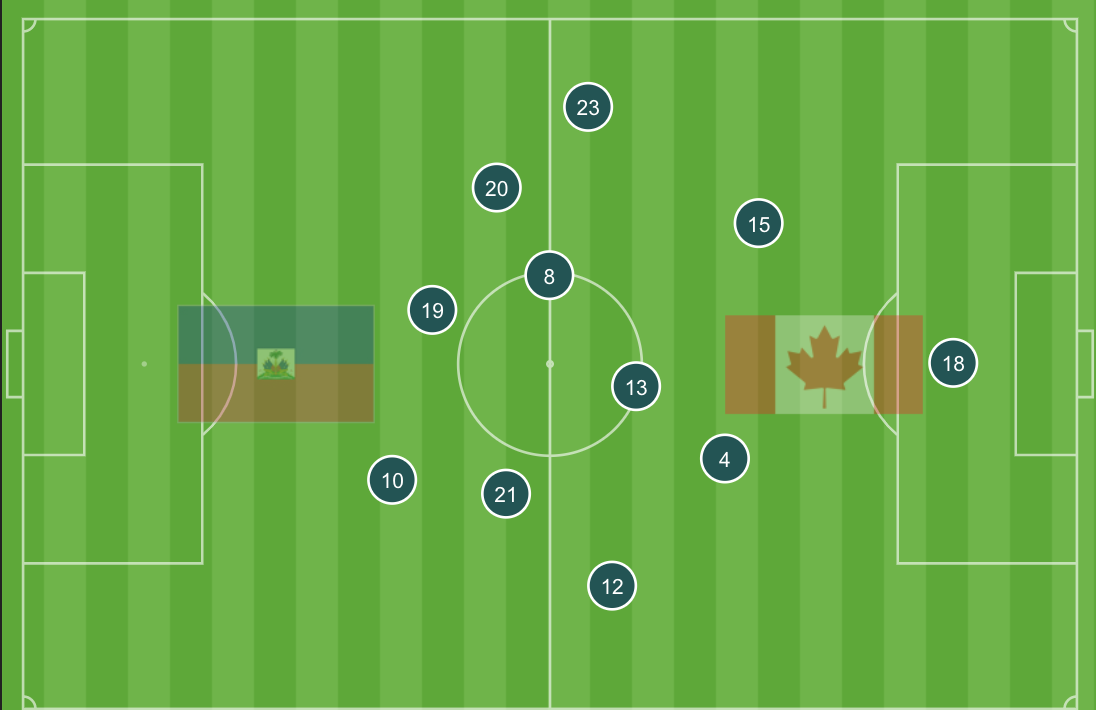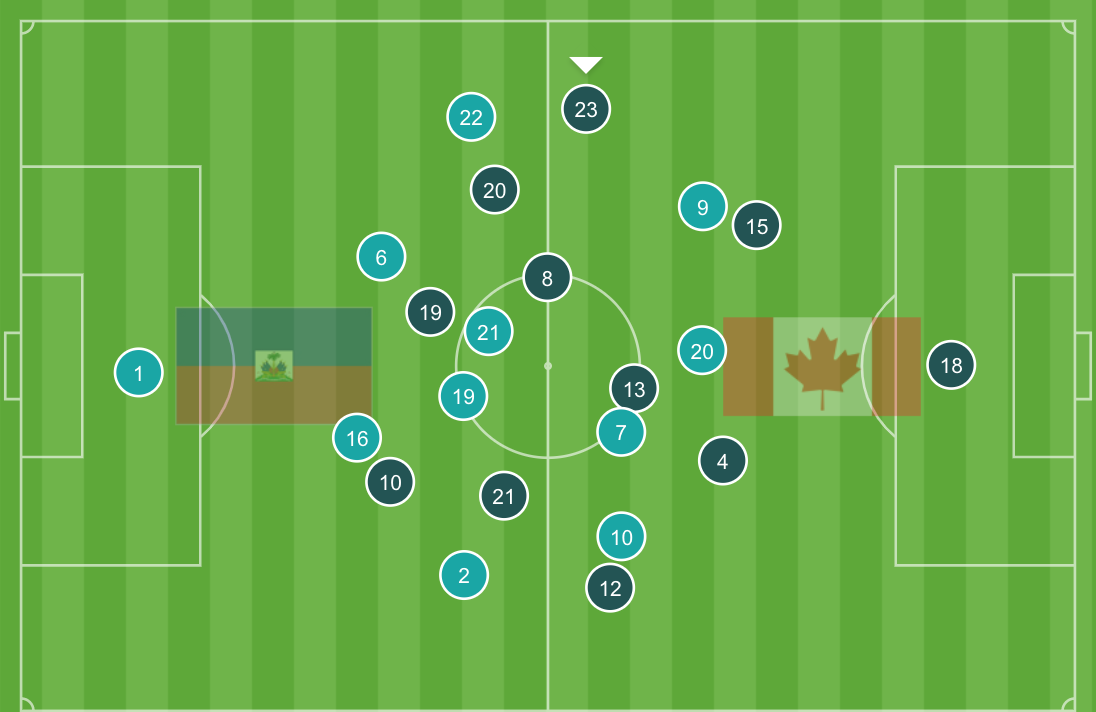 Tottenham utilized a similar strategy in the second leg of the Champions League semifinals versus Ajax. That led to an improbable comeback of its own, too.
Like Ajax coach Erik ten Hag, Herdman had no answer for it.
Productive day for Arfield, Hutchinson
There were a couple of standouts for Canada, despite the nature of the result.
Firstly, Scott Arfield and Hutchinson were brilliant on the ball. They were forward-thinking, navigated the spaces well and unlocked the Haitian defence with relative ease.
If Osorio was more incisive with possession in the final third, the Canadian midfield might have been able to lock down the match for a longer period of time.
No defensive depth, no semifinal
Entering the quarterfinals, Canada owned the second-highest expected goals-against (xGA) total. Only Curacao allowed more.
Canada's weakness was evident. The team's Gold Cup hopes hinged on its defence.
Calling up six defenders while including uncapped midfielder Noble Okello — who has not registered a single first-team appearance at Toronto FC — on a 23-man squad at a major tournament can be stomached if there's adequate depth across the pitch.
No Manjrekar James or Sam Adekugbe — a primary left-back — eventually led to players playing out of position, and it could have been avoided. Adekugbe hadn't played for Valerenga since April 22 at the time of the Gold Cup roster announcement. But if Godinho, who logged less than 500 minutes at Hearts in 2019, can make the cut, surely Adekugbe could have been included, too, especially to cover a position of necessity.
With that in mind, there are no prizes for correctly guessing where Haiti focused their attacks.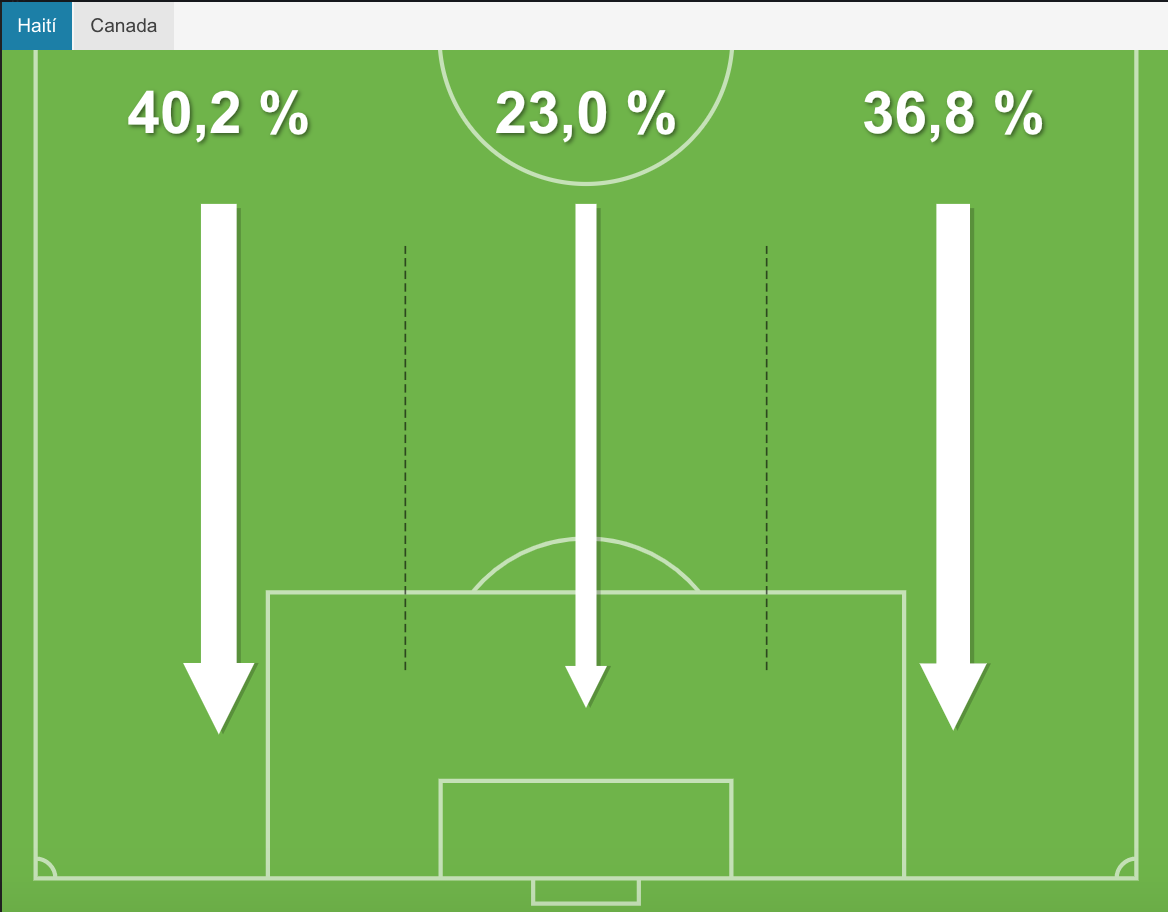 Plus, having James adds another experienced defender — Kamal Killer was not capped for Canada until the 7-0 win over Cuba — who has represented his country in marquee games. Maybe throwing on a third centre-back who is comfortable under pressure deals with the diagonal long passes.