TORONTO — Toronto city council has voted in favour of earmarking $10 million for a proposed expansion of BMO Field.
Council voted 39-3 on Thursday in support of the move, with Mayor Rob Ford and his brother, councillor Doug Ford, among those voting against it.
Maple Leaf Sports and Entertainment is seeking $10 million from each of the three levels of government — municipal, provincial and federal — with an eye to spending $90 million itself to expand the stadium, which is owned by the city but operated by MLSE.
MLSE, which owns Toronto FC of Major League Soccer, says the city's contribution would be repaid over 20 years with interest.
The proposed renovation would call for the addition of nearly 10,000 seats, a partial roof and expanding the size of the field to accommodate the CFL's Argonauts.
The city made accommodating the CFL team a requirement for it kicking in the $10 million.
The proposed renovation includes a hybrid grass surface at BMO Field, which opened in April 2007 and has a current seating capacity around 21,500.
The plan is to boost permanent seating to 30,000 with the ability to add another 10,000 temporary seats to host special events like the Grey Cup or an outdoor NHL game.
The Argos currently play at Rogers Centre but must leave the facility following the 2017 season.
Here is what the proposed layout of BMO Field would look like after renovations:
Current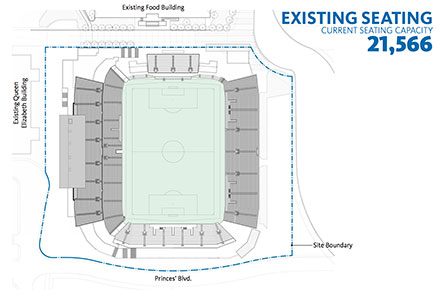 TFC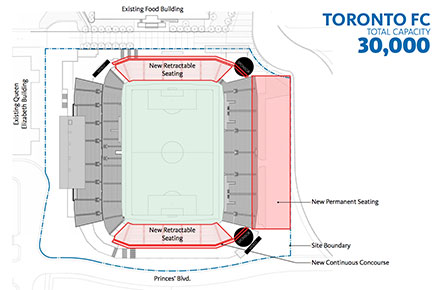 CFL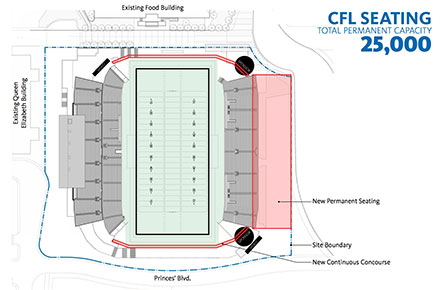 Special Events