TORONTO – Martyn Bailey has watched soccer games in hostile environments in places such as Mexico, Panama and El Salvador.
But never has the 42-year-old native of Toronto been more scared at a sporting event than he was last month while watching his beloved TFC take on the Ottawa Fury in the nation's capital.
Bailey was at TD Place Stadium the night of July 18 to see Toronto FC play the Fury in the first leg of their Canadian Championship semifinal series. Sat in a section of the stadium with approximately 50 other Toronto fans, Bailey and a close friend sang, chanted and screamed with their fellow supporters for most of the match.
But things turned ugly in the 70th minute when Bailey said between six to 12 members of the Inebriatti, one of a handful of TFC supporter groups, put on red masks, and lit smoke bombs and tossed flares onto the pitch. As a cloud of ominous and dark smoke billowed from the small fires that emanated from that section of the stands, a loud bang rung out inside the stadium, causing confusion and panic. Bailey was standing 10 feet away, and as soon as he heard the blast, he and his friend turned in the opposite direction and made their way down to the safety of the sidelines, where they watched the rest of the game.
Ottawa incident was the final straw for Inebriatti
August 23 2018
Bailey didn't know what caused the loud bang. He still doesn't know. What he is certain about is the absolute terror he felt at the time.
"I thought it was a bomb. I didn't think anything was being shot at us, but I thought it was an explosive of some sort. I felt it in my stomach. I felt it more than I heard it. My friend and I stood there for a second and we looked at each other as if to say, 'We're not waiting around for a second one. We're getting the hell out of here.' I don't scare easy and I don't walk the opposite way from a sticky situation, but in that moment, I was terrified," Bailey told Sportsnet.
"The moment that happened, when we got out of the chaos, I was sure the match was going to be abandoned and TFC was going to be tossed out of the tournament. My mind went there very quickly. Once I knew I was safe, that was my thought. It was that bad of a scene that I thought that'd be it for TFC in the Canadian Championship."
It wasn't. Toronto went on to beat Ottawa in the semifnals, before going on to defeat the Vancouver Whitecaps in the final.
In the aftermath of what took place in Ottawa, the Inebriatti posted a message on its Facebook page, stating "we had no part in the flare that was thrown onto the field or the explosion." A few days later, after TFC suspended all recognized supporter group privileges indefinitely, the Inebriatti took responsibility, posting another Facebook message, this time saying that while what happened was "unplanned and accidental," such incidents "are not acceptable" from its membership.
On Thursday of this week, Toronto FC announced that the Inebriatti has had its supporter group status permanently terminated. Following an investigation by the MLS club and Ottawa Police that confirmed that Inebriatti members were involved, TFC issued the following sanctions against the group:
(a) Immediate and permanent termination of Inebriatti's status as an official supporter group and all associated supporter group privileges;
(b) Termination and refund of all seat accounts associated with Inebriatti; and
(c) Inebriatti members are prohibited from entering the south end supporters section of BMO Field until they have successfully completed the online MLS Fan Conduct Education Class at their own expense.
TFC also confirmed that some members of the Inebriatti were also banned from BMO Field and MLSE-owned properties indefinitely.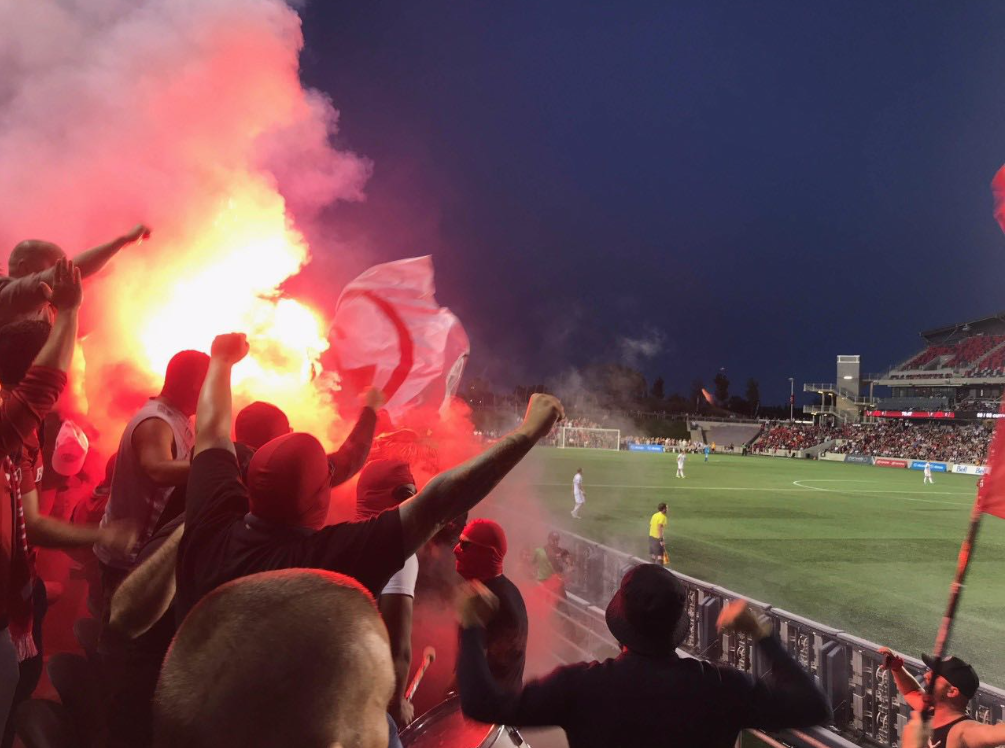 As a Day 1 season ticket holder, Bailey was happy to see TFC take such a hard stance against the group, although he sympathizes with its innocent members who had nothing to do with what took place.
"I'm relieved that the team took the actions that they did. I don't think it was heavy handed. This wasn't the first time that there's been a discipline issue with [the Inebriatti]. I'm not a coward; I'm not someone who shies away from any kind of risk … but on a sleepy Wednesday night in Ottawa, I was scared, and I don't care to feel like that way again at a soccer game," Bailey said.
"I feel badly for some people who got their tickets taken away, but overall, I'm angry at what I went through in Ottawa, and I'm proud of the club for taking the stand that they did."
The Inebriatti is one of a handful of TFC supporter groups that occupy sections of the south end of BMO Field. Based in the bottom half of section 114, Inebriatti are known for unfurling large tifo displays, as well as singing and chanting during home games. Collectively, the team's many supporter groups create a lively atmosphere inside the stadium, very similar to what you would experience at a game in a big European stadium.
The Inebriatti, though, have a track record of bad behaviour. The group was sanctioned by TFC in 2016 after an obscene banner was raised in its section during a home game against the Montreal Impact. The group also faced sanctions for lighting flares and causing damage to Montreal's Saputo Stadium during the final game of the 2015 MLS season between TFC and the Impact.
Bailey takes Inebriatti at their word when they said they didn't plan to cause trouble in Ottawa.
"In the first few minutes after it happened, as people were grabbing their stuff and running and the chaos was unfolding, people of the Inebriatti seemed genuinely rattled, genuinely shocked, and genuinely caught off-guard by the bang. There was genuine concern, so at that time, it made me think that was not part of the plan, and things just went sideways from them very quick," said Bailey.
"I don't need TFC supporters to be nominated for the most gentlemanly fans in MLS award each year, but these shenanigans do end up making us all look bad."
Still, Bailey, who is not a member of any supporter group, believes the Inebriatti has to do a much better job of policing itself.
"It seems like a lot of the discourse from them [since the Ottawa incident] has been, 'Oh, it wasn't that big of a deal' and then moved to 'not everybody was involved, so you can't blame all of us.' Well, it's one or the other, and maybe this stuff continues to happen because they spend so much time lecturing other fan groups it's not a big deal, instead of policing themselves and taking responsibility? How can I believe that they're taking care of the bad behaviour when they're publically saying we're all wimps for making too much out of it in first place? You lose the moral high ground when you're lecturing the rest of us about being cowards," Bailey offered.
The Inebriatti turned down Sportsnet's request for a formal interview, offering this response instead:
"There isn't much point in an interview now. We'd just like to say that a few people made some really bad decisions. Instead of punishing just them MLSE decided to punish upwards of 150 people. Hitting them in their wallets most of all. Over the past few years we have made nearly all of the tifos and brought new life to the south end. We have sponsored a youth soccer team, organized blood donations, gathered over 1000lbs of food for the poor at Christmas, raised $8134.85 for the TorontoStrong foundation and recently filmed a commercial for Sick Kids hospital. That MLSE decided to punish everyone instead of just the few is deeply disappointing and frankly contrary to most civilized societal norms. Nonetheless we will continue to support TFC in every way available to us."
[relatedlinks]