In what will go down as one of the biggest gambles in the history of soccer in this country, Canada Soccer fired national men's team coach Octavio Zambrano and replaced him with John Herdman.
Having served as coach of the Canadian women's team since 2011, Herdman now moves over to the men's side where he takes over from Zambrano, who was only hired last March.
It's a shocking development that has major and long-term implications for both the Canadian men's and women's soccer programs. How so? Glad you asked…
HOW DID THIS COME ABOUT?
All of this unfolded behind the scenes within the last two months, but the groundwork was first laid in early 2017 when Herdman told Canada Soccer that he wanted to eventually make the transition into men's coaching, and that he planned to step away from the Canadian women's team after the 2019 World Cup.
Herdman confirmed to Sportsnet on Monday that he recently received job offers from a pro men's club in North America, and from a prominent women's national team from abroad, believed to be England. Although Canada Soccer president Steve Reed told Sportsnet the possibility of losing Herdman didn't drive the process behind this change, the organization's genuine fear over losing him did play a part.
According to one source close to the situation, Herdman used his offer from the English national team as leverage with Canada Soccer in campaigning for the men's team job.
At the same time, the same source said there were rumblings of discontent about Zambrano within some quarters of Canada Soccer over the direction he was taking the program, his lack of work with the Canadian youth teams he also oversaw, and him not keeping in close contact with national team players while they were with their pro clubs – one team member complained to Sportsnet of Zambrano's lack of "personal touch" in dealing with players when they were not in training camp for Canada.
Another national team member told Sportsnet that while Zambrano was tactically astute, his training methods were old fashioned and didn't inspire the players.
While some players were unhappy off the field, on the field Canada seemed to be showing signs of progress under Zambrano after reaching the quarter-finals of last summer's CONCACAF Gold Cup – the team's best showing in the continental tournament since 2009. The Reds were also playing an attractive and fearless brand of soccer under Zambrano, who gave young players opportunities to shine and prove themselves.
However, behind the scenes there was a sense that Zambrano was very much his own person, and wasn't politically astute. He ruffled some feathers as he clashed with Canada Soccer officials over some of the organizational changes he wanted to make. Zambrano hinted at this in a Twitter post on Monday night:
Canada Soccer was in a pinch. It felt it had made a mistake in hiring Zambrano, while at the same time it was afraid of losing Herdman. Both of these forces came together to lead to the seismic change in the Canadian soccer landscape that occurred on Monday night.
DID THE MEN'S OR WOMEN'S PLAYERS KNOW THIS WAS IN THE WORKS?
By all accounts they had no idea.
Canada Soccer wasn't supposed to make an official announcement until next week, one source told Sportsnet. But this correspondent and another reporter got wind of it, and the news was going to come out on Monday before Canada Soccer had a chance to publically announce it on its terms. Needless to say, Canada Soccer was caught off-guard, as it threw its plans into disarray, and was forced to announce it on Monday, shortly after Sportsnet broke the news on Twitter.
After being interviewed by this reporter on Monday evening, Herdman then spoke to Christine Sinclair and the Canadian women's team players before the news broke and before Canada Soccer officially announced it.
So, the players were informed by Herdman, and didn't hear of the news on social media. Still, it's safe to say that they were shocked, as they weren't given a heads up before Monday that this was in the works:
WHAT DOES THIS MEAN FOR THE WOMEN'S TEAM?
This change comes as the women's team prepares to qualify for next summer's FIFA Women's World Cup, which will be staged in France – the CONCACAF qualifying tournament runs from Oct. 4-17.
Herdman's departure will no doubt cause a disruption, but Canada's women's side — currently ranked fifth — is one of the best in the world. Even with the coaching change, it's difficult to believe Canada won't be at the World Cup – the top three teams in the CONCACAF tournament automatically qualify, while the fourth-best side faces the third-place nation from South America in a playoff with a World Cup berth at stake.
Herdman believes he is leaving the program in safe hands with his former assistant Kenneth Heiner-Møller now in charge of the team. Herdman told Sportsnet that it was important to him to have a clear succession plan in place before he left to join the men's team. Heiner-Møller has served as Herdman's assistant since 2015, and he also coached Denmark's women's team from 2006 to 2013, leading them to the 2007 FIFA Women's World Cup in China, and to a third-place finish at the 2013 Women's European Championship.
"There will be a clear transition in the women's side of the game. We've surrounded ourselves with high achievers on the coaching and technical staff. We've had a succession plan in place, so it should be a seamless transition in what we're going to do with the women's team," Herdman told Sportsnet.
"Kenneth, to me, is a quality guy. He's a head coach in his own right. He's worked alongside me throughout this process. He's a top operator. … He's committed to Canada. We're in a good space on the women's side."
He later added: "This [women's program] needs some fresh energy now. … It's about going to number one in the world, now. I absolutely believe that this team is ready to be number one."
That being said, Heiner-Møller has some very big shoes to fill. The Canadian women's team has enjoyed its greatest success under Herdman, who led the squad to bronze medals at the 2012 and 2016 Olympics. Herdman's side also reached the quarter-finals of the 2015 FIFA World Cup staged in Canada, the team's best showing since finishing fourth at the 2003 tournament – the Reds bowed out in the first round of the 2007 and 2011 World Cups.
Plus, Sinclair and the women's players had a world of respect for Herdman, and it's going to take some time for the shock value of his departure to wear off.
The Jeff Blair Show
Zambrano's style, fear of losing Herdman pushed CSA to make changes
January 09 2018
WHAT DOES THIS MEAN FOR THE MEN'S TEAM?
There's a new boss in charge, from top to bottom.
Somewhat lost in the news about Herdman's appointment as the new men's coach was that he was also named the Canadian men's national team program director. What this means is that Herdman will be responsible for all the national youth teams, from the under-14 age level and up, all the way through to the national senior team. It's a similar role he held with the Canadian women's program.
Identifying young talent and developing them through the youth system was one of Herdman's strengths on the women's side. A talented crop of youngsters that includes budding stars Janine Beckie and Jessie Fleming flourished under Herdman, and now look set to carry the team forward as Sinclair and other veterans enter the home stretch of their respective careers. Herdman will be expected to wield similar magic from a player identification and development perspective with the men's program.
"I'm a builder, I'm a developer. I'm someone who wants to take something that hasn't been too successful and take it someplace it hasn't been before. … The men's team has so much potential. With the right sort of planning, a very clear vision and the right work ethic, we can do this and elevate the program like we did with the women," Herdman said.
Make no mistake about it: the ultimate goal is qualifying for the World Cup. In doubling down by firing Zambrano and hiring Herdman, Canada Soccer expects the men's team to qualify for the 2022 FIFA World Cup in Qatar. Anything less than that would have to viewed as a disappointment, as well as a failure, and raise serious questions as to whether Canada Soccer should have stayed the course under Zambrano.
WHAT ARE THE CHALLENGES THAT HERDMAN FACES?
Herdman, a 42-year-old native of England, has never coached a national men's team. Prior to taking the Canadian women's job, he managed New Zealand's national women's side from 2006 to 2011.
It'll be interesting to see how players on the Canadian men's team will react to working with a coach who has spent the majority of his soccer career in the women's game. Herdman anticipates having to convince some that he can handle the job.
"You'd be naïve not to think that there'll be people in the football community with that perception, and that's natural. That's natural for most people that are transitioning, whether it's women who have moved into men's pro soccer, or the female referees that have moved into that side of the game," Herdman told Sportsnet.
He later added: "There will be doubters, for sure. All I've got to do is make sure that I put my best effort into this."
To be sure, the optics of this move don't look very good. This represents the 13th coaching change — including interim appointments — in the last 15 years for the Canadian men's team. No man has held on to his job for four years since Holger Osieck from 1999 to 2003. Benito Floro lasted just over three years in the position before giving way to Zambrano, who didn't even make it to the end of the first year of his contract. Considering how the men's players, like their female counterparts, had no idea this was in the works, Herdman will likely have some work to do in terms of earning their respect and trust.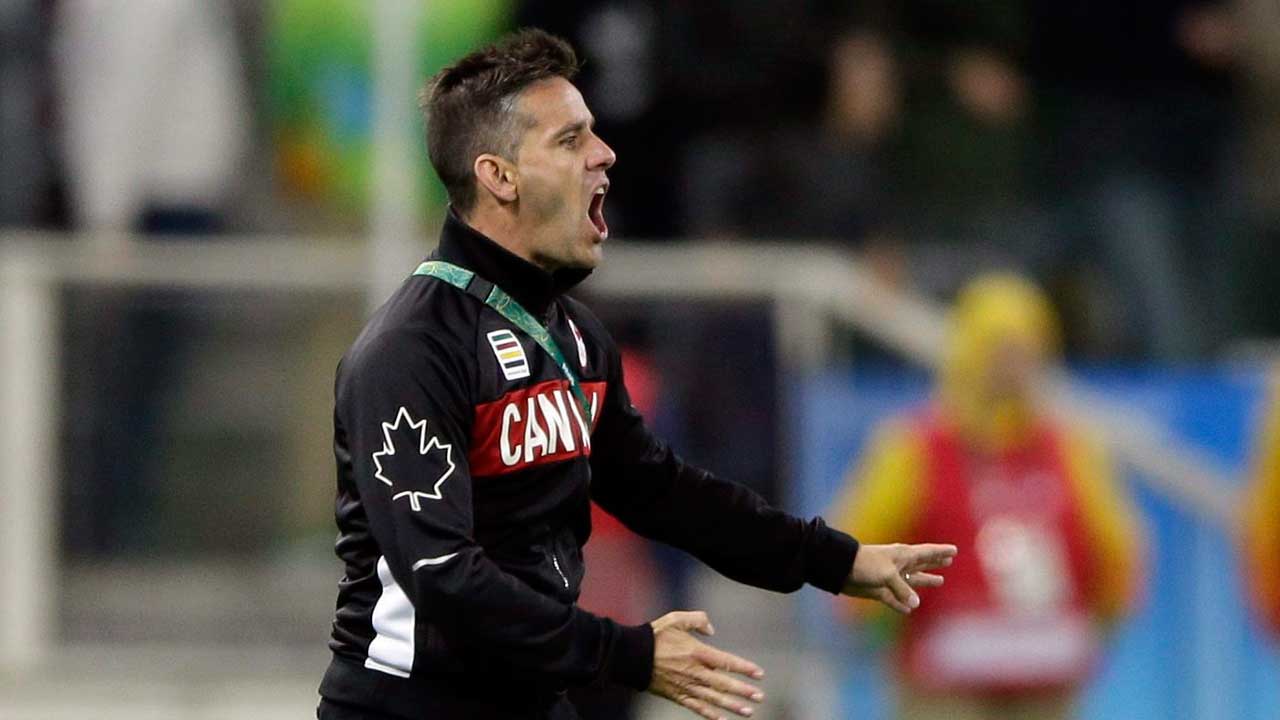 Herdman will have his work cut out in turning the men's program around. He inherits a team that sits 94th in the current FIFA world rankings, sandwiched between Gabon and Faroe Islands – and 10th among CONCACAF nations.
What's more, Canada has not qualified for the World Cup since 1986 in Mexico (its lone appearance), and last made it to the Hex (the final round of World Cup qualifying in the CONCACAF region) for the 1998 competition held in France.
Before last summer's quarter-final showing under Zambrano, Canada also had a rough go of it at the CONCACAF Gold Cup, bowing out in the first round in three consecutive tournaments from 2009 to 2013. It even failed to win a game or score a single goal over the course of the 2011 and 2013 tournaments.
Herdman will also have to change his management style and the way he deals with players now that he's in charge of the men's team.
Part of Herdman's role as women's coach was to provide his players with a long-term professional environment when they were in national team camp, especially to team members who didn't have pro clubs or were playing in the NCAA ranks. As such, he was an instructor, as much as he was a coach, teaching his players how to become professionals.
Notwithstanding a few exceptions, members of the men's team are already in professional environments, playing in Major League Soccer, and for teams across Europe, and in North and South America.
Why did Canada Soccer make a coaching shuffle now?
January 09 2018