TORONTO – It's only been one training camp, one game and one victory for the Canadian men's team under new coach John Herdman.
That win came last weekend against lowly New Zealand, a nation that sits 30 spots below Canada in the FIFA world rankings. With all due respect to the Kiwis, they are team that Canada should beat, so let's hold off on proclaiming that the Canadian team's turnaround under Herdman is complete. Let's also refrain from making bold predictions about the Reds qualifying for the 2022 FIFA World Cup in Qatar.
Still, there are reasons to be modestly optimistic about the future of the Canadian men's side since Herdman recently took over the coaching reins from Octavio Zambrano after being in charge of the women's program from 2011-18.
One of the important messages Herdman has communicated to his players is that they can't be afraid to lose. He doesn't want to see Canada simply "grinding it out" in games, as has long been the team's modus operandi under previous coaches. Instead, the Englishman wants Canada to force the issue on the pitch, rather than simply responding to what their opponents do.
It's a message that has been well received by the players, including Toronto FC midfielder Jonathan Osorio, who starred in Canada's 1-0 win over New Zealand last Saturday.
"He's trying to set a team identity. He knows that's the No. 1 priority that Canada has been missing. We've been missing our own identity for a long time now, so he's trying to establish that, and establish a style of play. He has a certain style of play that he's trying to implement and everybody has bought in," Osorio said.
"Everybody is very excited to play this kind of way, and everybody wants to play this way. He's very set on what he wants. He's very clear, and I think the players appreciate that."
Veteran Canadian defender David Edgar added: "John has come in and set out his clear vision for the team. That's massive for us a group; we have a clear vision and a distinct set of principles as players and men off the field. It's almost a code of conduct, and I think it's something we desperately needed."
It's early days under Herdman, but his overriding philosophy is clear: Success will only come once players expect success every time they walk onto the field.
"Before guys were OK with, not to say they were OK with losing a game, but they [would say] 'We had a chance, and it didn't happen, but we were there.' In sports, it's not good enough – you have to win. Under John, mediocrity is not enough," Osorio said.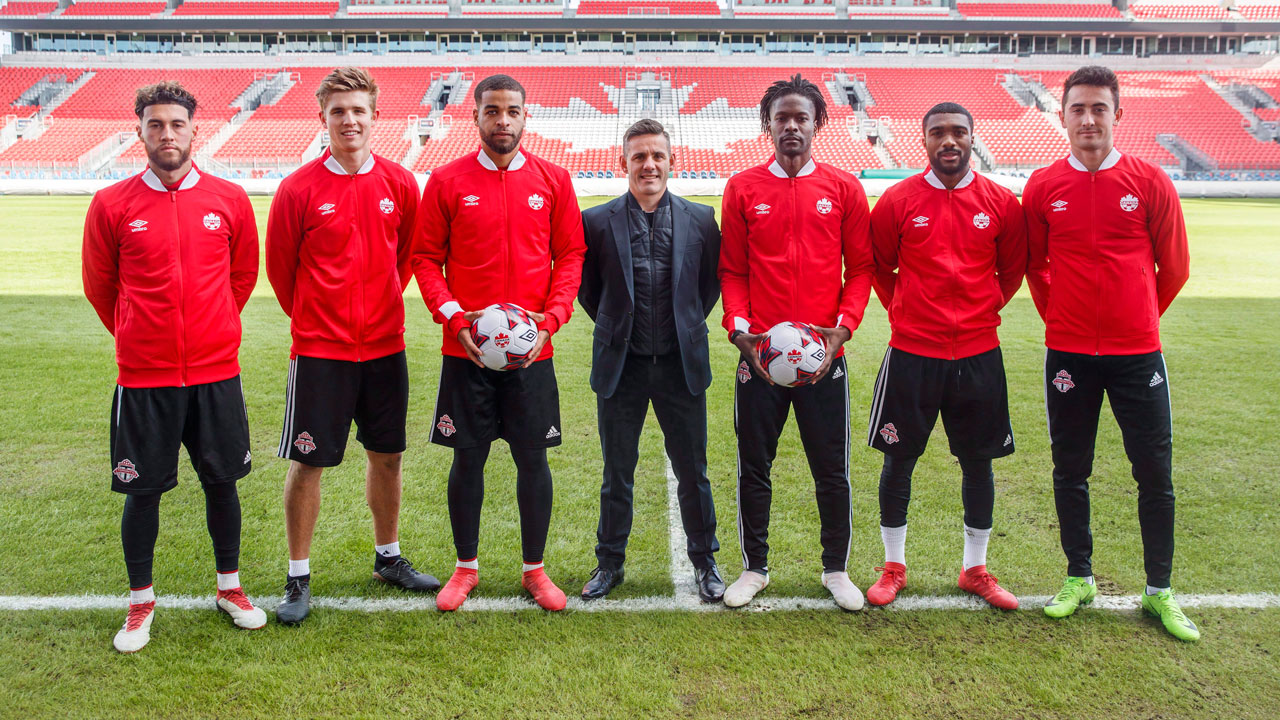 Montreal Impact midfielder Samuel Piette echoed that sentiment.
"He wants us to change a bit the mentality. Before we used to accept mediocrity," Piette said. "Failing was a normal thing for us. That's what we want to change. He has a clear objective and clear ideas. It's a winning mentality and being on the front foot imposing our game."
One of the first things Herdman did when he was hired was to reach out to the majority of the players on the men's team. He either spoke to each them in person or on the phone in order to get their feedback, and their views on what has worked – and hasn't worked – in past Canadian team training camps.
"It's the first time that a [Canadian] coach has called me personally to talk about the team… That's amazing. Players appreciated that. He wanted to get to know me, not only as a player but as a person," Osorio said.
"We spoke about everything. What is it about the past that has stopped Canada from taking the next step? I could hear him on the phone when we spoke taking notes, so he's very particular about what he wants, what he wants to change, right to the last details."
What Osorio learned from that initial talk, and from subsequent discussions, is that Herdman has big plans for the TFC midfielder going forward with the national team.
It hasn't always been that way for Osorio. Regarded as one of the brightest Canadian attacking players in MLS, he's floated in and out of Canada's roster over the years since making his debut in 2013. Even at age 25, he should have more than just 25 caps considering his talent and skill level, especially when you consider the key role he's played for TFC over the past two MLS seasons.
"I feel like I have a coach [in Herdman] who respects the things that I've accomplished so far, and I know I can play a really big role on this team. I think he believes in me, and I don't feel I've had that from the national team in my career so far," Osorio admitted.
[relatedlinks]