When Mark-Anthony Kaye fractured his left ankle last July, it prematurely ended a breakout campaign for the Canadian midfielder.
Kaye was a regular starter with LAFC in their first year in Major league Soccer. He started 19 of the team's first 20 games before his injury, so it could've been a devastating blow in his debut season in MLS.
"I think when any player goes through any sort of injury, it's hard to mentally get yourself back to where you were before," Kaye told Sportsnet. "But I had a good group around me at LAFC and I just realized that I had done a decent amount of good work leading up to that injury, so that was kind of my motivation to keep going forward."
After completing six months of rehabilitation, Kaye returned to action without a hitch and that's benefitted LAFC greatly. Los Angeles currently tops the Supporters' Shield standings and that winning attitude is rubbing off on the 24-year-old as he prepares for the Concacaf Gold Cup with the national team. Canada plays its first game of the tournament Saturday against Martinique at the Rose Bowl.
"I'm at a stage in my life where I'm playing good football. I'm part of a great team that – day in and day out – goes out onto the field and tries to improve on their identity and win games. I want to bring that mentality here, and it's tough because we get players from all different parts of the world," Kaye said.
"I think the more players we can have that are in winning situations, the better atmosphere it will be within the national team. Then everyone is bringing in this individual drive that they want to continue their success from their club team."
Kaye already has three goals and five assists in 15 appearances with LAFC in 2019. He's also among the league leaders in expected goals buildup (xGB) and expected goals chain (xGC), which calculate the total team-adjusted expected goals (xG) earned by a team on possessions that a particular player participated.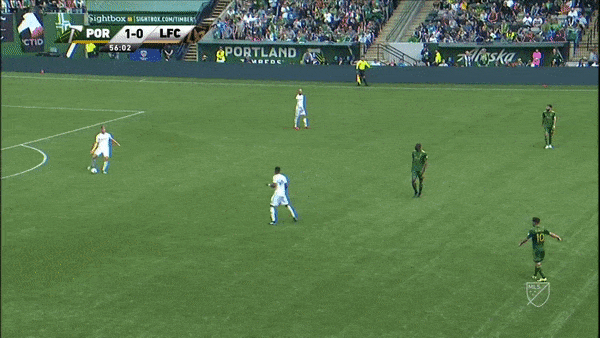 However, Canada coach John Herdman mentioned that Kaye could see time at left fullback during the Gold Cup. It's a role familiar to the Toronto native, who was deployed as a fullback against French Guiana this past March, and during his USL days.
It's vital that Canada's squad has some positional flexibility. Les Rouges open the tournament with three group-stage matches in eight days spanning more than 3800 kilometres. Fatigue, injury and suspensions could throw wrenches into Herdman's plans at any moment.
"I think the smartest footballers in the world are capable of playing in any position and I definitely want to put myself in that category," Kaye explained. "I understand that sometimes I'm not going to be able to play the position of my preference, but I'm willing to do anything to help this national team go forward and if that is me playing left-back, then that's what it's going to be.
"I'm going to try and make sure that I can do the best job to my abilities. It is what it is and sometimes coaches have different ways of playing the game and using players, so you just have to accept it, take your role on the team and help take the team forward."
Kaye was solid as a left back in the 4-1 win over French Guiana. His distribution remained on point and he still drifted into more central positions whenever possible.

French Guiana at home is a much different challenge than facing Mexico in a group stage game at altitude or Costa Rica in a high-stakes quarterfinal. However, Kaye having a licence to roam is a sign that he will be allowed to utilize some of his best qualities, even as a full-back.
Kaye's surge over the past two seasons is largely attributed to LAFC signing the midfielder from Louisville City in the USL. Coach Bob Bradley and the club saw potential in the Canadian and he has repaid the faith.
"Bob is a very detail-oriented guy," explained Kaye. "He has his ideas of how football should be played. I think that if you're willing to open up and accept what he's trying to teach you, then it will grow your game in a matter of weeks or months.
"For me, I had no reason not to believe what he was telling me. I've been doing well and it's a testament to what he can bring out of players because he's a very good coach and the coaching staff around him are very good at what they do."
This was a long road for Kaye, who spent four years in the USL with Louisville City, Wilmington Hammerheads and Toronto FC II. He did not register a single first-team appearance for TFC.
Due to the MLS roster rules that prevent Canadian players from counting as domestics on American teams, thus forcing clubs to use an international slot, Kaye's options were limited after leaving TFC following the 2015 season.
Follow all the action from the Concacaf Gold from June 15-July 7 at Sportsnet.ca.
MLS has since altered those regulations, although Canadians still have to meet specific criteria. The USL, meanwhile, allows all Canadians to register as domestics on both sides of the border.
"I think the international rule is not smart at all," Kaye opined. "Considering that there are Canadian teams within MLS, I think that it's unfair."
The formation of the Canadian Premier League has provided another route for players, especially the youngsters. That way they have more options than Kaye before he signed with Louisville City in 2016.
"[The rule] played a factor into, maybe, it taking longer for me to get into the league," Kaye said. "But if you have the quality, teams are willing to take the chance on you and maybe use an international spot, but it does make it a little difficult for Canadians to get to the next level if they're not within those three Canadian teams already.
"You see it a lot: these Canadian teams, they let go of a lot of Canadian guys and then they go to the USL because they can't go to another MLS team. It's very difficult and it's unfortunate that we're in this situation. I hope that MLS will grow in that direction where they abandon that rule."
Nearly four years after leaving Toronto, Kaye's stock couldn't be higher. He is one of Canada's in-form players and represents the top team in MLS. Whether in the midfield or at left-back, that confidence will be on full display at the Gold Cup.