Michael Petrasso just loved putting one over on Toronto FC last weekend.
The Canadian fullback made a crucial goal-line clearance late in Saturday's game after beating TFC's Nico Halser to the ball, helping to preserve a 1-0 win for the Montreal Impact in their MLS home opener.
A 22-year-old native of Toronto, Petrasso cut his teeth at TFC's youth academy before moving to England in 2012 when he joined Queens Park Rangers. Now he's back home, having signed with Montreal in January, and starting at right fullback in the Impact's opening three games of the MLS campaign.
The highlight of his short tenure in Montreal thus far? Saving the day against TFC.
"Oh yeah. [laughs] It felt quite good, considering that I'm a Toronto boy and I came up through their academy. Playing against them was a big thing for me, and it was great because my family came out to watch me play. I wanted to win that one badly," Petrasso told Sportsnet.
Down a goal late in the game, TFC poured on the pressure in search for an equalizer, and had the Impact pinned inside their half. Toronto midfielder Marky Delgado played a smart pass for Jozy Altidore, who fired on net from in close, only to see Montreal goalkeeper Evan Bush block it. But Bush only managed to get a piece of it, and the ball continued to roll towards goal.
Petrasso was alert, though, as he outmuscled Hasler to kick the ball out of danger. Hasler had positioning on the play and looked sure to knock it in, but Petrasso did well to get there first.
"I just focused the entire game, and I think I was in the right place at the right time. … Maybe I just wanted it more than he did at the time. Maybe that's why I got there first," Petrasso offered.
Fresh off his heroics for the Impact, Petrasso now turns his attention to national team duty, as Canada plays New Zealand in an international friendly on Saturday in Murcia, Spain. The game marks the debut of John Herdman as coach of the men's team, having been appointed to the position in January after being in charge of Canada's women's side for seven years.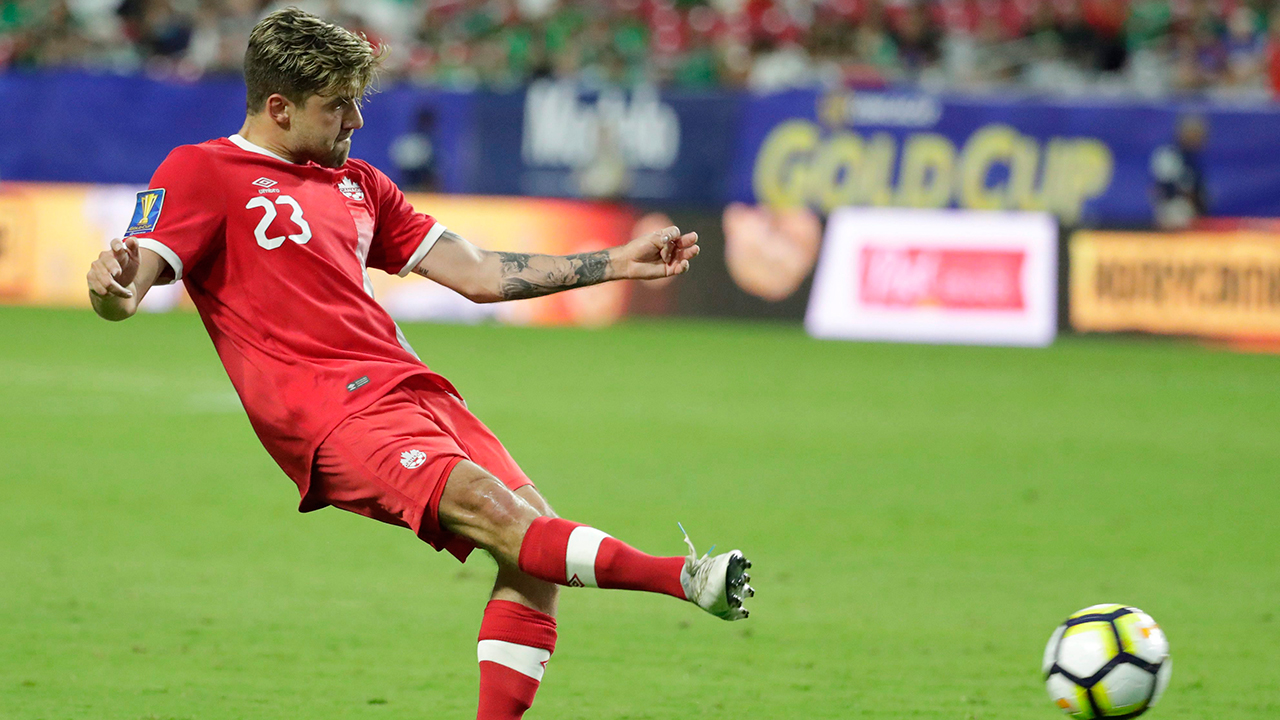 Petrasso has eight caps to his credit (seven starts) since debuting for Canada in 2016. The young defender only met Herdman for the first time earlier this week when Canada's training camp kicked off in Spain. What's impressed Petrasso the most about Herdman is the enthusiasm he has brought to the team, and how he has challenged all of the Canadian players.
"He's made it very clear what he wants from each of us and what his goals are, not only talking about the game on Saturday against New Zealand, but also about the long-term future," Petrasso explained.
"John wants us to go into every game now like it's a World Cup qualifier. We're desperate to win and qualify for the [2022] World Cup, so we need to adapt that mentality now. …. We have four years to get ready, so every game is so important."
Herdman has also taken the time to speak to each player on a one-on-one basis, eager to find out what motivates them to play for Canada, and to get their feedback about recent training camps, and what worked (and what didn't work) under previous coach Octavio Zambrano.
"He's talked to all of us individually, to find out what lengths we'll go to for ourselves and to help Canada qualify for the World Cup," Petrasso said.
Canada vs. New Zealand
According to FIFA's official website, Canada's and New Zealand's men's teams have met before, with the Reds earning wins over the Kiwis in a pair of friendly games in September 1980 in Vancouver and Edmonton.
New Zealand is ranked No. 120 in the current FIFA world rankings. Canada is 90th, sandwiched between Congo and Armenia. The Kiwis are the reigning champions of the Oceania region, having won the OFC Nations Cup for a fifth time in 2016.
Canada has not played a game since losing 1-0 to El Salvador in a friendly held in Houston last October. That was Zambrano's last match in charge.
[relatedlinks]