The last time Brazil participated in a World Cup match, the Seleção were handily beaten 3-0 by the Netherlands in the third-place match in front of angry and heartbroken Brazilian fans.
Nearly four years later, Brazil is tipped as a World Cup favourite again. They are a dramatically different side headed into this summer's tournament in Russia, especially mentally, compared to 2014, and Brazilians have their master tactician to thank.
After coach Luiz Felipe Scolari resigned, Dunga – returning for his second stint as the national team manager – was hired as Scolari's replacement. It was an underwhelming appointment and it showed on the pitch.
Brazil was knocked out of the 2015 Copa America in the quarterfinals by Paraguay. The Brazilians followed that up with a group-stage exit at the Copa America Centenario in the United States the next summer at the group stage. Dunga left a few key players at home, such as Neymar, but missing the knockout phase is a disaster for Brazil, no matter which players are in the squad.
The FIFA World Cup in Russia runs from June 14 to July 15, and Sportsnet.ca will have in-depth daily coverage.
This prompted swift change. Dunga was sacked and replaced by Tite, who was tipped as a potential candidate after the 2014 World Cup before he opted to take a year-long sabbatical.
At the time of Tite's appointment, Brazil was in sixth place in CONMEBOL World Cup qualifying through one-third of the campaign. As it stood, the Brazilians were out of contention. They were also playing a very negative style under Dunga. The classic Joga Bonito was gone.
With Tite on the touchline, Brazil went undefeated in qualifying, racking up 10 wins and two draws in the final 12 matches. The five-time world champions had the best attack (41 goals) and defence (11 conceded). Order was restored.
Tite completely transformed his side in about 18 months. The architect behind Corinthians's victory over Chelsea in the 2012 FIFA Club World Cup final formulated another winning blueprint, and this was his best job yet.
Unlike his predecessors, Tite gave opportunities to players to impress and didn't discriminate based on their club. China-based players Renato Augusto and Paulinho were called up and slotted into the midfield seamlessly. Nineteen-year-old Palmeiras forward Gabriel Jesus, fresh off winning a gold medal at the 2016 Olympic Games on home soil, was brought in, too. Alisson was named the No. 1 goalkeeper, despite being Wojciech Szczesny's back-up at AS Roma.
Tite settled on a 4-3-3 formation and immediately identified a regular XI.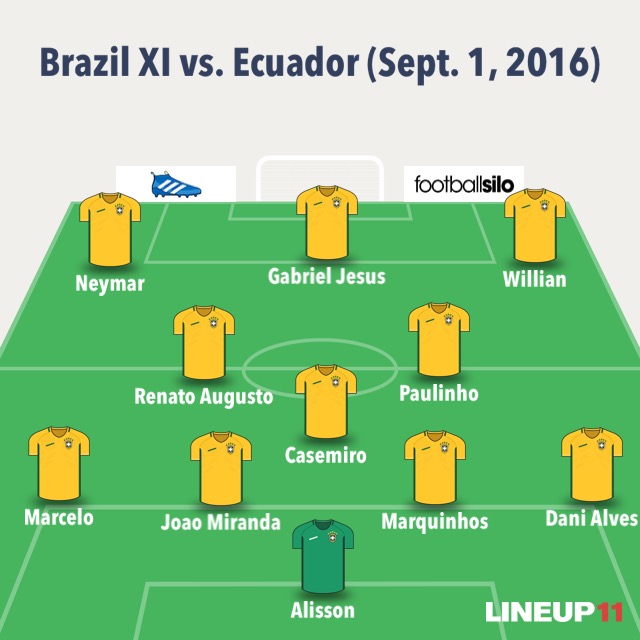 What made this system effective was its flexibility. If Tite wanted to dictate possession, Philippe Coutinho could slide into midfield or on the right wing. Sometimes Fernandinho replaced one of Paulinho or Renato Augusto so there was both a box-to-box presence and stronger distribution.
Elsewhere, Ederson, Danilo, Thiago Silva, Filipe Luis, Roberto Firmino, Douglas Costa and others provided quality replacements and options for the squad.
The 23-man World Cup squad presented very few stunning additions. Shakhtar Donetsk's Fred and Taison were the only surprises, but even they weren't outlandish.
That familiarity within a system and naming a regular squad for each match has helped this side gel. These players can seamlessly move from a fluid attacking game to a more cautious approach, which is precisely what Tite has tried to achieve over these two years.
"A coach has to know his machine," Tite once admitted. "How much it can take, the way it works, know which parts you can be harder on."
He's definitely aware of when to rein it in, which is why tactical flexibility has become a staple of Tite's Brazil.
In preparation for this World Cup, Tite has ensured the entire national team isn't hit by any surprises from the opposition. He's enlisted Brazilian league scouts to provide in-depth analysis reports for each of the other 31 teams that will be playing in Russia.
"Tite has studied the best training methods around the world for more than a decade and applied what he learned," leading Brazilian soccer analyst Paulo Vinícius Coelho told The Guardian. "But he didn't copy, he adapted. This happened especially after he left Corinthians and spent time with Carlo Ancelotti and Zinedine Zidane.
"Tite talks to his players every day and sends videos and analysis on WhatsApp. He's very different from previous Brazil coaches. He spends 10 hours a day at the Brazilian Football Confederation analyzing his players. Tite runs the Seleção as if it were a club side. In just over a year, the relationship with the players and the system has changed. And, the results have come from this."
Despite being a coach for more than 25 years, Tite never stops learning. He employs modern scouting methods, training regimens and speaks to other managers to enhance his insight. It's proof that flexibility and embracing new ideas is working for this coach.
Ex-Brazil international Neto once claimed that Tite is "as good" as Pep Guardiola and Jose Mourinho, but coaching outside of Europe doesn't boost his reputation.
Lifting a record sixth World Cup in Russia might lead to that European adventure.