Every week, Sportsnet.ca will chat with Sportsnet soccer commentator James Sharman about the big stories and issues in the Premier League, and preview the weekend's games.
---
---
Can Francesco Guidolin keep Swansea City from being relegated?
The Swans are nine points above the drop zone, they have four utterly atrocious teams below them and they have a run-in that although features some very tough games also has some winnable matches including one against Aston Villa next week, so yes, Guidolin can get the job done.
The Italian has missed the last two weeks due to illness, and Swansea has won both games, so perhaps he should stay away a little longer? That's a joke, by the way, although Guidolin's fill-in Alan Curtis has done an admirable job, with some stellar in-game changes. Swansea was always a better team than they had shown this season. Remember that great start? The wheels fell off, but this is not a side that should be going down.
---
Premier League on Sportsnet: Watch matches from the Barclays Premier League live on Sportsnet every week. Consult the broadcast schedule || Sportsnet NOW
---
Assuming Aston Villa goes down (which appears a safe bet) what do you think that will mean for Remi Garde? Will he stay on or be replaced?
What an unmitigated disaster this season has been for Villa. Long-time fans will point to evidence that has suggested that this fall has been inevitable for a long time. Randy Lerner should write a book on how NOT to manage a soccer club—under his ownership a storied club has been smashed to pieces.
Remi Garde needs to get out of this situation as quickly as possible—he was a very well respected manager when he arrived at Villa park, but needs to leave now, something I am sure he will be allowed to do. On one hand Lerner needs some stability if he is to get a half decent price for the club, which would suggest he should keep Garde. But on the other hand this team needs to win promotion as soon as possible, and for that to happen you need an experienced manager who knows the Championship. To do that you just cannot rely on the characters in this squad, and many of them are hardly the type of people you'd want beside you in the trenches. What a mess, and what a shame for the Premier League, which needs clubs like Aston Villa.
How badly has the Adam Johnson affair hurt Sunderland's reputation?
Badly. How could it not? The club says it was stunned by the guilty plea that Johnson put in, adding if they had known beforehand they would have never allowed him back. Okay, I believe that, but the fact that he was allowed to play prior to his trial doesn't sit well with me. Sadly, players getting into trouble is common place in professional sports, and there are damage control people who are paid to make certain unsavoury things go away (not exactly Ray Donovan, but still…).
However, in this case it was clear from the beginning it was more than the usual annoyance. Johnson should have been sat down until after the court case—that would have been the right thing to do and the safest thing to do. This was clearly a case of a team putting a player's value on the field ahead of what it might mean for their reputation. Talk about operating in a bubble. Embarrassing.
Can Arsenal rebound from recent poor results and challenge for the title? Or is too late for the Gunners?
The very nature of this season suggests that it is certainly not too late for Arsenal to mount a challenge. Still, eight points back of first with nine games left is a huge hill to climb for Arsenal, especially considering how well Leicester is playing at the moment, and that the Foxes have a relatively straight forward run-in, save for their final three matches.
It is likely that the Gunners will see their Champions League hopes die next week at Barcelona; that will really aid their Premier League campaign. I am interested to see how they play this weekend against Watford in the FA Cup. In the replay against Hull this week there was reportedly a half-time player meeting where some of the veterans got heated and demanded a better performance. That was delivered in the second half. Leadership and injuries remain Arsenal's Achilles heel once again. Can they fix that and run a few wins off? I'm not hopeful.
Leicester City hosts Newcastle United on Monday. There are nine matches left in the season. What's the key for the Foxes if they're going to win the league title?
Stay healthy. Stay healthy. Stay healthy. Watching Riyad Mahrez struggle with what looked like a tight hamstring last week must have caused a panic among most Leicester fans.
Leicester have shown some good depth this season when necessary, but losing Mahrez or Jamie Vardy would be damning. Thankfully they don't play until Monday this week so they have an extra day or so to get healthy.
As mentioned earlier, Leicester closes the season against Manchester United, Everton and Chelsea. Now, in fairness this team is frightened by no one, and would enter those games full of confidence and likely even favourites, but the preceding six games are all winnable. Stay healthy, stay consistent, and the title will be theirs. The Foxes have been tops or near the top all season, so it does sound a bit normal when discussing them as title contenders. I think we all need to give ourselves a collective pinch, and just think about what you would have said to me if at this point last season I told you Leicester would be five points clear at this stage? You'd have locked me up!
---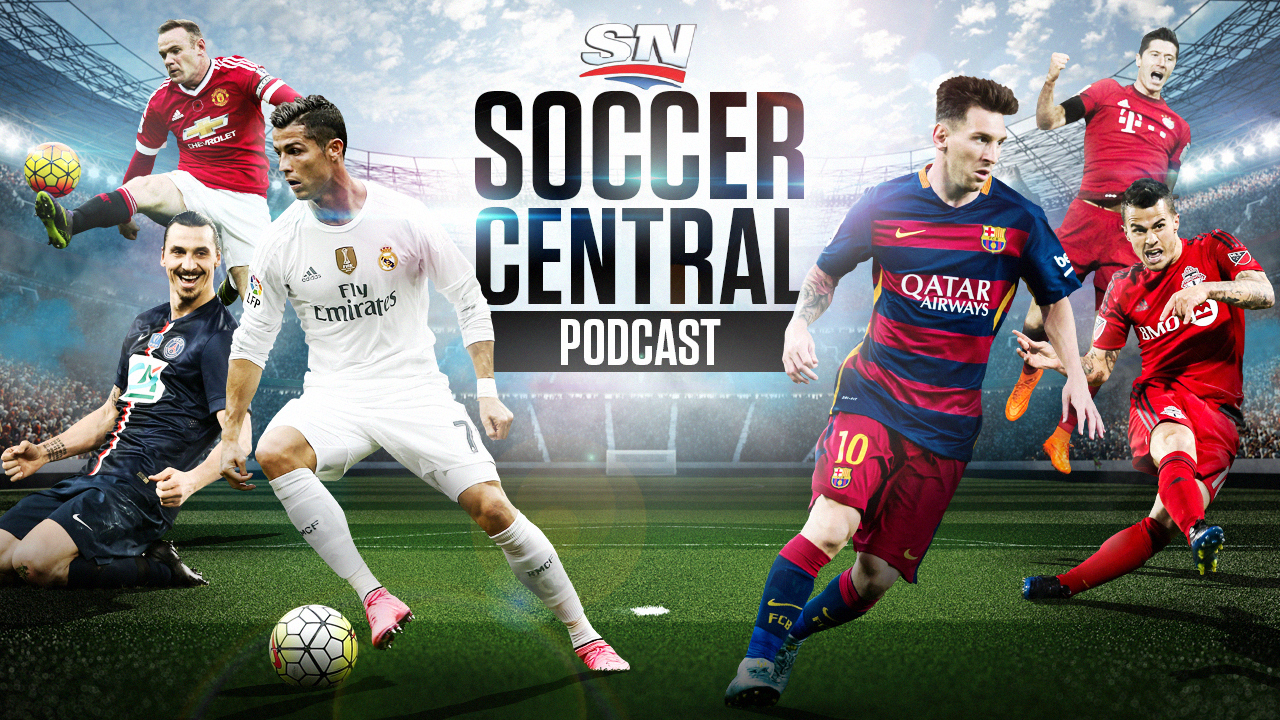 SPORTSNET.CA's Soccer Central podcast, hosted by James Sharman, takes an in-depth look at the beautiful game and offers timely and thoughtful analysis on the sport's biggest issues.
Listen here | iTunes | Subscribe to the podcast
---