David De Gea produced another superb performance for Manchester United, Tottenham might have a selection headache up front and Liverpool's defence continues to shine.
Here are four winners and four losers from Matchday 22 in the Premier League.
WINNERS
David De Gea
There were a few stunning individual performances from Manchester United players. Paul Pogba created some dangerous chances, Jesse Lingard caused problems as a central attacker and Marcus Rashford scored his fourth goal in five matches.
However, none were as integral as David De Gea. He made 11 saves, the majority in the second half when Tottenham switched systems and piled on the pressure, to preserve a 1-0 win for United.
It's no surprise that Tottenham doubled up United's expected goals (xG) in the game. But when De Gea shows off his insane form from the 2017-18 campaign, it doesn't matter.
xG map for Tottenham – Manchester United

sometimes you eat the bear and sometimes, well, he eats you pic.twitter.com/tJB7ajz0FO

— Caley Graphics (@Caley_graphics) January 13, 2019
Of course, United can't rely on De Gea to produce worldies every week. But knowing that there is a world-class goalkeeper behind them must be comforting for the team in their push for Champions League football.
Liverpool defence
The old saying of "defence wins titles" might ring true for Liverpool because apart from the odd slip-up, the back line has been nearly impenetrable.
Even when the attack is more low key – Saturday's 1-0 win over Brighton & Hove Albion being a perfect example – Liverpool don't appear stressed. That's because the players know the defence will seldom concede clear-cut chances.
Brighton only mustered a total of seven attempts and none hit the target. With defensive performances like those coupled with the clinical attackers up front, Liverpool's chances of grinding out a win are significantly boosted.
That might prove to be the difference in the title race.
Man City's wide players
The key to shutting down Wolverhampton Wanderers is containing their wingbacks. Manchester City accomplished this with relative ease on Monday.
Man City's wide players (Danilo, Kyle Walker, Leroy Sane and Raheem Sterling) doubled up Matt Doherty and Jonny, leading to several quality scoring chances.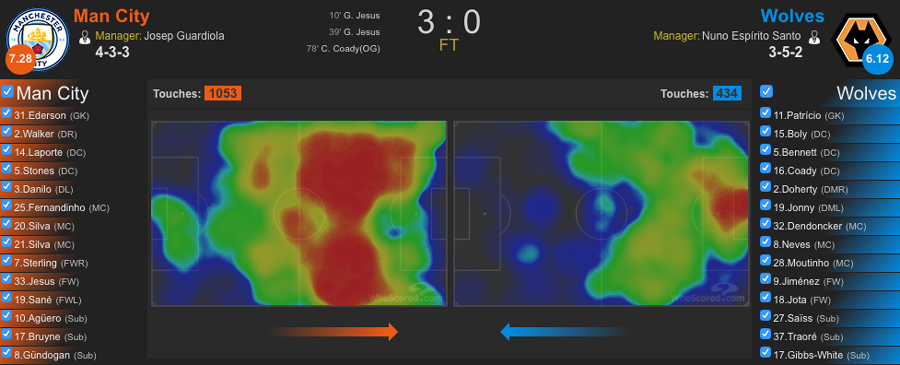 With Doherty and Jonny nullified, Wolves' attack was helpless. There was very little creativity, as the expected goals backs up here.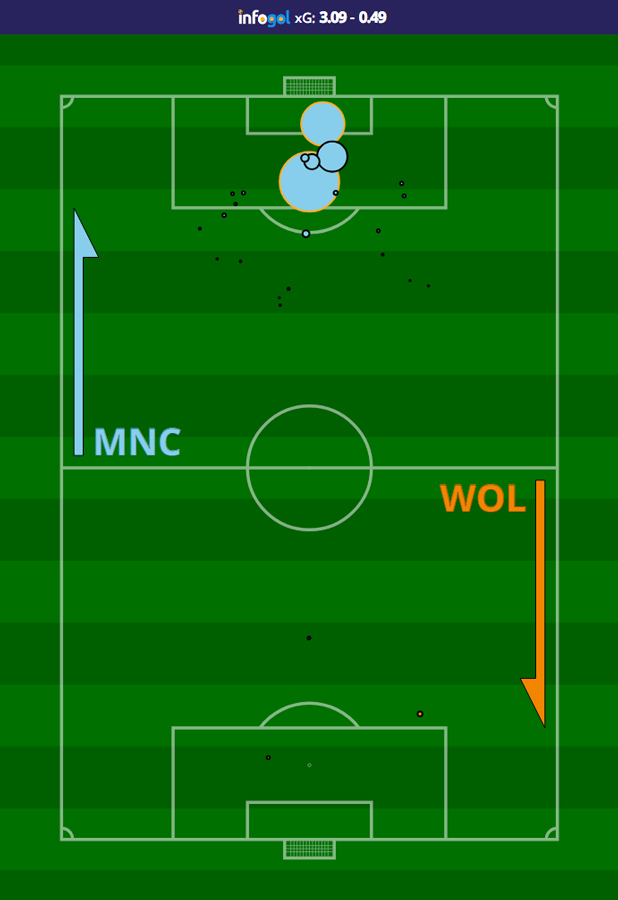 Overall, it was a job well done by City.
Declan Rice
Let's briefly forget about Declan Rice's sensational strike. Rice was the man of the match against Arsenal because of his defensive effort. The winning goal was the cherry on top.
Rice led all players in ball recoveries (10) and contributed with three tackles and three interceptions. This ensured that Arsenal couldn't penetrate the central channels.
But even Rice's distribution was solid. He's not known for dictating matches like Mark Noble, yet Rice seamlessly transitioned the play to the flanks – where West Ham's attack thrived – and successfully evaded Arsenal's high press.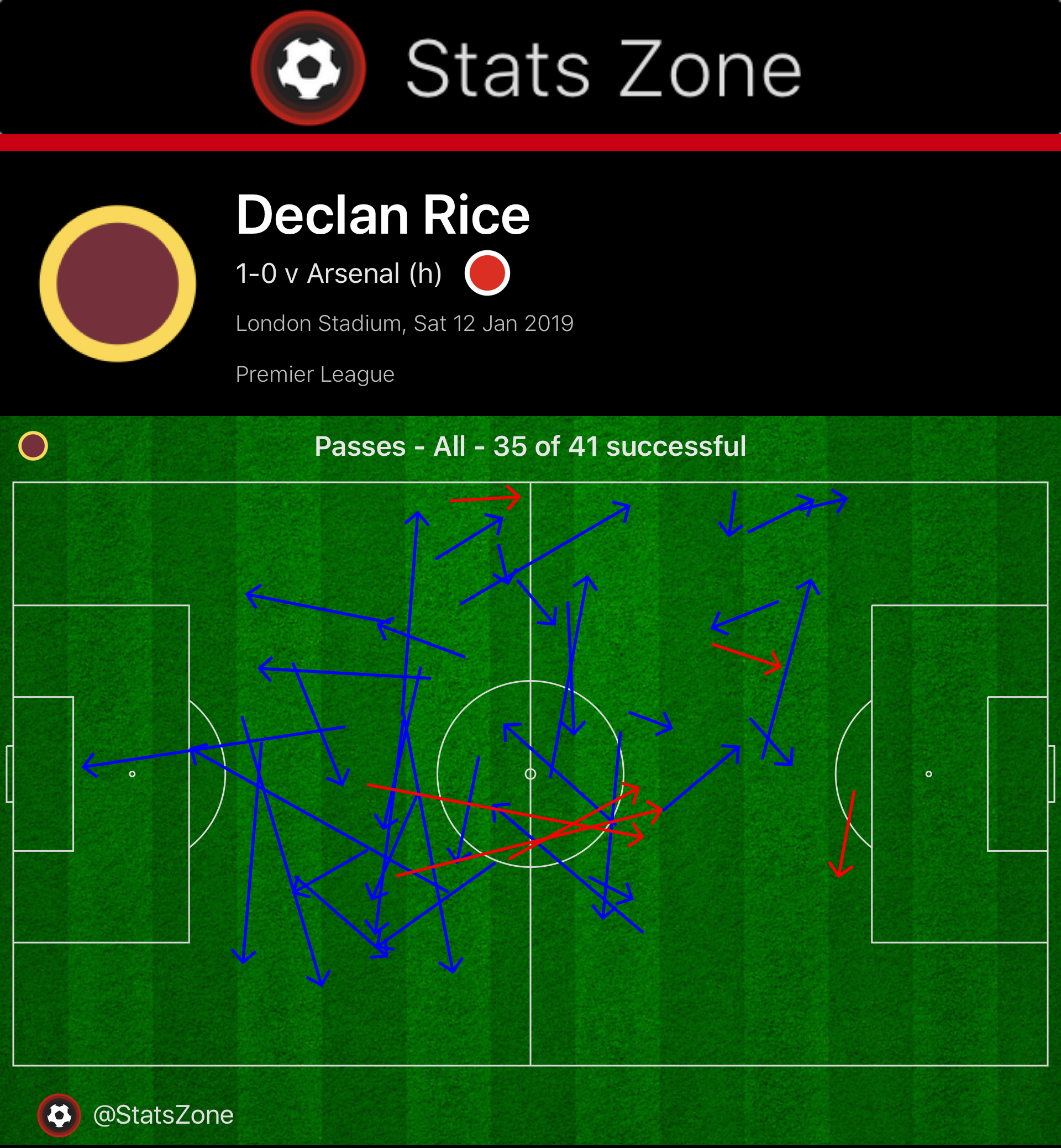 The more Rice produces, the harder it's going to be for Ireland to convince the 19-year-old to fend off interest from England because he's going to be in high demand.
LOSERS
Mauricio Pochettino
No, Mauricio Pochettino doesn't deserve blame for the defeat. He reacted to United's counter-attacking system and shut down the attack nicely. Tottenham just couldn't finish.
However, there might be a selection headache in the coming weeks for Pochettino. Son Heung-min is off to the Asian Cup and Harry Kane suffered a knock in second-half stoppage time on Sunday and it doesn't look good.
Last year, Kane had a niggling ankle injury and that might've contributed to his slow finish to the previous season (as well as his World Cup performances).
If this is a similar injury, that would be troublesome for Spurs. Pochettino would have Erik Lamela, Fernando Llorente and Lucas Moura at his dispoal, albeit none boast the same dynamism and clinical finishing as Kane or Son.
Nuno Espirito Santo
In the 1-1 draw at Molineux on Aug. 25, Wolves loaded the midfield, deployed a medium pressing game and punished the champions on the flanks.
Manager Nuno Espirito Santo tried to replicate those tactics and it clearly failed. With the wingbacks restricted, Wolves were severely outshot.
It was evident that City was trying to profit from the flanks and, not for the first time, the Portuguese tactician failed to adjust. Leander Dendoncker could've dropped into the defence when necessary, which would've enabled one of the other centre-backs to aid Jonny and Doherty.
In the end, Nuno ignored the problem and Wolves were thoroughly defeated.
The mid-season crash
It was only a few weeks ago when Chelsea and Arsenal's fortunes were flipped. Now they're experiencing the Premier League equivalent of the 2 p.m. crash.
Chelsea were victorious over Newcastle United, yet the side looks fatigued from fixture congestion and the same attacking woes were present on Saturday. The expected goals from the victory don't differ that drastically from the Blues' recent matches.
xG map for Chelsea – Newcastle.

much more fine than good from Chelsea but they didn't have any trouble containing the Magpies' "attack" pic.twitter.com/IcJtKXFrfe

— Caley Graphics (@Caley_graphics) January 12, 2019
Chelsea is still on pace to finish in the top four and that was the minimum expectation. Yet Sarri will still be clambering for a striker this month before the transfer window closes.
In Arsenal's case, injuries and a lack of defensive reinforcements have caught up with them. There were some worrying trends during the 22-match unbeaten run, although with the quality of attackers at Unai Emery's disposal, there is some compensation.
But in games where Pierre-Emerick Aubameyang and Alexandre Lacazette are nullified, the issues become relevant again. Unfortunately for Emery, he won't be able to address them until the summer.
Claudio Ranieri
When your team loses without conceding a shot on target, you know your luck is nonexistent.
That's how Fulham fans must've felt after falling to Burnley. Two own goals in a three-minute span doomed the Cottagers to their 14th defeat of the season. The club remains five points adrift of safety.
Luckily for Ranieri, matches against Crystal Palace and Brighton & Hove Albion await. Anything less than three points from those two games could spell the beginning of the end for Fulham.