The New Year in the Premier League began with a Merseyside club suffering a defeat and ended with another Liverpudlian side falling to their co-title contenders.
There were some intriguing moments during the first matchday of 2019 as well, although they pale in comparison to what transpired at the Etihad Stadium on Thursday. The title race remains very tight and it should make for a thrilling conclusion to the season.
Here are four winners and four losers from Matchday 21 of the Premier League.
WINNERS
Pep Guardiola
According to FiveThirtyEight, Manchester City only had a 19 per cent chance of winning the Premier League compared to Liverpool (78 per cent) before Thursday's crunch tie at the Etihad Stadium.
That gap is still wide, but it's a little thinner now.
Not only are the Citizens within four points of Liverpool, Pep Guardiola thwarted his main nemesis in Jurgen Klopp, who had more wins over Guardiola (8) than any other manager.
As soon as the teams were announced, there was a clear weakness in Liverpool's 11. Dejan Lovren, the right-sided centre-back, could be exploited and he was the clear focus for Man City's attack.
Eventually, Bernardo Silva picked out Sergio Aguero for the opener and Leroy Sane capitalized on a counter-attack in the second half to wrap up the victory. Both goals were generated on Man City's left side.
It wasn't a completely flawless performance from City, though. Sadio Mane should've converted early in the first half, it took a John Stones clearance off the line to prevent that goal and Roberto Firmino equalized just after the hour mark. But Guardiola got the desired result after relentlessly targeting Liverpool's right flank, and that's what matters at this stage.
Marcus Rashford
Paul Pogba has stolen the headlines since Ole Gunnar Solskjaer replaced Jose Mourinho on the touchline. However, another beneficiary of Solskjaer's brief stint in charge is thriving just as much as Pogba.
In fact, Marcus Rashford actually bailed out the Red Devils on Tyneside against Newcastle United. The 21-year-old created the opener with his free kick – which rebounded towards Romelu Lukaku for a tap-in – then scored a finely executed goal of his own to wrap up the 2-0 victory on Wednesday.
In case you're counting, that's three goals and two assists for Rashford in United's last four games. What's most encouraging is how liberated he's become under Solskjaer, though. It's similar to his England performances when he's usually the livewire in the team.
The off-the-ball runs alone have significantly improved because Rashford has the freedom to roam across the pitch. He's capable of exploiting and stretching opposing defences more effectively, as seen by his heat map from Wednesday's match.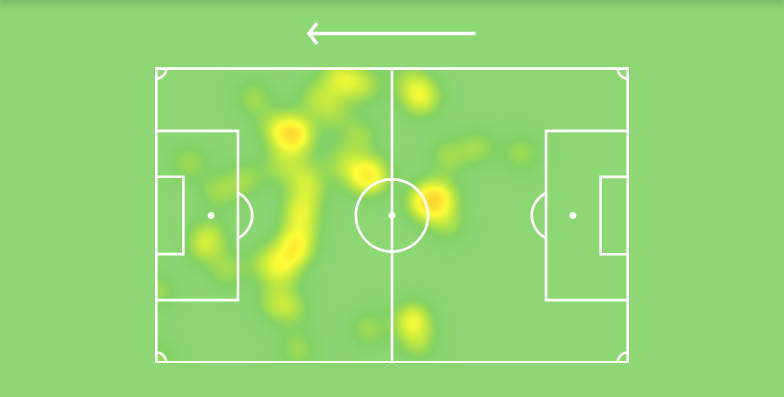 This is the Rashford that United fans were desperate to see for the past two-and-a-half seasons, and they're finally getting their wish.
The Aubameyang-Lacazette combo
It's evident that Pierre-Emerick Aubameyang and Alexandre Lacazette have strong chemistry both on and off the pitch. It can be seen when they celebrate a goal, during the post-match interviews and even on the bench.
Despite this, Aubameyang and Lacazette have only started three league games together. The most recent, a 4-1 win over Fulham, showed why the partnership should be permanent.
Firstly, they're both brilliant finishers in the box. Sure, they faced Fulham's poor defence, although posting nearly four expected goals (xG) is mind-boggling, no matter the opponent.
Of the 16 shots against Fulham, Lacazette and Aubameyang combined for nine. Arsenal is also heavily outperforming their xG this season (via Understat.com), but with two quality finishers, that's bound to happen.
The Gunners defence is also the clear Achilles' heal in the side, so manager Unai Emery would be wise to have both strikers start together as soon as possible.
Southampton defence
Ralph Hasenhuttl had a pretty difficult start to life at Southampton. It began with a head-scratching loss to Cardiff City, yet he's guided the Saints to wins over Arsenal and Huddersfield Town, nearly thwarted Manchester City and nullified Chelsea at Stamford Bridge.
The latter ended in a 0-0 draw on Wednesday and it was thoroughly deserved for Southampton. There was a slight element of luck given Alvaro Morata's woeful finishing and a few top saves from the debuting Angus Gunn in goal, although the defence was sublime.
Centre-back Maya Yoshida was arguably the man of the match after a disappointing display versus West Ham United on Boxing Day, but he delivered when his side needed him the most. The Japanese international made a couple of brilliant tackles in the box and produced several timely interceptions as well.
Most impressive of all was the tameness of Chelsea's scoring chances. Credit the back five and Gunn for that trend.
xG map for Chelsea – Southampton. The Saints played for the draw and with a little bit of luck they got it. pic.twitter.com/AvbcPHdHJD

— Caley Graphics (@Caley_graphics) January 2, 2019
LOSERS
Sadio Mane
Picking on Dejan Lovren is easy, especially when Sadio Mane essentially had the game on his foot.
This isn't the first time Mane has missed quality opportunities in a marquee match. Look at the win over Napoli at Anfield to close out the Champions League group stage or the Merseyside derby against Everton in early December.
Liverpool still has a fairly sizeable lead over Manchester City, but given the quality on both sides, that could easily dissipate in the near future. Will Mane striking the post at the Etihad be the turning point?
Chelsea
You wouldn't know it, but Chelsea have accumulated 19 of a possible 24 points since the beginning of December. That wouldn't seem obvious based on the mood inside a restless Stamford Bridge after the Blues' 0-0 draw with Southampton on Wednesday.
That sombre atmosphere was somewhat justified because Chelsea continue to struggle with chance creation. This has been a recurring theme over the last month, especially with Morata struggling in front of goal.
At least one reinforcement is on his way this summer in Christian Pulisic, who might alleviate some of those attacking concerns next season. Right now, though, there is no solution.
Gonzalo Higuain could arrive from AC Milan on loan, and that could be a coup as Higuain delivered a historic season in Serie A under Maurizio Sarri at Napoli. But until that happens, the attack will be inconsistent.
Wolverhampton's home form
Make that five losses in Wolverhampton Wanderers' last seven matches at home. The 2-0 defeat to Crystal Palace might've been the pick of the lot as well.
Wolves generated one shot on target and allowed 17 total attempts to a Crystal Palace side that seldom creates chances in the box. They finished the game with nine shots in Wolves' penalty area.
Whether it's the approach during home games or the opponents simply finishing their opportunities, Wolves' aspirations of pushing into the European places will be thwarted unless their form at Molineux improves.
Marco Silva
Speaking of rough Decembers, Marco Silva must be feeling the heat.
One win from eight games, including a drab 1-0 loss to Leicester City on New Year's Day, has left Everton four points behind Leicester, who occupy seventh place in the Premier League table. The latest defeat, though, was depressing to watch as a neutral.
Everton may have recorded 17 attempts, yet when examining the xG plot from the match, there was very little incisiveness in the final third until Jamie Vardy's goal.
Now the Silva critics have rapidly emerged. Relegated with Hull City, flirting with the Everton job while at Watford before experiencing a dreadful run of form, and languishing in 11th after spending nearly £90 million ($154 million) in the summer means the fan confidence is dwindling.
This isn't a case of bad luck, either. Everton are right in line with their xG and expected goals allowed (xGA), per Understat.com, which places them 11th, the exact position they currently occupy.
Might a proper No. 9 or bolstering the midfield solve these issues? It's possible, but Silva has a squad that's capable of pushing the top six. Fans want to be entertained and see their team win. If the latter isn't happening, then it's fair to ask questions.