Mohamed Salah helped Liverpool overcome Crystal Palace to stay four points clear atop the table, while Chelsea is reaching full-on crisis mode following a costly defeat to Arsenal.
Here are four winners and four losers from Matchday 23 in the Premier League.
WINNERS
Arsenal defence
Arsenal picked up its fourth clean sheet of the season in their 2-0 win over Chelsea and it was well deserved.
After doubling their lead in the first half, Arsenal wasn't really bothered by Chelsea. Credit the defence for forcing the Blues' front three to the wings and outside the box.
Lucas Torreira, Matteo Guendouzi and Granit Xhaka did their part, too. Torreira and Guendouzi alone completed a combined 14 tackles. Xhaka, meanwhile, led all Arsenal players in ball recoveries with 11.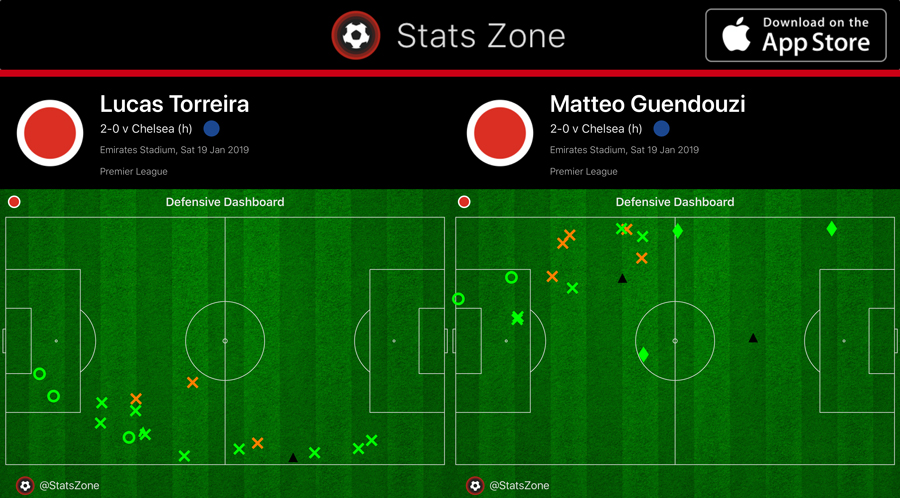 Even though Arsenal eased up in the second half, Chelsea still couldn't find a way through. The expected goals (xG) map from either half demonstrates this to a tee.
Most importantly, Arsenal pulled within three points of Chelsea for fourth place. Champions League football is very much in reach for the Gunners despite the rocky patch of form in December.
Mohamed Salah
Not for the first time, Liverpool were under pressure. But the usual suspects stepped up and wrapped up the win over Crystal Palace eventually.
Mohamed Salah was the chief protagonist with a brace and scored his 50th Premier League goal as a result. Only three players in league history have reached the feat faster than Salah.
To top it off, Salah hit the target faster than anybody on the list in terms of minutes and has contributed 17 assists since last season.
There were concerns over Salah's start to the campaign, though they should be put to rest by now, especially when comparing his two years in England.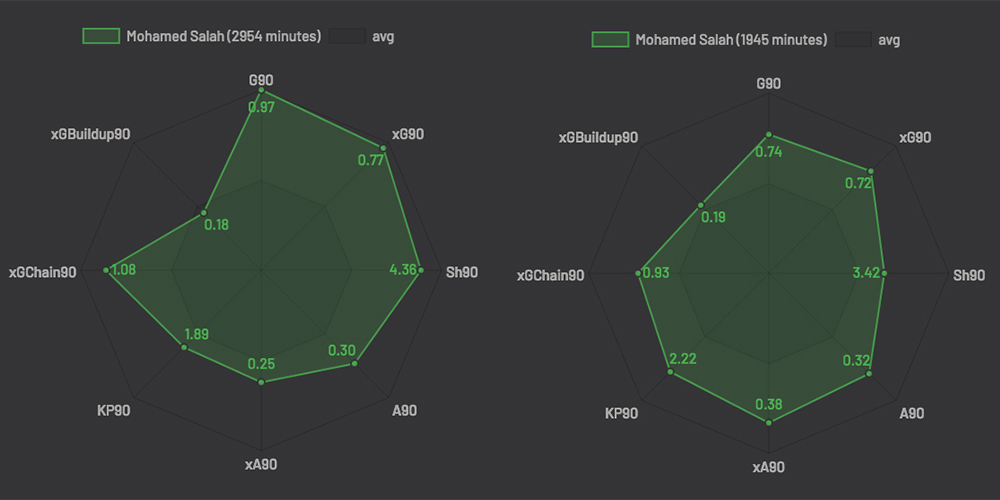 Last season was historic for Salah, so posting nearly identical underlying numbers from a year ago is quite remarkable.
Note: You can read explainers for xGChain and xGBuildup here and expected assists (xA) here.
Marcus Rashford and Paul Pogba
Paul Pogba and Marcus Rashford have been the posterboys for Manchester United's turnaround. Therefore, it was no surprise to see them contributing to Man United's sixth straight victory in the league on Saturday.
Pogba won and then converted a penalty, plus Rashford struck for a fourth game running. They're literally having the seasons of their lives at the moment.
This run can continue for even longer, too. United face Burnley, Leicester City and Fulham before taking on Paris Saint-Germain in the Champions League.
Wolves' Portuguese connection
What a game between Wolverhampton Wanderers and Leicester City on Saturday. Seven goals were scored in a 4-3 Wolves win and it was largely down to their Portuguese contingent.
Diogo Jota had a hat trick, Joao Moutinho assisted twice and Ruben Neves provided one of his own as well. The latter two were especially dominant in midfield.
Moutinho and Neves carved up Leicester through the middle with some sensational direct balls. It's no surprise, then, that the Portuguese duo led Wolves in passes.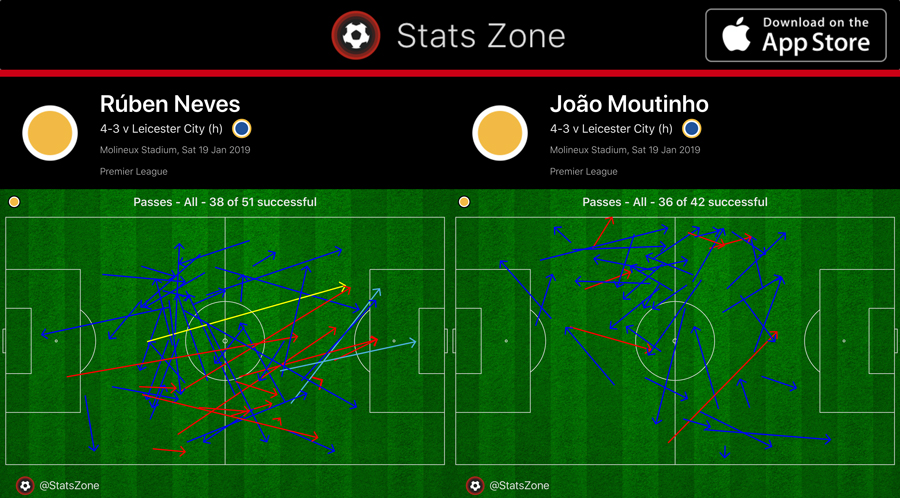 As for Jota, he scored more goals in Saturday than he managed in his previous 17 Premier League appearances. With upcoming matches against West Ham United, Everton, Newcastle United, Bournemouth and Huddersfield Town, this could be the start of a promising run of form for the 22-year-old.
LOSERS
Chelsea midfield
One glaring issue plagued Chelsea against Arsenal and will continue to do so if it's not solved.
Mateo Kovacic has failed to add dynamism and creativity to the midfield. Even if Gonzalo Higuain arrives, he won't be effective without any drive from the midfielders.
Consider this: Jorginho is thriving with Italy by playing with Nicolo Barella (who was linked to the Blues) and Marco Verratti. Both players are able to create chances via dribbling or distributing in more advanced positions, which means Jorginho is freed up to orchestrate the game. Verratti and Barella, by virtue, are tasked with connecting to the forwards.
Chelsea is not receiving this same synchronized play from the midfield. For clarity, here's a comparison between Kovacic and Marek Hamsik in his final season (2017-18) under Sarri.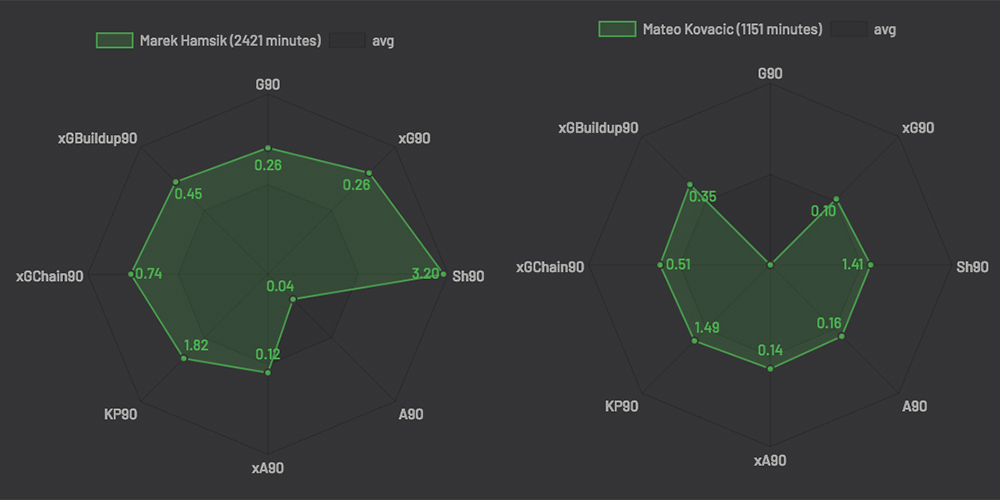 As seen above, Hamsik was far more active in all areas of the game. Perhaps Higuain – who was brilliant at Sarri's Napoli – can boost the team, otherwise the top four could be a far cry.
Claudio Ranieri
Someone give Claudio Ranieri a hug.
Losing to Tottenham at the death and without Harry Kane and Son Heung-min has to be the cruelest punishment for a Fulham side that desperately needed the points.
Even a draw would've brought the Cottagers to within six points of safety. They were decent defensively as well, which is even more depressing for Fulham fans. Spurs only mustered five shots on target, after all.
Now Fulham is in serious danger of relegation. Anything less than six points from their next five games would leave Ranieri and Co. in a precarious situation.
Marco Silva
As the losses pile up for Everton, the pressure grows on Marco Silva's shoulders.
The 2-1 defeat to Southampton was another example of Everton's poor play in recent matches. There is no cohesive system and it's largely down to the attacking struggles. Seven shots and 61 per cent possession is inadequate at best.
xG map for Southampton – Everton pic.twitter.com/Qe10lwDE7I

— Caley Graphics (@Caley_graphics) January 19, 2019
Richarlison only has one goal in his previous seven appearances. He's a winger masquerading as a striker, so another forward is needed. However, Silva made several attack-minded purchases during the summer and still lacked a proper No. 9.
If Everton finish the season without a clinical finisher up front, then Silva could risk an early sack by the end of the campaign.
Cardiff City's survival hopes
Losing to Newcastle United while mired in a relegation fight is rough. Posting one shot on target and falling 3-0 is downright cringeworthy.
xG map for Newcastle – Cardiff

this is awful from Cardiff in a crucial match, and flip that for Newcastle pic.twitter.com/4rwJ7VUnA1

— Caley Graphics (@Caley_graphics) January 19, 2019
Through five matches against Newcastle, Huddersfield Town and Fulham, Cardiff only has six points. That's not exactly encouraging when the battle for survival is so tight.