Maurizio Sarri won hearts of soccer hipsters worldwide with his free-flowing, possession-based 4-3-3 system at Napoli. Hired by Chelsea in July to replace fellow Italian Antonio Conte, Sarri is now charged with revitalizing the London club with his attacking philosophy.
Chelsea have only been learning about "Sarri Ball" for a few weeks, and have missed a few key players in pre-season due to the World Cup. Yet there have already been some positive developments.
In just 2 weeks under Maurizio Sarri, Chelsea have already begun creating a new identity. Key players still resting. RT
•Ball recovery
•Recycling possession
•Regaining possession and breaking on the counter
•Short passes in between the opponentpic.twitter.com/dBJPiti2cE

— Mr Chelsea Boss (@MrChelseaBoss) July 30, 2018
As the new Premier League season draws near, here is a detailed explainer of "Sarri Ball," how Chelsea may line up, and some key questions that are left to be answered.
Sarri Ball 101
Sarri's system at Napoli, and Empoli before that, was arguably the most beautiful style in Serie A during his tenure. The Partenopei pushed Juventus to the limit and nearly pipped the Bianconeri to the title last season. The Neapolitans were arguably the strongest contenders to Juve since they won their first of seven consecutive Scudetti back in 2012.
Sarri's 4-3-3 depends on a few crucial factors. Using Napoli's regular 11 as an example, Sarri had specific roles for each of his players.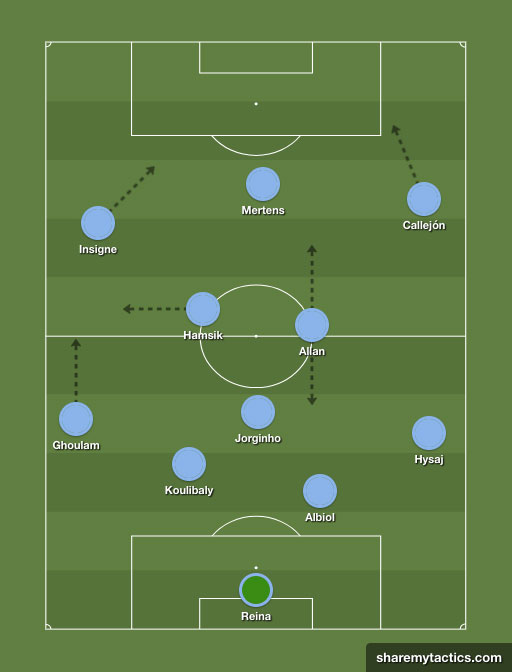 "Sarri Ball" requires a goalkeeper who is comfortable with the ball at his feet (Pepe Reina), at least one ball-playing centre-back (Kalidou Koulibaly), overlapping full-backs (Faouzi Ghoulam, Elseid Hysaj), a deep-lying playmaker (Jorginho), an energetic box-to-box midfielder (Allan), a creative and capable scorer in midfield (Marek Hamsik) and a dynamic front three (Lorenzo Insigne, Dries Mertens, Jose Callejon).
Typically, Sarri's Napoli preferred to exploit the left side when attacking through Ghoulam, Hamsik and Insigne, who formed a lethal triangle. About 46 per cent of the team's attacks were generated on the left wing, per WhoScored.com.
Of course, Napoli could exploit the opposition in a variety of ways when attacking.
Wherever you go, all the best Maurizio #Napoli #Sarri pic.twitter.com/ThC7JWFhCF

— Rondos (@rondosfutbol) July 8, 2018
Whenever Napoli lost possession in the final third, the front three and midfield three formed two compact lines to pressure the opposition defence, as seen below.
It's very difficult to master, but once the players adopt the philosophy, it's breathtaking to watch.
The Jorginho factor
Jorginho moving to Chelsea was crucial to the system working.
The Italian international was Napoli's conductor in midfield. What Jorginho lacks in athleticism, he makes up for it with his vision and quick decision-making.
Jorginho was among the top three in Serie A last season in through passes (passes that bypass an opposing player) per 90 minutes, passes to the final third per 90 minutes and progressive passes (passes that advance the ball at least 10 yards) per 90 minutes, according to data from Wyscout.


The top six of the latter category was completely dominated by Napoli, too.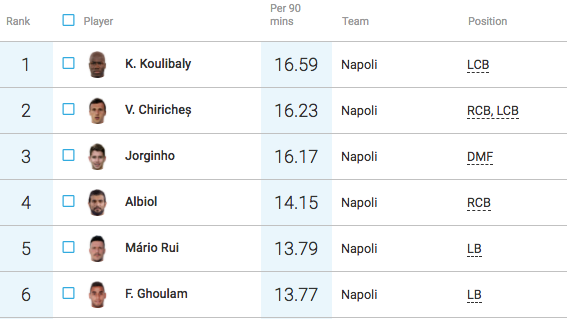 It was fitting that Sarri and Jorginho were unveiled by Chelsea on the same day because one without the other isn't as effective.
How will Chelsea play under Sarri?
Assuming Eden Hazard stays at the club, this lineup most resembles "Sarri Ball"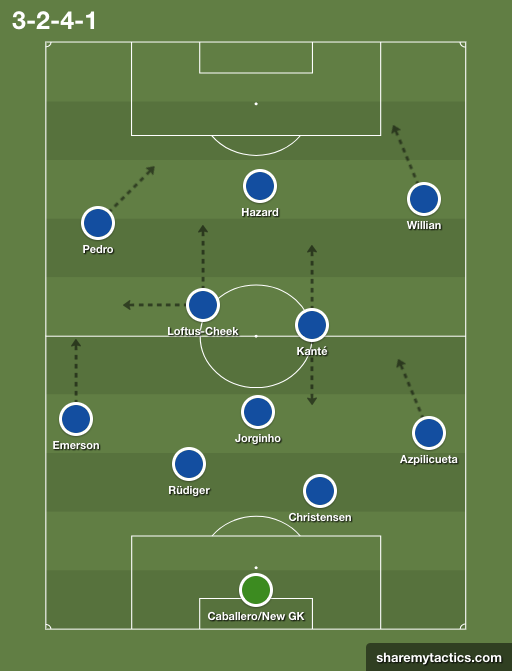 With rampant speculation that Thibaut Courtois will be sold, Jack Butland is reportedly lined up as a replacement. Butland is capable enough with the ball at his feet and tends to roam off his line.
However, Ruben Loftus-Cheek is rumoured to be heading back to Crystal Palace on loan, per the Daily Mirror. Loftus-Cheek is still only 22 years old and is coming off a career year with Palace. He would be excellent in the Marek Hamsik role on the left side of the midfield trio.
It's also likely that Hazard could move to the left wing with Alvaro Morata leading the line. Otherwise, these 11 players would be the best fits.
[snippet id=4152687]
The big questions left to be answered
Hazard's future is the biggest question, but at this stage, it appears that he is staying.
The next pressing question is the goalkeeping situation. Courtois will almost certainly leave, so there should be a new starter by the end of the window.
Then there is Willian, who recently confirmed that Barcelona was interested in him. The fact that Chelsea rejected a pretty large bid last month indicates that the board would prefer to keep the Brazilian.
As for Loftus-Cheek, Chelsea should do everything possible to retain him. With Kante and Jorginho behind him, the England international would have more freedom to move higher up the pitch, which he prefers. But surely he'd be willing to track back at times, which Hamsik did at Napoli. Alternatively, Ross Barkley could fill that position, although Loftus-Cheek has the clear advantage with his fitness.
At left-back, Emerson would be an upgrade over Marcos Alonso, who does not appear as comfortable in a back four. Additionally, Emerson created more chances per 90 minutes than Alonso before the tragic knee injury. Sarri must choose wisely, as the left-back is a fundamental figure.
Some of these concerns may linger into the new campaign. But for now, the Sarri era remains a tantalizing project.
[relatedlinks]